A Tour Of Street Art In Roxbury, By Boston Artist Cedric Douglas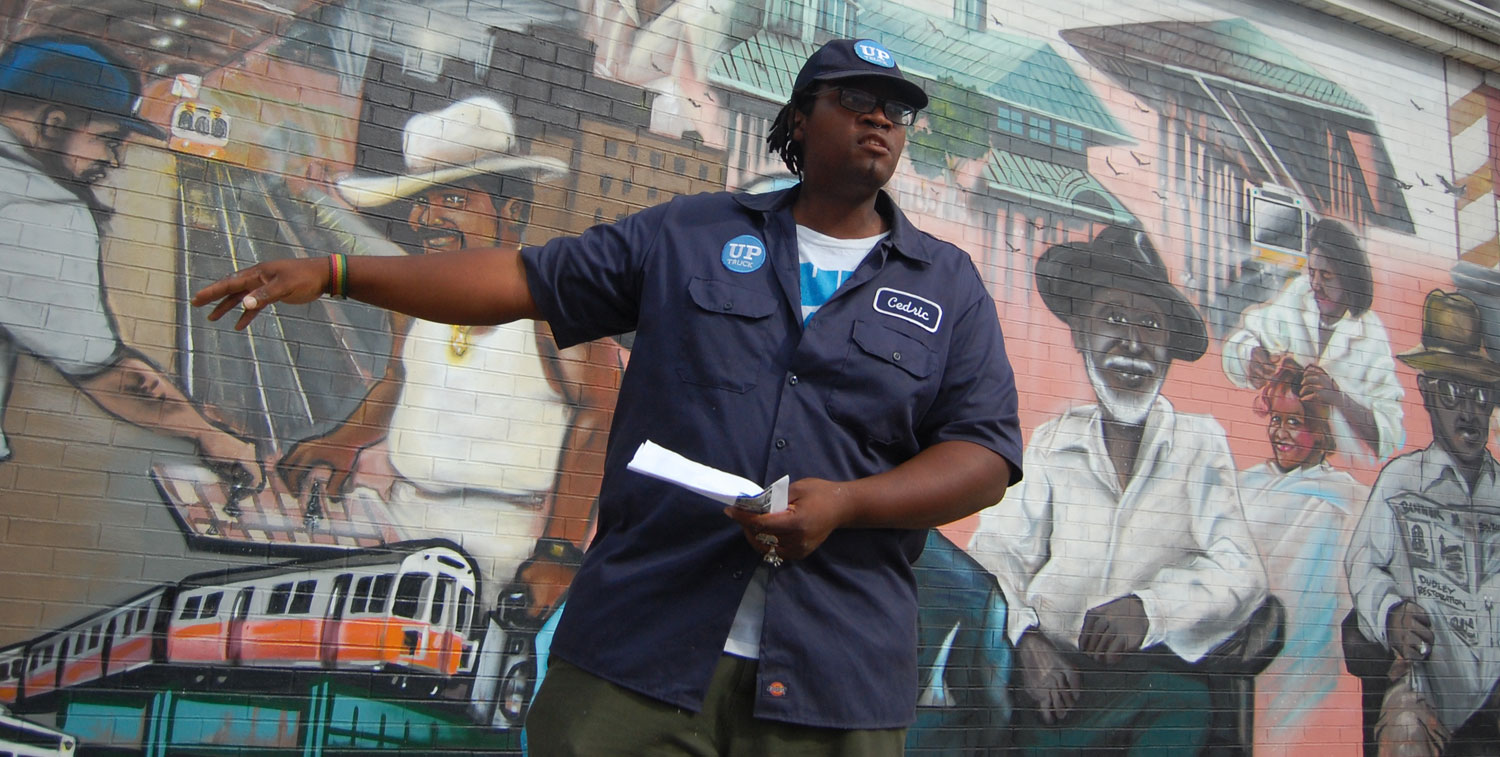 This article is more than 6 years old.
"In some cities you see street art everywhere. In Boston, it's more of a challenge," Boston artist Cedric "Vise" Douglas tells a dozen or so people he is leading on a bus tour of Boston street art on a recent Saturday morning. "The biggest challenge is getting business owners to see their brick building as a potential canvas."
What are some of the highlights of street art in Boston? Below are Douglas' picks for Roxbury and the Northeastern University campus.
Douglas, who has long been involved in graffiti and street art around Boston, operates the UP Truck, a vehicle that he uses as a mobile art center around Boston's Upham's Corner. He's been working to create an open graffiti wall in Boston. And this year, he's been an artist-in-residence at Northeastern's Center for the Arts, and painted a mural near the Boston school's Centennial Common.
Douglas' tour was part of his "Up Walls" public art project, funded by the New England Foundation for the Arts, with support from the Barr Foundation (which financially supports WBUR's ARTery), in partnership with Northeastern.
Street art "should be everywhere," Douglas tells the group. "You should see it."
---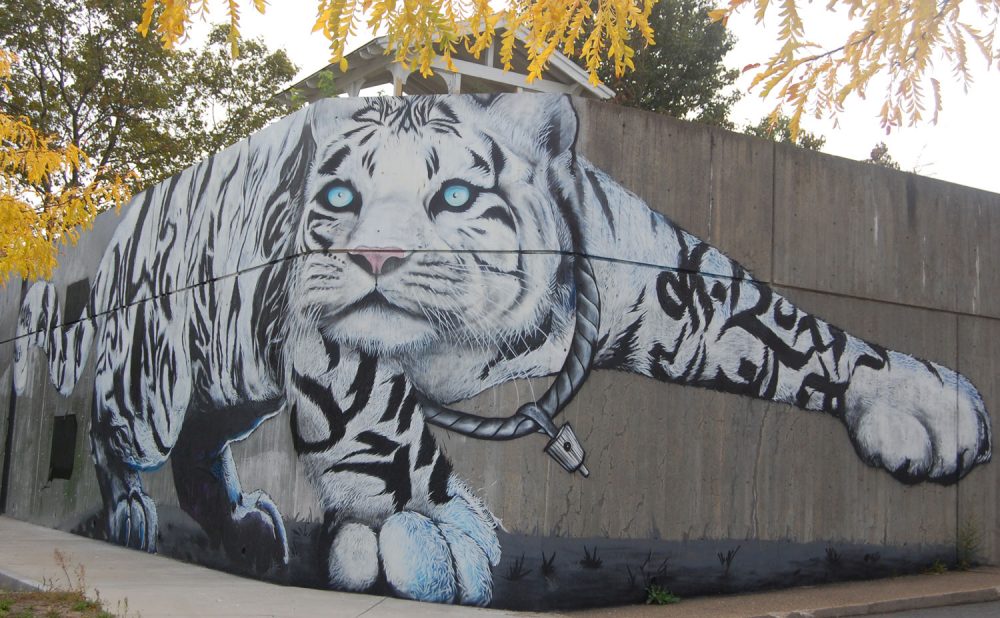 "The Lab" graffiti murals at O'Bryant School of Mathematics and Science by Geo, Quiz, Imagine and others. At 55 Malcolm X Boulevard, Boston.
"This is the closest to an old school graffiti spot," Douglas says. A white tiger mural wraps around the corner of the wall of the ramp leading down into the parking lot. "If you look at it from a distance, it looks like a tiger, but if you look at it really close, all the graffiti writers' names are hidden in the stripes."
More murals—like the portrait of Prince by Geo (GoFive)—hide under elevated walkways. And major graffiti pieces fill a courtyard. "The sad thing about this mural is that it's hidden in a back parking lot. No one can se this," Douglas says of the tiger. "This stuff needs to be out in the open."
---

"Faces of Dudley" mural by Mike Womble and Mayor's Mural Crew, 1995. At 2385 Washington St., Boston.
"Faces of Dudley" depicts Malcolm X and other icons from Roxbury. "That mural means a lot to the community," Douglas says. It features people from the Dudley Square neighborhood (including a woman from a nearby salon: "One of the ladies still works in that hair salon 20 years later") and the now-gone elevated Orange Line.
Douglas helped when the mural was refurbished in 2015 under guidance from the original lead artist, Mike Womble, adding a large portrait of Boston civil rights activist Melnea Cass at the left end.
"There are a lot of references to old Dudley, when I was a kid," Douglas says. "There's a lot of people moving out of Dudley and that mural is keeping people's voice alive that wouldn't be heard otherwise."
---

Mural by Grotesk, 2015. At 171 Dudley St., Boston.
Converse brought Grotesk (Kimou Meyer) to Boston to paint this mural in 2015 as part of its "Blank Canvas" public art series. "It's kind of like a mix of anthropology research and a world that I created in my head," the Brooklyn artist has said.
"A lot of people wanted to take this mural down. Because there was not community outreach and people got really pissed off," Douglas says. "Boston is very sensitive to that. … They just don't want people putting up whatever they want."
---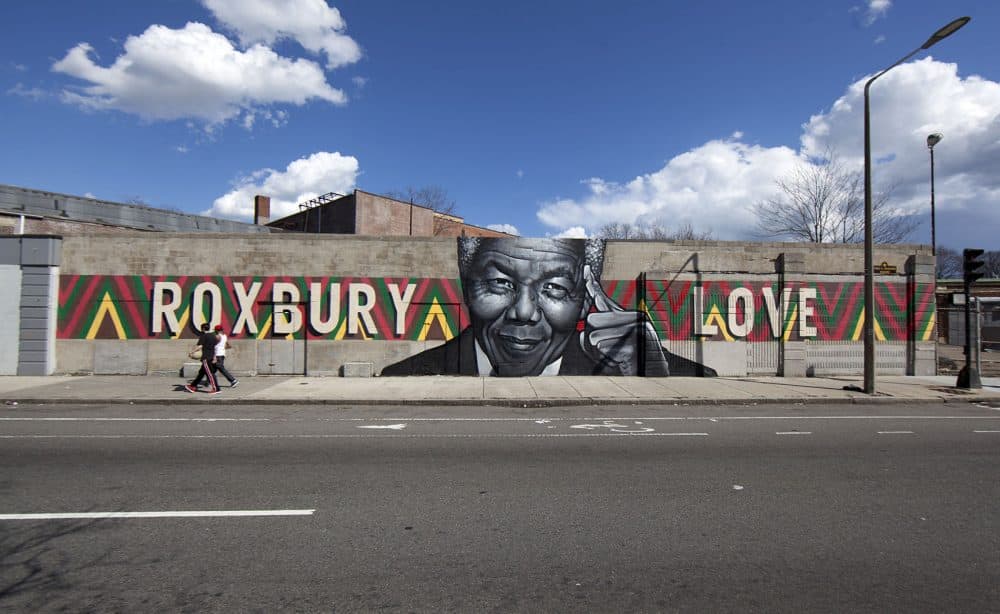 "Roxbury Love" (Mandela) mural by Richard "Deme5" Gomez and Thomas "Kwest" Burns, 2014. On Warren Street at Clifford Street, Boston.
"The piece is one of the best examples of street art on a large scale that's actually connected to the community," Douglas says. "Nelson Mandela, he has a lot of connections to Boston. But people see the 'Roxbury Love' and it's speaking to them."
"The sad thing about this mural is it's going to get torn down," Douglas says. "They let artists paint it because it's going to get demolished."
---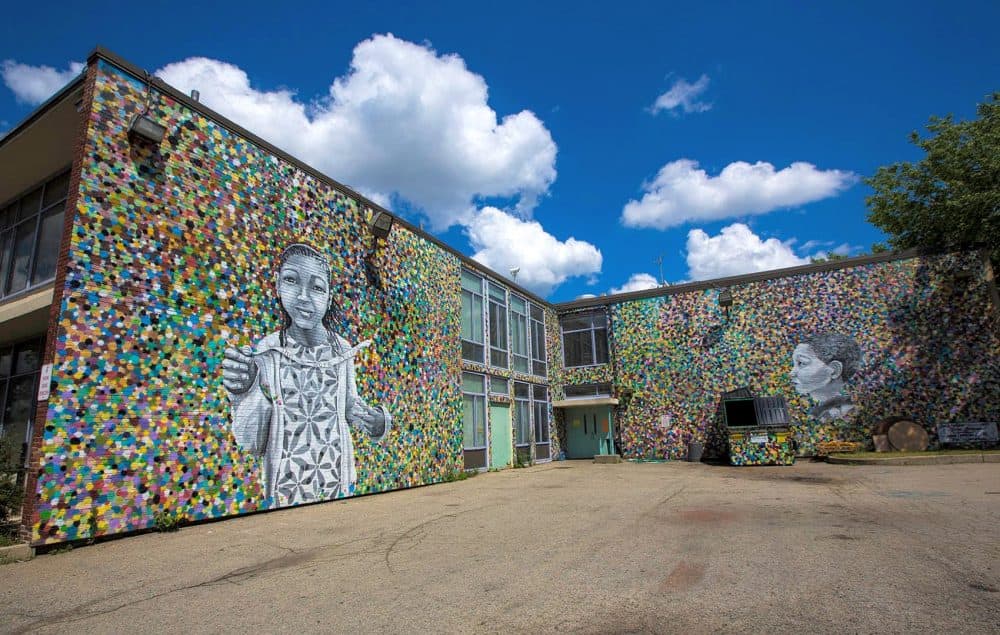 "The Work Begins" mural by Katie Yamasaki and Caleb Neelon, 2014. At Tobin School, 40 Smith St., Boston.
Douglas points out the mix of portraiture and street art styles in this mural, which was supported by Converse, and how Cambridge artist Caleb Neelon showcases the iconic tool of the spraycan. "When you press these cans it comes out as a perfect circle. So he did a series of dots," Douglas says. "He threw in a series of circles at different scales and he's working with color and creating a pattern. It's a simple technique, but it takes a long time. And it's playful. Kids can really connect with that."
---

Graffiti mural by Hops, Teaze and others, c. 1990s. At Felix (Figueroa) market, 739 Parker Hill Ave., Boston.
"When this was painted, this was super ahead of itself back then," Douglas says, noting how writing is transformed into rocks and other pictures in the mural.
"In the early '90s, mid '90s, a lot of college students lived in this area," Douglas says. "The cool thing is people come together through college. 'You're a graffiti writer and I'm a graffiti writer. Let's do work.' And they did a lot of work in the '90s. … This mural is one of the ones that has actually survived."
---

Jazz mural by ProBlak, Rath, Kwest, Marka27, Deme5, Clark, Wys and others, c. 2003. At 94 Terrace St., Boston.
"It's a collaboration from Boston and New York," Douglas says. "So there are old school Boston artists who've been doing it for 25, 30 years, coming together with artists from New York. Boston is close to New York, so there's been this shared exchange between us."
---

Murals, 2016. On CityPop Egleston, 3195 Washington St., Boston.
"It's a new site where a lot of younger artists have been congregating and creating a lot of work," Douglas says. "They're letting artists stay there for a year, until it gets torn down."
---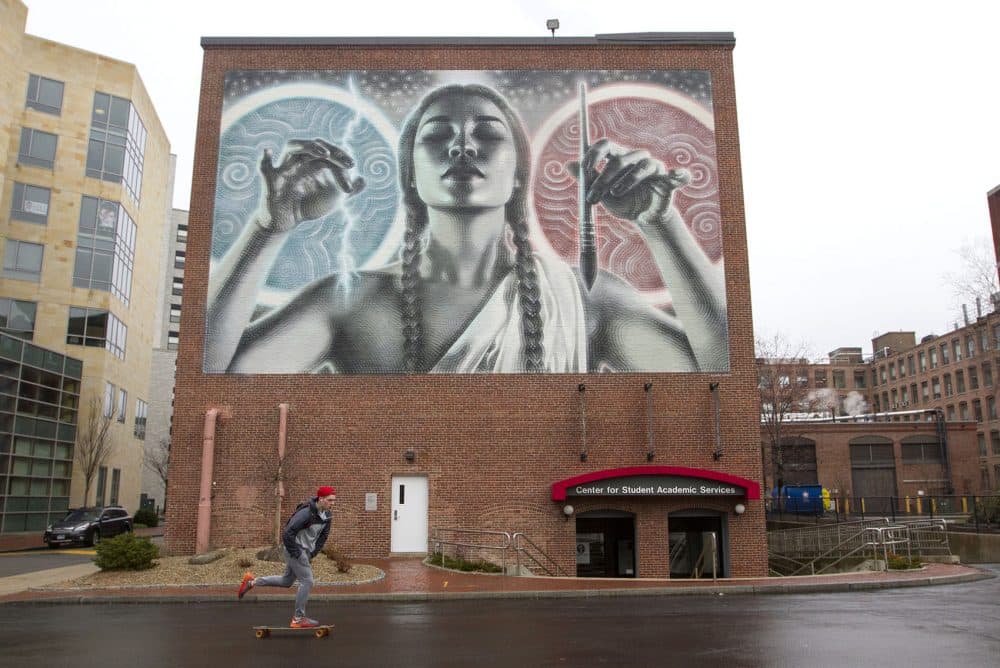 "Ars et Scientia" by El Mac, 2015. On Northeastern University's Meserve Hall overlooking Centennial Common, 35-37 Leon St., Boston.
"It's almost like this pointillism technique," Douglas says. The Los Angeles artist painted with his spray cans kept on ice in a cooler. "It lowers the pressure of the can so it comes out slow," Douglas says. "You paint in the winter and you get lower pressure. He took that technique and look what he did with it."
---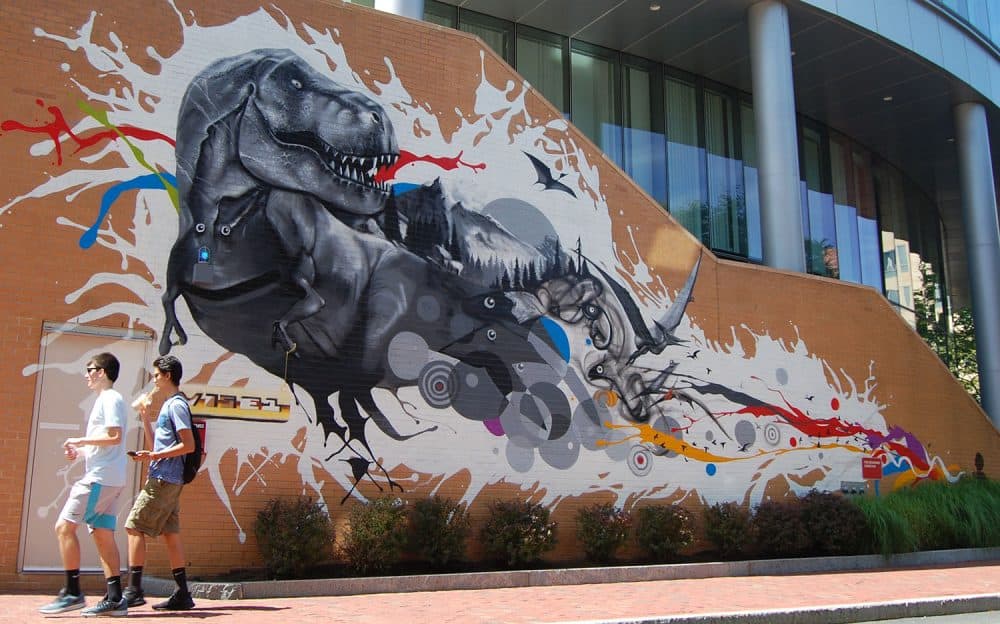 "A World of Innocent Wonder" by Cedric Douglas, 2016. On Northeastern University's Behrakis Health Sciences Center, 30 Leon St., Boston.
"When you pick up a can of spray paint, it's like an addiction. You can't stop painting and drawing. You enter this world," Douglas says of his own mural. "This kid picks up a can and this whole world is coming out."