Forecast: Very Muggy Weather Ends The Workweek
The theme today is muggy weather and a lot of clouds. Most of the steady rain is located to our north and there could be a few showers in the afternoon here. Tonight, with all the muggy air, look for the chance of a few showers and tropical downpours. Some areas could see significant rain, but this isn't a widespread rain event.
Tomorrow, showers will tend to end and the humidity will drop. I can't rule out a stray shower, but the overall pattern will be for drier conditions.
There won't be a lot of rain with this system. Notice the heaviest rainfall is expected in northern New England: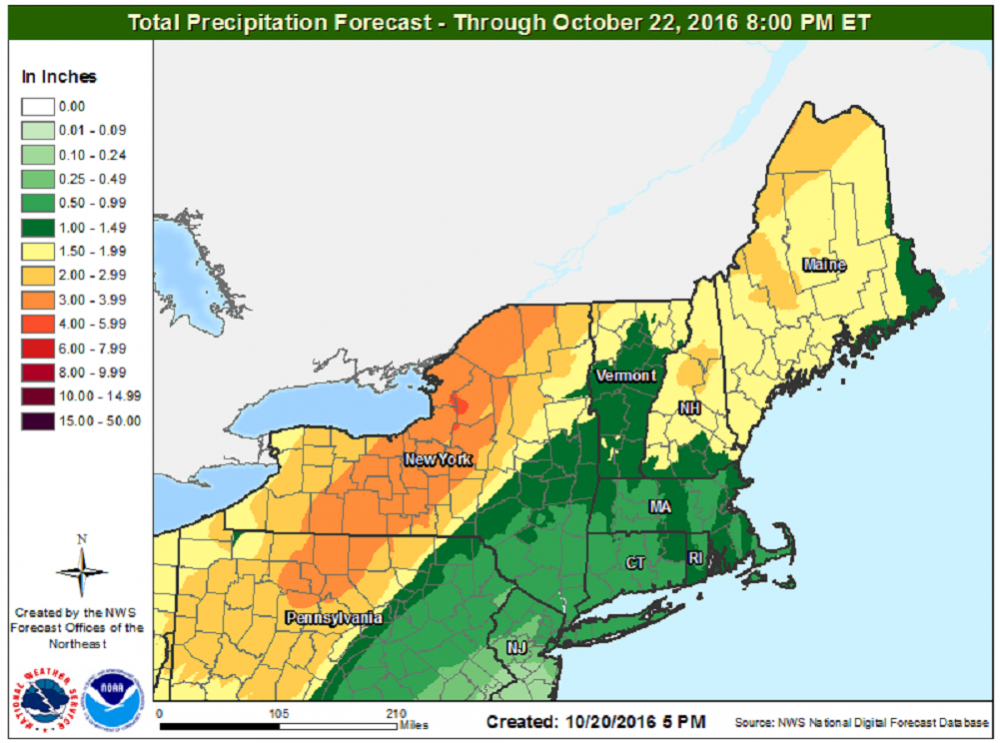 Blustery is the weather word for Sunday with partial sunshine and windy conditions. Rowers on the Charles River Sunday will definitely notice the strong winds.
A low pressure system is moving to our north later this evening and early Saturday. This storm may pull up some tropical moisture for a few hours, but the heaviest of the rain will miss us. Behind this system some of the coldest air of the season arrives with temperatures in the lower 50s for highs during some of next week.
This storm could bring the first snow of the season to parts of Vermont and New Hampshire in the mountains with flurries possible even into southern parts of those states.
---
Friday: Cloudy with a period of showers, especially late in the day. Muggy and mild. Highs in the mid- to upper-60s.
Friday night: Showers with some fog. Lows 52-57.
Saturday: Any showers ending then clearing and becoming windy. Highs in the mid-60s, falling late in the day.
Sunday: Mainly sunny, blustery and cooler. Highs in the upper 50s.
Monday: Sunny and brisk. Highs in the mid to upper 50s.
Tuesday: Sunny and very chilly. Highs only near 50.