Play Offers Redemption For Notorious Salem Witch Accuser Abigail Williams
Play
This article is more than 6 years old.
You might know the name Abigail Williams from the film adaptation of Arthur Miller's "The Crucible," starring Winona Ryder. The iconic play — one that so many of us also read in school — dramatizes the mass hysteria that ignited the Salem witch trials in 1692.
"The Crucible" — and history — tell us Abigail Williams was an accusatory ringleader whose visions and outbursts helped bring about the deaths of 20 of her fellow Puritans.
What became of her after that horrific period is a mystery.
Now — in time for Halloween — a New England premiere at the Merrimack Repertory Theatre in Lowell is asking a provocative question: What might have happened to Abigail Williams 10 years after the trials?
Redeeming Abigail Williams 
Playwright Roberto Aguirre-Sacasa isn't from New England. He grew up in Washington D.C. and Nicaragua, but he's been fascinated by the Salem witch trials since he learned about them in junior high school.
Aguirre-Sacasa is also a huge fan of "The Crucible," but the writer — who's also the chief creative officer at Archie Comics — admits he's long felt like something was missing from Arthur Miller's portrayal of Abigail Williams as a young witch accuser who was wildly obsessed with John Proctor, a married man.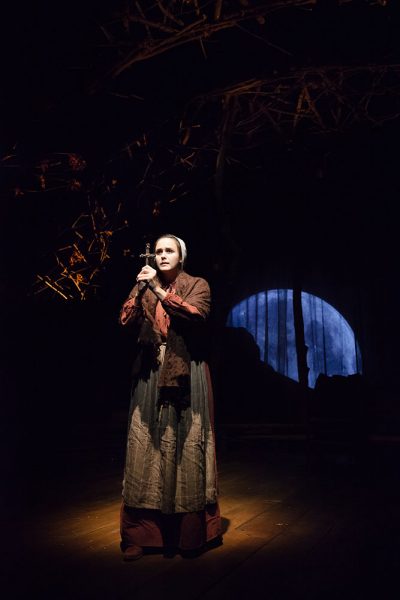 After reeling with hysteria and crying witch over and over again in "The Crucible," Aguirre-Sacasa says the sexualized teenager basically just scuttles off and disappears.
But then he read something in the published book of Miller's play that sparked his imagination.
"Arthur Miller wrote in the stage direction after Abigail leaves the play: 'Legend has it that Abigail Williams left Salem and moved to Boston where she lived as a harlot.' " Aguirre-Sacasa recalled excitedly. "And like the hair on the back of my neck stood up because I thought, 'Oh my god, that's a play!' "
Aguirre-Sacasa is no stranger to re-imagining creepy literature. He wrote the 2013 film version of Stephen King's "Carrie," and the book for the Broadway musical of Bret Easton Ellis's "American Psycho." So the horror writer set out to create a spin-off or sequel to Miller's "Crucible."
"I sort of thought, wow, would it be possible to take this character from dramatic literature — and from life — who had been demonized, perhaps rightly or perhaps wrongly, by Arthur Miller and redeem her?" the playwright said. "It felt like a gigantic challenge, but it kind of became an obsession."
After months of research Aguirre-Sacasa finished his history-inspired play. He calls "Abigail/1702" a ghost story.
In the opening scene, Abigail Williams is running through the woods — and from her past.
"There's a great line in the play that I think Abigail wants to say every second: 'I do not deserve it.' She doesn't think she deserves anything because of what she's done," said actress Rachel Napoleon, who plays the main character.
Abigail, now in her 20s, spends her days in a smallpox house, atoning by caring for the afflicted. She's changed her name, too. Now it's Ruth Meadows.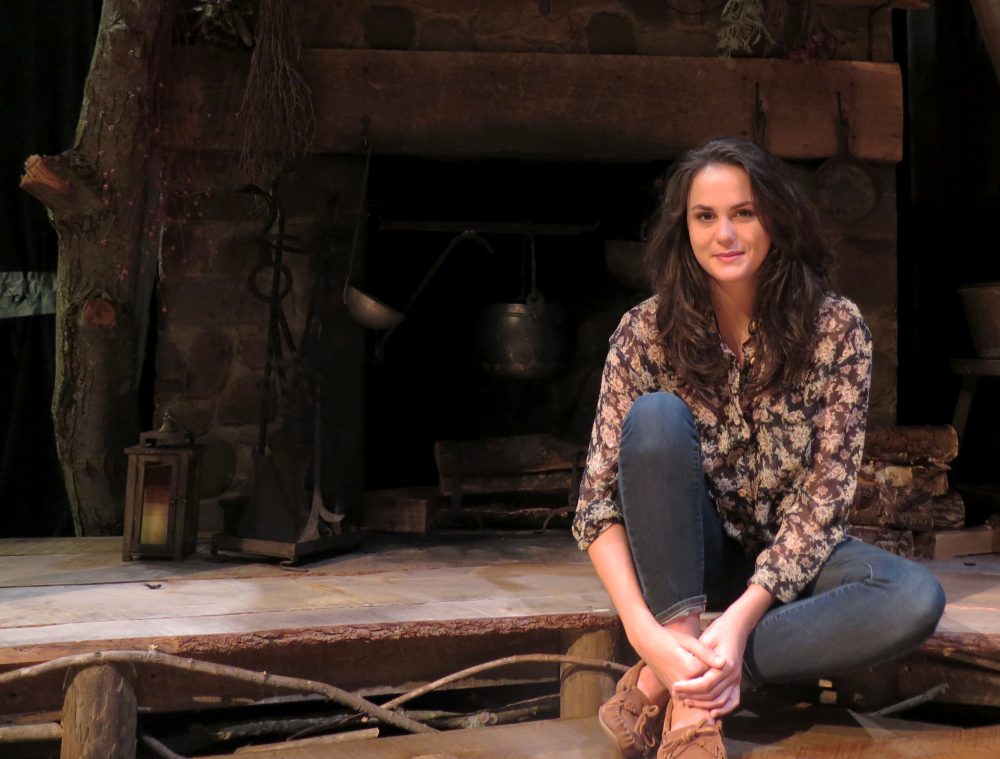 Sitting on stage next to the set's period-inspired fireplace, the 27-year-old actress who's embodying Abigail says the idea of playing a more fully fleshed-out Abigail was intriguing, and she recalled how she once longed to play this character from "The Crucible."
"Every young girl in theater wanted to play Abigail Williams!" Napoleon said, laughing. "But I was interested in this because she is sort of one-dimensional in that play and that's not really fair. There's got to be something else there with her. I think that she really did love John Proctor, you know when you're 14, 15 -- when you think that you love someone, it's life and death."
This is Napoleon's first time playing a historical character. She admits her knowledge of Abigail has been limited to "The Crucible," and now she feels a great responsibility.
"Because she was real, she lived this life," the actress said. "And no one knows if she ever found peace."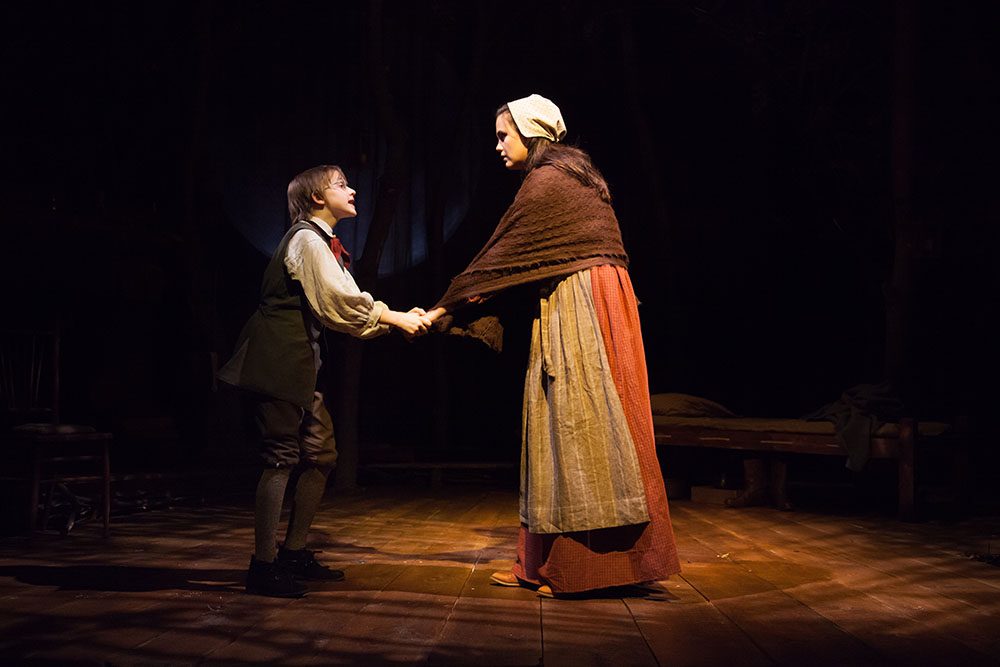 "Why didn't Abigail Williams have her story told from her perspective?"
That's the question "Abigail/1702" director Tlaloc Rivas says he's been asking himself.
"She is a character — or a real life person — that has a such a dynamic history, and 'The Crucible' kind of throws her under the bus," Rivas said. "She only appears as someone who's hysterical or passionately jealous in her desire to obtain John Proctor for herself."
At the same time, Rivas hopes this production that's being staged in Massachusetts is sensitive to the families of the people who lost their lives here — in part because of Abigail.
"There are still descendants of that time and place living among us," Rivas said. "We may feel like 1692-1702 is a long time ago, but those names, those events, still resonate for us. And we're still grappling with them today."
In the play, Abigail's character lists the names of the people falsely accused of engaging in witchcraft. Her words hang in the air.
"Bridget Bishop hanged on the tenth of June ... Sarah Good ... Rebecca Nurse ... Susannah Martin ... Elizabeth Howe and Sarah Wildes, hanged on July 19 ..."
A Complex Historical Figure
Little is known about the real Abigail Williams. Salem Historical Society co-founder Keith Trickett explained that we do know a few things. She was years younger than she is in "The Crucible" — more like 11 or 12, not 16 or 17. She was an orphan who lived with her minister uncle. And she did fall to the floor in fits and accuse people of witchery.
Walking through a memorial park in Salem on a windy October morning, Trickett pointed to the names etched into 20 stone benches around the walled perimeter — one for each of the 20 people put to death for witchcraft.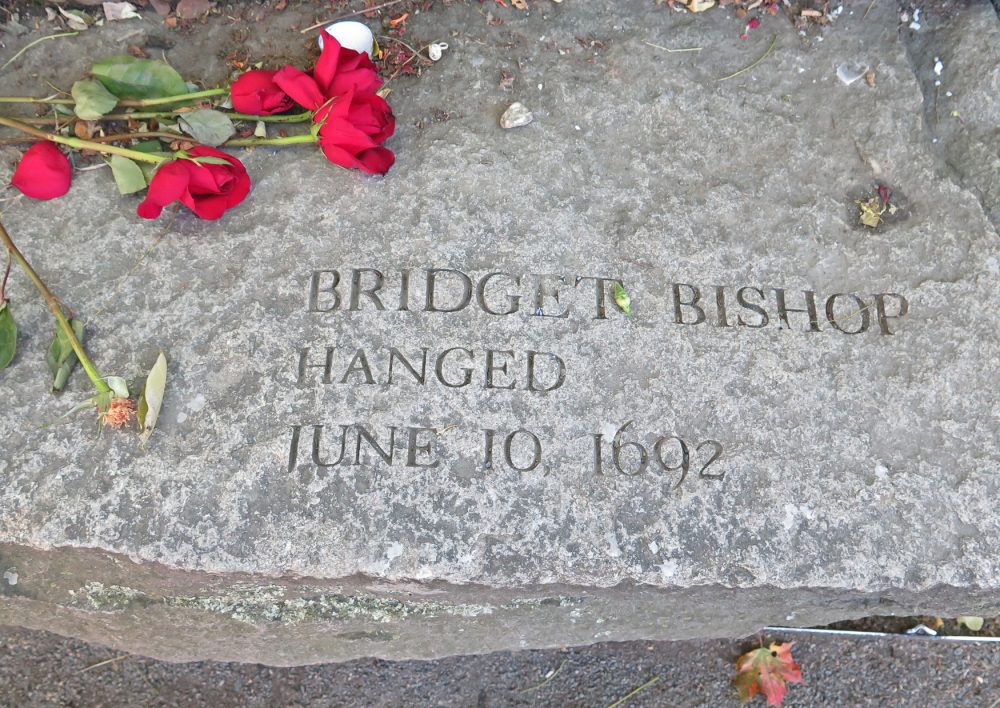 Flowers and tokens decorate many of the benches. School children on a field trip fan out hunting for names on gravestones in the adjacent historic cemetery.
Trickett, who's got a theater background and is writing his own play about the surviving families of the accused, says there's a risk any writer takes when dramatizing history — and it's a double-edged sword.
"Sometimes the only thing people know about the Salem witch trials is 'The Crucible,' which is a fantastic theatrical play, but it's not 100 percent historically accurate," Trickett said. "So it's oftentimes a frustration for historians in his city."
Trickett says he read the "Abigail/1702" script with relief and thinks imagining what could've happened to Abigail Williams is compelling. She's a complex historical figure, he said, and now a complex fictional character — running from her sins and from Satan.
The late 1600s/early 1700s were dark, Trickett reminded me — fueled by powerful fears of the devil. And everyone had their demons. Many of the accused, he said, had reputations for being abusive in real-life.
"Oftentimes it's very easy for us to treat those who were accused as victims, and simplify it as victims versus the persecutors — but these were all very human people," he mused.
Audiences can  cast their own judgments about Abigail Williams. Either way, a new play like "Abigail/1702" revives the specter of the very real Salem witch trials, which can get lost — especially at Halloween — when witches are all around us.
"Abigail/1702" is on stage at the Merrimack Repertory Theatre in Lowell through Nov. 6. 
This article was originally published on October 28, 2016.
This segment aired on October 28, 2016.