How One Portrait Broke Up The Friendship Of Late 19th Century Artists Whistler And Chase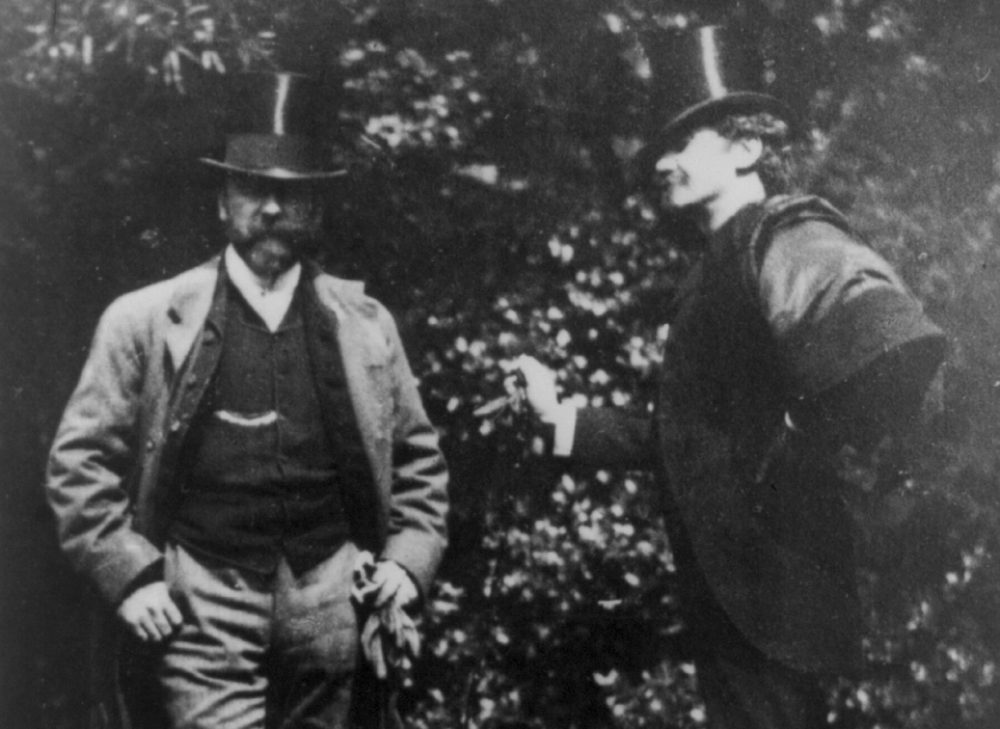 This article is more than 5 years old.
If paintings could talk I bet each of the 80 or so works on view in the Museum of Fine Art's current retrospective of American artist William Merritt Chase would have something revealing to say about how they came into the world. But one in particular — a looming, full-length portrait — has a particularly dramatic and novel backstory.
Back in 1885, Chase painted a likeness of his colleague, the acclaimed James McNeill Abbott Whistler. As it turns out, that portrait was the catalyst that blew apart what appears to have been a short-lived love-hate relationship between the two highly influential artists.
You could say Whistler and Chase were frenemies.
When I met Erica Hirshler, a curator at the MFA, to learn more, she pointed to Chase's inscription on the life-sized portrait's upper left corner: "To my friend Whistler," and signed "William Merritt Chase, London."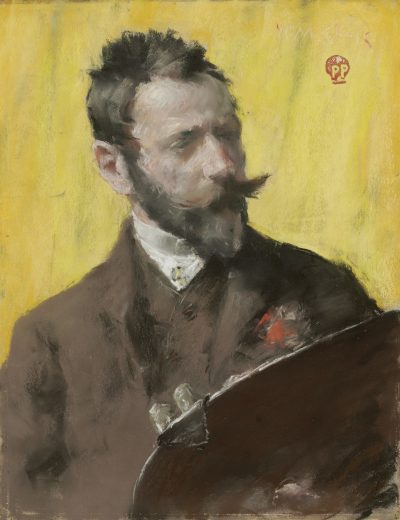 The amusing and somewhat sad narrative behind the portrait is a reminder that contemporary culture's obsession with curated personas is nothing new. Both Chase and Whistler nurtured their own mystiques, but Hirshler said Whistler took his concerns over other people's perceptions to another level. For one, he distanced himself from the city he was born — right here in Massachusetts.
"A lot of people don't know Whistler is from Lowell," Hirshler said. "And in fact Whistler did his best to disguise that. It didn't suit the persona he was trying to create. He had spent some time as a boy in Russia, so he pretended to have more exotic origins than Lowell, Massachusetts."
Whistler is known for his iconic 1871 portrait, "Arrangement in Grey and Black No. 1" a.k.a. "Whistler's Mother." The artist was already quite famous by the time he and Chase met.
"Everybody really admired Whistler's aesthetic approach to painting — including Chase," the curator explained.
Chase — who grew up in the Midwest -- was younger than Whistler by more than a decade. The junior artist nurtured a love of the old European masters while studying painting in Munich. Chase eventually moved to New York, where Hirshler said he established himself in the late 1870s art scene. That's where he and Whistler met.
"They got along very well at first," Hirshler recounted. "Whistler was a difficult personality, but the two became friendly and agreed to paint each other's portraits."
But Whistler always felt like painting, Hirshler explained. "So Chase posed, and he posed, and he posed. But he began to wonder if he was ever going to get to be the painter."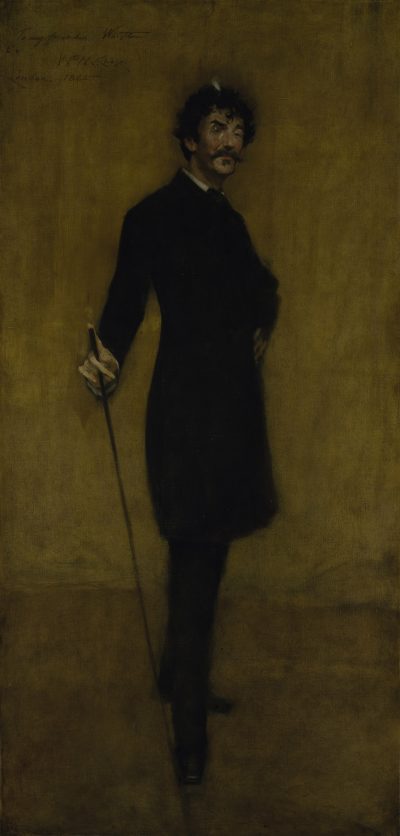 When Chase got his turn commanding the canvas, "he produced this full-length portrait of Whistler showing him as what Chase called, 'the public Whistler,' " the curator said. "In other words — the public persona that Whistler took on."
Chase embraced using bright colors and pastels, but in this portrait he mimicked Whistler's style and subdued palette. A lean, black figure with a cane stands in a gold/brown background.
"The two artists had some disagreements," she went on. "They tried to travel together to Holland — but they drove each other crazy! Chase eventually just says, 'I'm out of here,' and then he goes back to the U.S. with this portrait."
Whistler and Chase had originally planned to display their portraits together. But Chase went ahead and showed his rendition of Whistler in New York on his own.
"Whistler was enraged," Hirshler said. "In the press, reviewers commented on how Chase was so good at capturing both Whistler and Whistler's style that it seemed like a send-up. Whistler caught wind of that and was extremely insulted. He called Chase's painting, 'a monstrous lampoon,' and broke up the friendship."
As the story goes Whistler complained about Chase for the rest of this life.
"There are very amusing letters between the two of them," Hirshler informed me. Whistler went on to stoke all manner of conflict in his lifetime. In 1890 he wrote a book titled, "The Gentle Art of Making Enemies."
Chase — who lived longer — ultimately got the last word on Whistler. He wrote a long article for Century Magazine about their time together and elaborated on Whistler's irascible nature. Even so, Hirshler said Chase never stopped admiring Whistler and continued to show the portrait in many exhibitions during his lifetime.
As for the portrait Whistler painted of Chase — "It disappeared," Hirshler said. "Whistler could've destroyed it. He could've painted over it. He could've changed it enough so that it's not clear who it is. So that's a mystery that remains to be solved."
The curator hopes sharing this story about Chase and Whistler's breakup will help bring this 19th century portrait to life for 21st century audiences.
"We can really relate to these figures much more when we learn a little bit about their histories and conflicts and personalities," she mused.
---
Hear the story in Hirshler's words:
---
The William Merritt Chase retrospective is on view at the MFA through Jan. 16, 2017.