In Deep Blue Massachusetts, Pockets Of Red Celebrate Trump's Victory
03:57
Play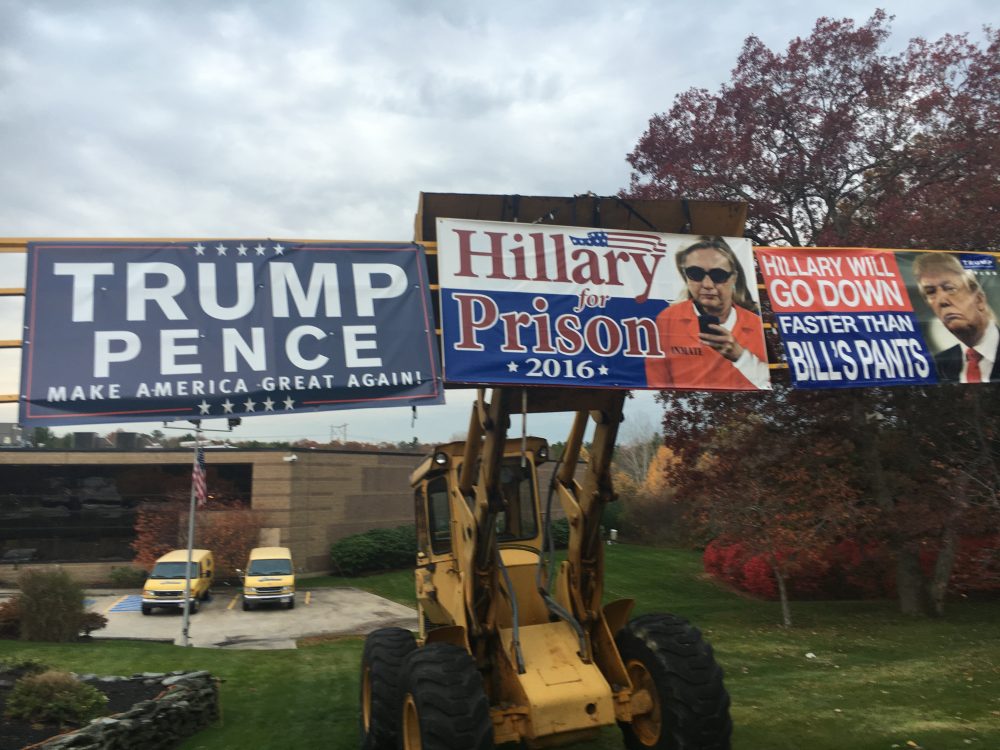 This article is more than 5 years old.
Although more than 60 percent of Massachusetts voters cast ballots for Hillary Clinton this week, President-elect Donald Trump also had some strong support. Among the sea of mostly blue communities were pockets of red — most of them in the southeastern and central parts of the state.
Fighting And Celebrating
In East Bridgewater, for example, 52 percent of voters supported Trump, 40 percent supported Clinton. Some say divisions in the town ran so deep that fights broke out — even at a typically peaceful place like a golf course.
Seventy-one-year-old William Bates, a regular at the Ridder Farm Golf Course in East Bridgewater, says the rancor of this presidential campaign spilled out on the green.
"Clubs being thrown," he said. "I find balls for the golf course, and mother of God, some of the things people were doing."
Bates said his vote was more anti-Clinton than pro-Trump.
"Donald Trump? He's got a lot of growing up to do, but I voted him," he said. "I am glad that Hillary didn't win because you can't trust her."
State Rep. Geoff Diehl represents the town and is also co-chairman of the Trump campaign in Massachusetts. He said the election results do not show so much a divide among his constituents as a lack of awareness on the part of state and federal officials.
"I think it shows an insulated Legislature and an insulated Washington, D.C. If they couldn't see what Donald Trump represented, they've been missing out for a long time," he said.
Another community in Diehl's district is Hanson, which also supported Trump. On a main road in Hanson, there is a well-known campaign-related display in front of Sullivans Inc., a motorcycle equipment supplier. Sullivans owner Robert Sullivan put up large anti-Clinton signs and a mock jail cell with a cut out of Clinton in an orange jumpsuit.
"Hey, we have to make a statement. She belongs in jail," he said. "With all the stuff that woman has done. The FBI director is crooked, the Justice Department too. They need to be locked up with Hillary."
And Sullivan plans to soon put up an even larger display.
"There's another one with Mr. Trump with a level laying blocks for the new wall," he said. "We have our little moment of victory going on here. I like the taste."
Celebrating the taste of victory "with a cosmo," 71-year-old Judy Leander, of Abington, said her support of Trump is in part because of her dislike of Democratic vice presidential nominee Tim Kaine, and in part, a vote against Clinton.
"I just can't imagine a woman in the White House, I don't care how strong," she said.
And Leander knows that is not a popular position.
"If my sisters found out they're probably never going to talk to me again," she said, with a laugh.
Divisions among families and communities, these Trump supporters say, are to be expected. They also believe that many of the controversial things Trump did and said on the campaign trail were just theatrics — and that once in office, Trump will be more reserved and seek to compromise.
Twenty-nine-year-old Peter Drosos, general manager of the Venus Cafe in Whitman, was a reluctant Trump supporter, but he thinks his victory is healthy for the nation.
"Our system of government was designed to absorb and to promote this kind of thing," Drosos  said. "The freedom to express your ideas comes with the assumption you're going to accept the ideas of others. We're at a point now where we're going to have to start listening."
These Trump supporters all say they hope people will listen to Trump's — and Clinton's — calls for unity, especially in a traditionally blue state like Massachusetts.
This segment aired on November 10, 2016.