In New Bedford, Immigrants React With Dismay, Disbelief And Dismissal At Trump Win
Resume
At a spare taqueria in a working-class section of New Bedford, Diego Raymundo takes his lunch with a basket of tortillas. Raymundo, who's undocumented and came to the country from Guatemala in 2013, shrugs off the significance of Donald Trump's victory.
"Between Hillary Clinton and Donald Trump, I didn't have great expectations in Hillary, that she'd solve all our problems," Raymundo said in Spanish.
"So when I saw the results I said, OK, he's the winner."
Raymundo says Hillary Clinton wouldn't have been able to get immigration reform done anyway — not with Republican control of Congress — and President Obama has set records deporting more than 2 million people. Raymundo says Trump talks tough on illegal immigration, but he sees it as a strategy for tapping nativist angst rather than a blueprint for action.
Mounting Uncertainty And 'A Sense Of Fear'
As for the 40-foot wall Trump promised, Raymundo says nothing is insurmountable for immigrants who need work in a country that needs their labor.
"He can make his wall, but this country will still need us, and the people will scale the wall," he said. "It won't stop anybody."
But perhaps that was Raymundo's own tough talk. Asked how he feels the day after Trump was elected, Raymundo takes pause.
"Before when I went out I didn't think about [immigration enforcement] much," he said. "But now, it's like you get a sense of fear. Maybe it's true what Trump said. How are they going to do it? When will it happen?"
New Bedford has a rich history of immigration dating back through the centuries, from the Portuguese and Cape Verdeans who dominate much of the city's civic life, to the more recent Central American arrivals who populate the fish processing plants and other blue-collar industries.
Divisions In Immigrant Communities
Helena DaSilva Hughes heads the Immigrants' Assistance Center in New Bedford, and she has dedicated her life to the city's Portuguese immigrants.
"Within the immigrant population there is a division," she said in her office, which shares a building with a Portuguese language public library. "I see it all the time. There's this population, who are immigrants, who have been here many many years, who have legal status, who a lot of them have become U.S. citizens."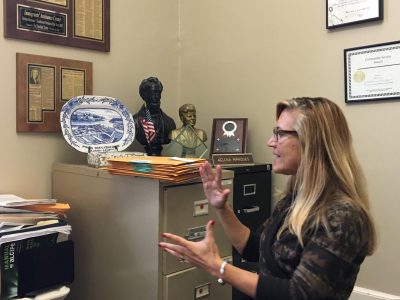 And then, there's the undocumented.
Hughes says immigrants here legally often resent the undocumented — regardless of where they come from — and that can lead to politics like opposing legislation that would allow drivers licenses for undocumented immigrants, and even support for Trump, who won just 31 percent of the vote here.
Hughes said Trump's candidacy caused the number of citizenship applications processed at the center to triple. But Hughes says Trump's victory has stirred deep concerns among her base.
Hughes said administrators from New Bedford High School contacted her yesterday saying immigrant students with temporary status — President Obama's Deferred Action for Childhood Removal program, which provides cover for hundreds of thousands of young immigrants — are scared Trump will take it away, as he pledged during the campaign.
She says she plans to go to the high school with this message: "The election just happened, so let's see what his next step is."
"I've been doing this for 32 years, and now I have more of a faith that there's going to be an immigration bill and a path to legalization."
'What's Going To Happen To Our People?'
But other immigrants in the Whaling City say there's no basis for optimism. David Rolando Oliva says he doubts Trump will pursue immigration reform. It's one of the themes least addressed during the campaign.
"I doubt it, because this is what Trump has spoken about less than anything," Oliva said in Spanish.
"He's talking about deporting 11 million undocumented immigrants, Mexicans are under attack, the whole (Latino) community. He even said he's going to strip Puerto Ricans of their citizenship."
Oliva says he was undocumented, but secured a U-Visa after cooperating with police after he was mugged. But he has family members without papers, and Trump's victory deepens his fears that they'll be picked up by federal agents when they least expect it.
Just the other day there was an immigration raid across the street from his house, he said.
"Sometimes you think, what's going to happen with our people," Oliva said in the living room of his home in the South End, his grandchildren playing in the other room. "After the triumph of this man last night, what's going to happen to all the undocumented people, all the children who've come, all the people that have come from our countries? [In] Central America, where there's great social insecurity, people who've come here facing death threats, what will happen if they're deported?"
This article was originally published on November 10, 2016.
This segment aired on November 10, 2016.