Massachusetts Democrats Consider What Went Wrong
03:58
Play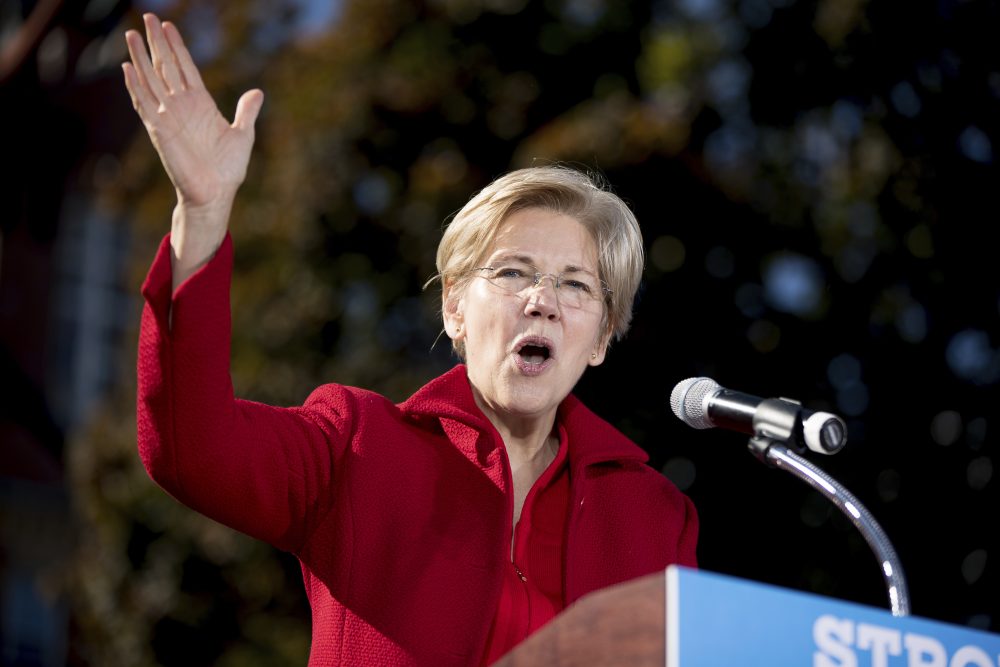 This article is more than 5 years old.
Democrats around the country are considering how their party comes back from its devastating defeat on Tuesday.
Massachusetts Democrats, who elect a new state party chair on Monday, are no different.
When he was chairman of the Massachusetts Democratic Party, John Walsh organized two winning campaigns for Deval Patrick and another for Elizabeth Warren. And he thinks he knows why working-class Americans turned against Democrats on Tuesday.
"So on Election Night, I'm seeing Erie, Pennsylvania, a reliably blue county, and I see that turn to Donald Trump," Walsh says. "We've stopped fighting for union jobs."
Walsh says Democrats need to fight for what they believe in.
"And to the degree that the worst of what candidate Trump was about, we need to resist, and I think that should be aggressive and substantial," Walsh says. "And I think that the Democrats need to be Elizabeth Warren's party, in shorthand, right? Bernie Sanders' party."
In an address to the AFL-CIO in Washington on Thursday, Warren said Democrats must address the concerns of the millions of people who voted for Donald Trump.
"They voted for him out of frustration and anger and out of hope that he would make real change in this country," Warren said. "If we have learned nothing else from the past two years of electioneering, we should hear that message loud and clear: that the American people want Washington to change."
At the State House, state Sen. Dan Wolf, who represents Cape Cod and the Islands, says Democrats must connect much more with working people.
"People who work with their hands, people who are working in low-wage jobs, and people who are working in manufacturing, such as it exists," Wolf says.
Wolf says the party has lost touch with the people who used to be its core constituents.
"The heart and soul of the party that used to be made up of middle-class, working-class people, the thrust of that really was how to build those communities, and how to build in a society that really allowed them to have better and better lives," Wolf says. "We became a party that listened to, took money from, and became much more focused on the top down."
Pausing in Sudbury for a break from meeting with constituents, state Sen. Jamie Eldridge says he's been hearing from them all week about the election.
"And one of the things that I certainly heard during this presidential election is a concern that the Democratic Party, and more often than not, that Secretary Clinton was too allied with corporate interests — whether it's Wall Street, whether it's big banks, whether it's health insurance companies. And it created a confusion that I think opened up a window for some of those voters, more often than not working-class voters," Eldridge says.
Opening a window, Eldrige says, to voting for Donald Trump. He wants to see the party move away from the center and toward the left. In Massachusetts, he'd like the party to push for single-payer health care and raising the minimum wage to $15 an hour.
Democrats dominate the Legislature here. But Eldridge believes they missed a chance to increase their numbers in the State House in Tuesday's election.
"I worked on key races in Worcester, on the Cape where you had progressive Democrats who won the primary that really didn't feel that they were very well supported by the Massachusetts Democratic Party and so we had red seats that could have gone blue that instead remained red because Republican incumbents won on Tuesday night," Eldridge says.
Both on Beacon Hill and in Washington, these progressive Democrats believe their party has to be more combative in defending the working class.
This segment aired on November 11, 2016.