Trump Election Spurs 'Panic' In Local Immigrant Communities
Play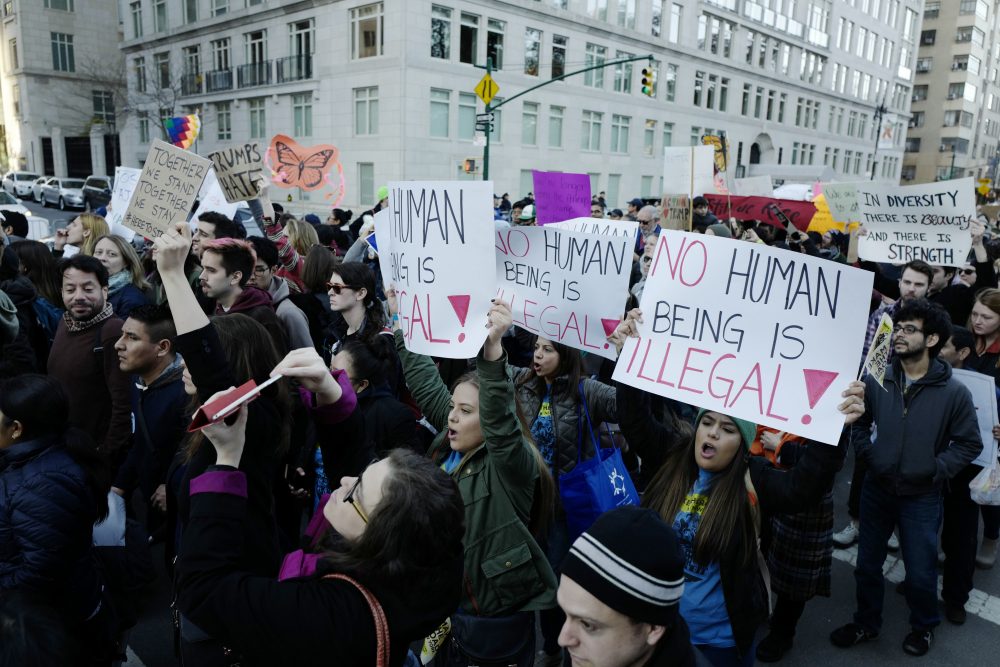 This article is more than 5 years old.
One of the focal points of President-elect Donald Trump's campaign is now one of his first agenda items: deporting undocumented immigrants.
In a "60 Minutes" interview this weekend, Trump said he wants to immediately deport 2 to 3 million undocumented immigrants who he says have criminal records.
"What we are going to do is get the people that are criminal and have criminal records -- gang members, drug dealers, we have a lot of these people, probably 2 million, it could even be 3 million -- we're getting them out of our country, or we're going to incarcerate," Trump said. "But, we're getting them out of our country, they're here illegally."
But those numbers of undocumented, criminally convicted immigrants Trump cited simply don't square with Department of Homeland Security data.
According to DHS, roughly 1.9 million immigrants have been convicted of crimes. This number, however, includes both undocumented immigrants and immigrants with some sort of legal status.
Eva Millona, director of the Massachusetts Immigrant and Refugee Advocacy Coalition, says these types of broad policy statements fuel uncertainty among immigrants.
Millona says the group is receiving a large number of phone calls from all over the state, hearing from people who are taking precautionary action in light of Trump's election and most recent statements.
"We have heard from people that they are really scared and they're closing their bank accounts and they're making plans to get their children passports in case of a massive deportation," she said. "There is a panic among the community and a lot of questions: 'What should we do? Should we close our businesses? Should we send our children to school? What's going to happen with the members of our families?' "
It's not uncommon for members of immigrant families to have different legal statuses. These mixed households can make for environments that are both legally and emotionally complicated.
Lucy Pineda, who heads up Latinos Unidos in Massachusetts, says many of her clients are questioning what a Trump presidency might mean for their families.
"You know, a lot of brothers and parents, they are U.S. citizens but the real problem is those other family," Pineda said. "They came undocumented to the United States. Sometimes, all of the family they have the legal status, just the mom doesn't have anything. It's sad."
Both Pineda and Millona are informing immigrants of their rights, and telling them not to panic, but to wait to see what happens in January — when the president-elect becomes President Trump.
Correction: An earlier version of this story misspelled Eva Millona's last name. We regret the error.
This article was originally published on November 15, 2016.
This segment aired on November 15, 2016.