Boston To Test Higher Parking Meter Prices As Part Of Pilot Program
This article is more than 6 years old.
Starting next year, some parking meter rates will go up rather significantly in Boston.
City officials announced the creation of a pilot program Thursday that will bring higher rates and test dynamic pricing — in which parking meter rates change based on demand — in the Back Bay and the Seaport District. Typically with dynamic pricing, rates increase when most meters are in use and then decrease when more meters are available.
With Boston's pilot program, the city will study ways to reduce traffic congestion as well as the time it takes people to look for a parking spot.
"Boston is focused on reducing crashes and providing safe, livable streets for all pedestrians, cyclists and drivers," Mayor Marty Walsh said in a statement. "This parking pilot will help us manage parking spots more efficiently, reducing congestion, gridlock and distracted behavior by drivers."
Starting Jan. 3, the city will test two different pricing models as part of the pilot program.
In the Back Bay, parking meter rates will rise to $3.75 per hour — from the current $1.25 per hour rate. The city said the change will affect approximately 1,650 parking spots within the area surrounded by Beacon Street, Arlington Street, Stuart Street, Mass. Ave and Charlesgate.
City officials said the goal of increasing meter rates in the Back Bay is to make more drivers start parking in off-street garages and lots instead of feeding meters all day long. The city said this will increase access for short-term visitors who are in the area to shop or to visit a business or restaurant.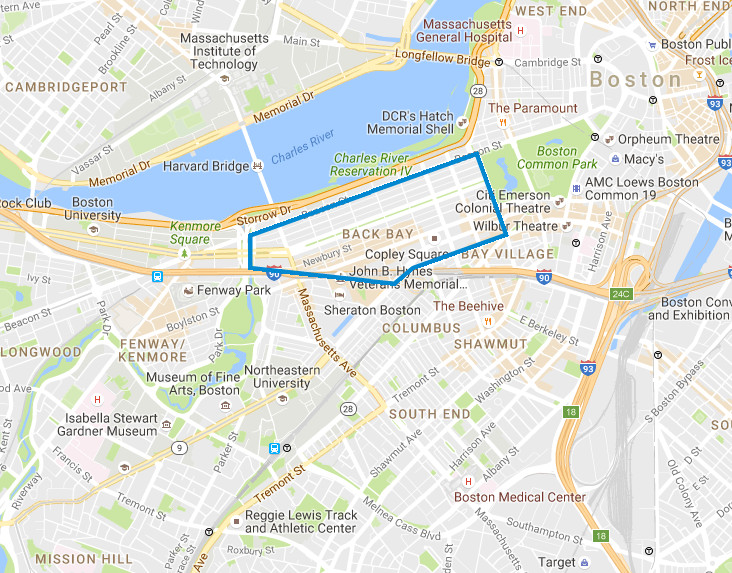 The Seaport District will see something a bit different: Think along the lines of Uber surge pricing, but for parking meters. Sensors will be installed to adjust parking prices based on locations and occupancy levels of parking spots.
The base price for Seaport meters will be set to $1.50 per hour. And prices may vary during four time frames: weekdays 8 a.m.-noon; 12-5 p.m.; 5-8 p.m.; and all day on Saturdays.
About 591 parking meters will be adjusted over 40 blocks in the Seaport District. And the meter prices will be reevaluated every two months. In areas where there is a high demand for parking, the meter prices will increase by 50 cents. If there is low demand, they will decrease by 50 cents. The lowest price meters can go will be $1 per hour — the highest price will be $4 per hour. Prices will be posted on meters and available online, according to the city.

Walsh announced plans to look into dynamically priced parking in the city last September, citing success San Francisco has had in reducing the time it takes drivers to find parking spots.
While parking rates in San Francisco can climb as high as $5 per hour, Walsh previously said a similar system in Boston would be "reasonable."
The last time Boston parking meters were raised was in 2011, when they went up to the current level of $1.25 throughout the whole city.
The parking meter pilot program will run through the end of 2017.
Kris Carter, the co-chair of the Mayor's Office of New Urban Mechanics, said the city doesn't expect to receive more revenue through the program — but if the city does see a revenue bump, that increase will be reinvested back into roadway improvements in the Back Bay and Seaport District.
"We're not doing this [to be] tied to revenue," Carter told WBUR. "It's really focused on making the travel experience better for people in the city of Boston and cutting down on the amount of time people are searching for parking."