Theater Troupe Tells Painful Stories To Get Teens Talking About Addiction
Play
This article is more than 6 years old.
The painful stories of people in recovery from drug and alcohol use may not sound like riveting theater exactly, but it seems to be resonating with many Massachusetts students.
This school year alone, thousands of students have seen performances by theater group The Improbable Players. The actors, who are all in recovery, perform theatrical adaptations of personal stories of addiction.
Sharing The Pain On The Stage
On the stage of the auditorium at Triton Regional High School, in Byfield, an actor from the troupe shouts: "You know, I hate you. I really, really hate you."
This soliloquy has more than 500 teenagers riveted. The actor is describing powerful feelings about being a drug user. Three other actors are whispering back, reinforcing his negative emotions.
"Every time, every time your mom asks, 'How're you doing?' 'I'm doing fine, mom.' You lie," he continues.
This play, titled "End of the Line," is based on stories from people in recovery from substance use disorders.
The Improbable Players performed before 5,000 students in New England this school year alone. They say they want students to know what the players learned the hard way: that it's easy to fall into addiction and hard to claw out of it.
After the one hour performance at Triton, the players tell their personal stories and then invite the students to ask questions about themselves, their addictions or the play.
Dozens of students that day raise their hands with questions such as, "Do you believe addiction is a disease?" "If you have a parent addicted how do you get help?" "Do you think marijuana is a gateway drug?"
"That is why we're called The Improbable Players because it is improbable that us four would be up there, given where we came from."

Elizabeth Addison
These students seem to genuinely connect with the young adult actors. One student was overcome by emotion as she explains that her father had recently died from a heart attack after years of struggling with addiction.
"What could I have done?" she asks the actors between sobs. Then with a bit more edge to her voice: "And why do you people who are addicts not listen to your loved ones and keep using drugs? What can we do to make you stop?" The auditorium was completely silent for a moment.
Actor Elizabeth Addison struggles to answer: "Hearing that question broke my heart."
Addison tells the teen there wasn't much she could have done for her dad.
"You think that telling him you love him or whatever is going to wake something up because he loves you more. No," Addison says. "It's a very tricky disease — the person that has it, their mind is completely being fooled, it's completely someplace else. They're literally like puppets."
She also tells the young woman that statistics show that the fact that these actors can even perform at all is, well, improbable.
"For the four us there are 398 people who are either institutionalized or in jail or are going to die from the disease of addiction," Addison says. "That is why we're called The Improbable Players because it is improbable that us four would be up there, given where we came from."
A Call To Address The Issues
Since 1984, The Improbable Players have been taking the stories of people in recovery and staging them in short plays. First the troupe focused on alcohol. Then about three years ago — after Massachusetts declared opioid use a public health emergency — the troupe's founder Lynn Bratley says the group decided to do a play about it.
"We had to do the opioid play, we absolutely had to," Bratley says. "We answered a call to address this issue — it's just too devastating and serious."
Bratley dismisses suggestions that her plays might make drug use seem normal, or acceptable to students, because these actors and their painful pasts are now in the limelight.
"They don't make addiction look glamorous, not for one second," she says. "They make it look like what it is: painful and horrible. And their own stories — it's not like they don't have consequences still today — they live with the consequences of their youth and use."
The main point of the program, Bratley says, is to get students talking about their lives and to let them know that opioids are a public health epidemic, threatening thousands of families across Massachusetts.
Triton senior Cassie McGrath says these types of programs are critical — not so much because they might stop a teen from using drugs, but because they'll get people talking about it.
"It's something that when you're in high school, if no one talks about it, it will become more of a problem," she says. "I think that if people don't address that opioids are happening in our area — because they are — then no one will every really do anything about it and it makes it even harder for people to reach out for help."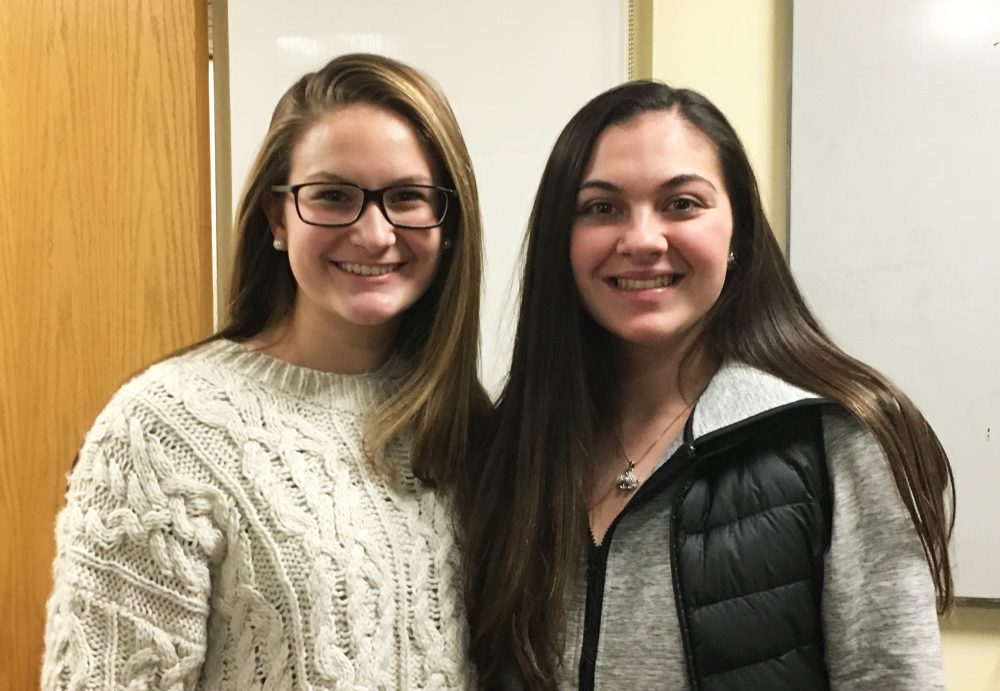 McGrath was particularly struck by what happened at the end of the performance. The Improbable Players asked the audience: "Raise a hand if you know someone struggling with alcohol or drug use."
More than 80 percent of the students — and the teachers — raised their hands. They sheepishly looked around, some smiled as the actors told them to notice that there are other people nearby who might understand.
"Even some of my friends that raised hands I was surprised about. It's mostly just sad, because on the outside, on the surface, people would think we live such clean, nice lives, like in the suburbs, but when you ask someone that and everyone raises their hand, it shows the impact, that the stereotype isn't that true and the facts and statistics they're saying about drugs is fact," McGrath said.
The statistics continue to be alarming. On average, five people are dying from opioid overdoses every day in Massachusetts.
This segment aired on December 22, 2016.