Forecast: A Mostly Tranquil Pattern Takes Us Through The Holiday Weekend
I have a book that features many of the historical storms that have occurred in New England. I glanced at it this morning and noted it says Boston was 12 below zero on this date back in 1883. It's a reminder it used to go well below zero much earlier in the season, and we also had more snow.
You have to go back three years ago to find a December where we had much now. In 2013, 11.7 inches of snow fell in Boston in December. The snowy Decembers of 2007 through 2010 averaged just over 22 inches of snowfall!
As we enter the final week of 2016, we are going to continue the tranquil weather pattern that has been the hallmark of our weather the past year. This means we won't see any big storms and not much precipitation. As a matter of fact, 2016 is likely going into the record books as one of the driest.
If you are traveling over the next few days in New England, snow will not be an issue in most areas. A weak weather system will bring some rain showers tomorrow with some snow in the mountains. On Monday, another weak system might bring a few rain showers late in the day or at night, but again, this won't be a big storm.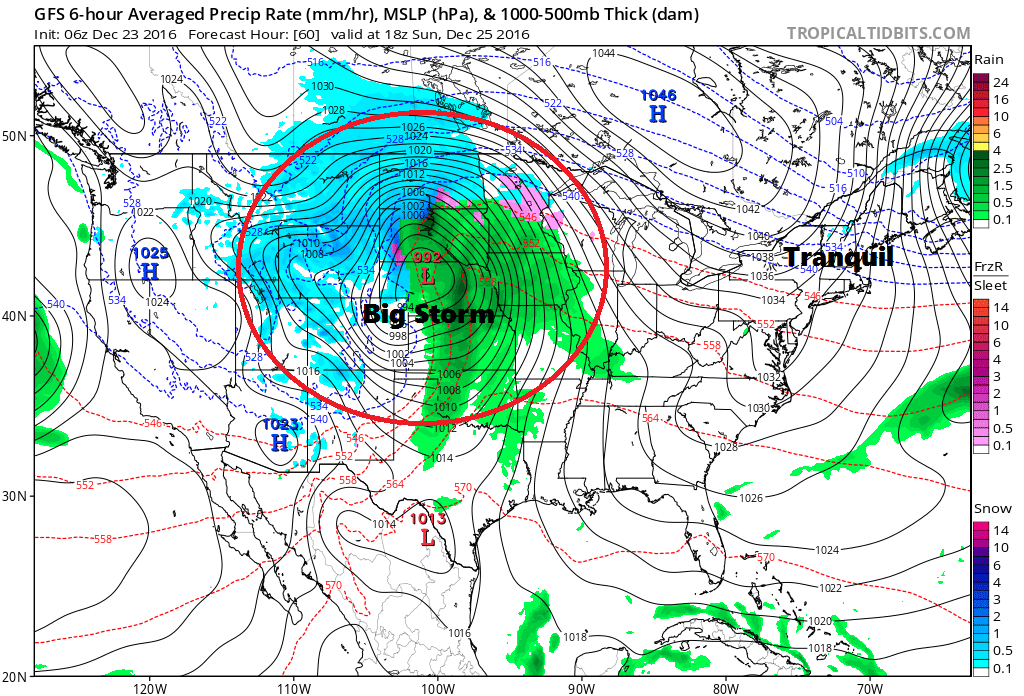 Between these weather systems is the first night of Hanukkah, Christmas Eve and Christmas Day. All of these look dry and seasonable. Christmas Day will dawn bright and sunny and end the same way. Temperatures will be just about average, reaching the upper 30s in the colder spots and lower 40s elsewhere.
If you are wondering when we might see a pattern change, I don't see anything to indicate the development of a stormy pattern through at least the first part of January. Of course, this can rapidly change. But since the big snow of 2015, the atmosphere seems to have taken a break around here.
You can follow my weather updates on Twitter at @growingwisdom.
---
Friday: Mostly sunny and seasonable. Highs around 42.
Friday Night: Clouding up. Lows in the upper 20s to lower 30s.
Saturday: A period of showers in the morning. Highs 40-45.
Sunday (Christmas Day): Partly to mostly sunny. Highs 41-44.
Monday: Seasonable with a few rain showers possible. Highs in the lower 40s.
Tuesday: Sun and clouds and mild. Highs 45-48.