15 Public Art Projects Around Boston 2016 Brought Us
On Boston's walls, in parks, in storefronts, inside subway stations. Some of the most exciting art happening around the city is happening in public. Often fleet-footed and temporary, which gives the creators greater license for daring. Below is a roundup of some of the most memorable artworks of the year around here — including a viral video, a liquor store sign war, fresh murals and responses to the presidential election. Listed in sort of chronological order.
The first major winter storm of 2016 was arriving when Boston teacher Tory Bullock posted a short video to Facebook on Feb. 4. Freestyling over the "Rocky" theme song, he proclaimed: "Boston Public Schools you've got a snow day!"
It racked up 64,000 views and 944 shares. It was featured on the website of NBC's Today show. And it turned out to be just the beginning of the delightful shenanigans that he'd get up to this year — from a 3 a.m. "Insomniac Olympics" at Boston's Museum of Fine Arts to a video critique of gentrification in Boston to "ColdBusters" to warm Bostonians' hearts during our recent arctic weather.
"The inspiration," for the snow day video, Bullock has said, "was just pure joy."
---
Clubhouse murals, by Caleb Neelon and Maria Molteni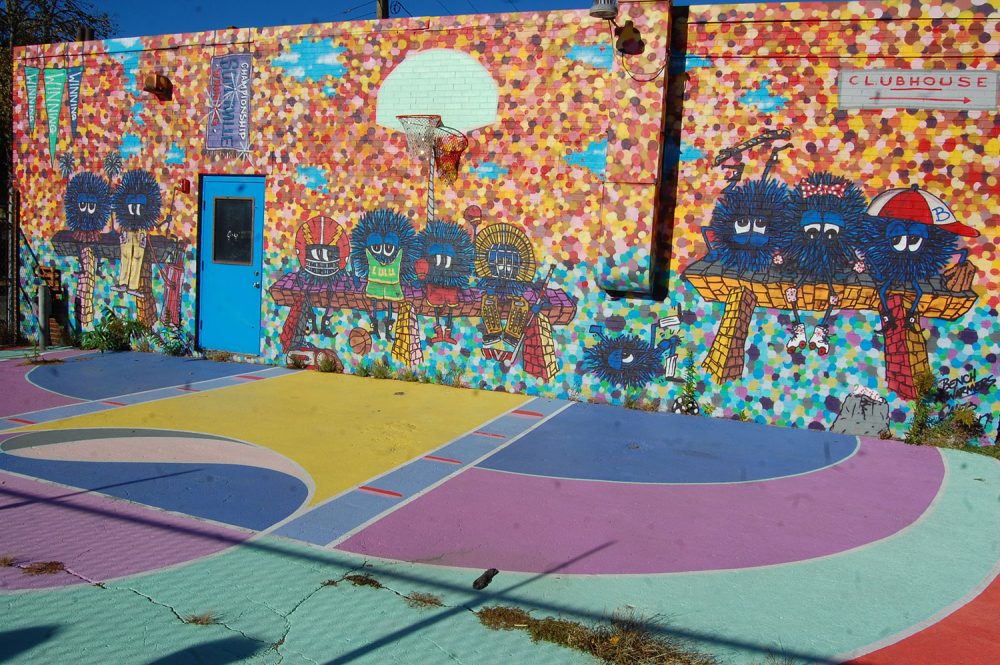 In March, Chas Wagner connected with a couple of locals to create stop-you-in-your-tracks murals to help launch his temporary culture and sports "Clubhouse" in a former auto body shop at 471 Somerville Ave. in Somerville.
Cambridge muralist Caleb Neelon painted the wall facing the street to look like gymnasium populated by his signature fuzzy blue cartoon characters sitting on benches under a championship banner. And Boston artist Maria Molteni — whose projects have included hand-crafting basketball nets that she then installs on empty urban hoops — painted the ground up as a mod basketball court topped, at the free throw line, by a blue and lavender basketball. Game on.
---
Sav-Mor Liquors sign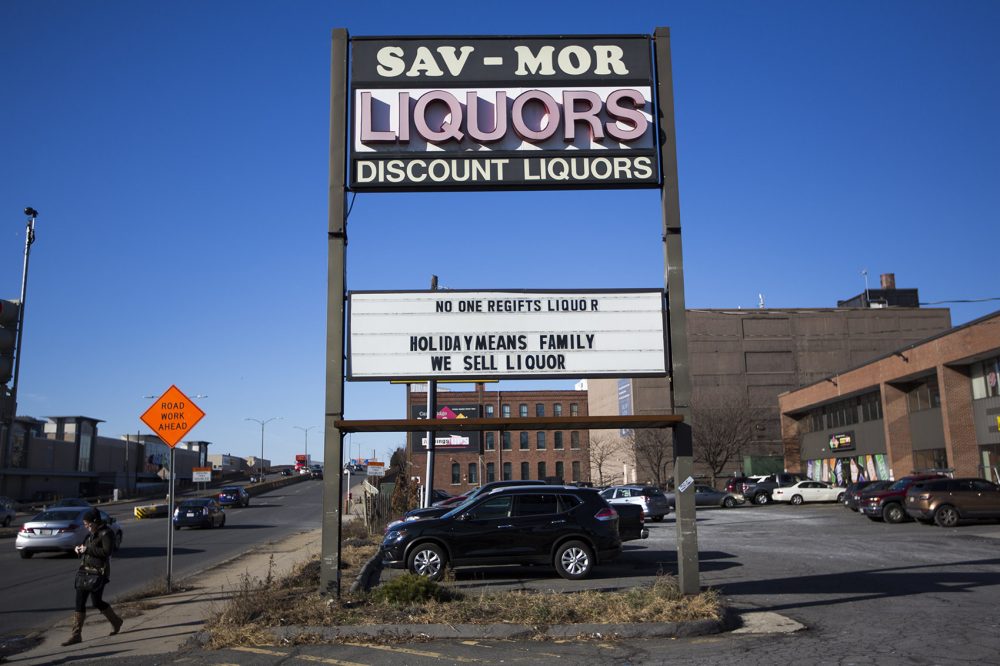 Perhaps it began as a case of unrequited love. Back in February 2013, the sign of Sav-Mor, the discount booze emporium along Somerville's McGrath Highway read: "I have / a secret crush / on the McDonalds sign."
But this May, when said McDonald's restaurant across the street advertised, "2 Egg Muffin $5" on its sign, Sav-Mor responded with a sign saying: "3 Egg Muffin $4. Your move McDonald's." Though noting, "Offer not valid in Mass."
Before things could get too heated in the Great Sign War, Sav-Mor posted a new message: "You win McDonald's. Quitting before I tastelessly comment on your special sauce."
The Sav-Mor sign is widely known as a leader in liquor-store-sign-based humor. Or as the sign proclaimed in 2012: "Come see our world famous sign."
This July, the sign read: "Ask us about our baby shower registry." The day after the November election: "Liquor is bipartisan / All you need / for your victory party / or bomb shelter." December: "No one regifts liquor / Holiday means family / We sell liquor."
But in October, when Sav-Mor announced, "We Sell Pumpkin Crap," and, "Other Crap Also For Sale," McDonald's — which actually sells "Pumpkin Spice Lattes" — felt moved to respond: "We Prefer to Call It Pumpkin Delicacies."
May the sign war never end.
---
"A World of Innocent Wonder," by Cedric Douglas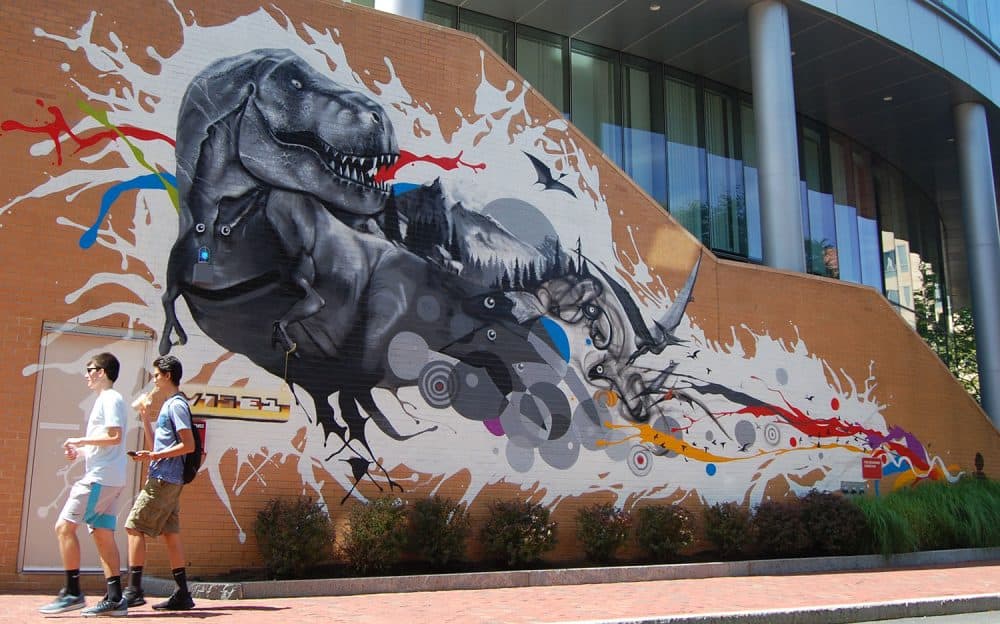 "When you pick up a can of spray paint, it's like an addiction. You can't stop painting and drawing. You enter this world," Boston artist Cedric Douglas says of the mural he painted in May on Northeastern University's Behrakis Health Sciences Center. It depicts a child spray-painting a tyrannosaurus rex. "This kid picks up a can and this whole world is coming out."
---
Painted trees, by Nate Swain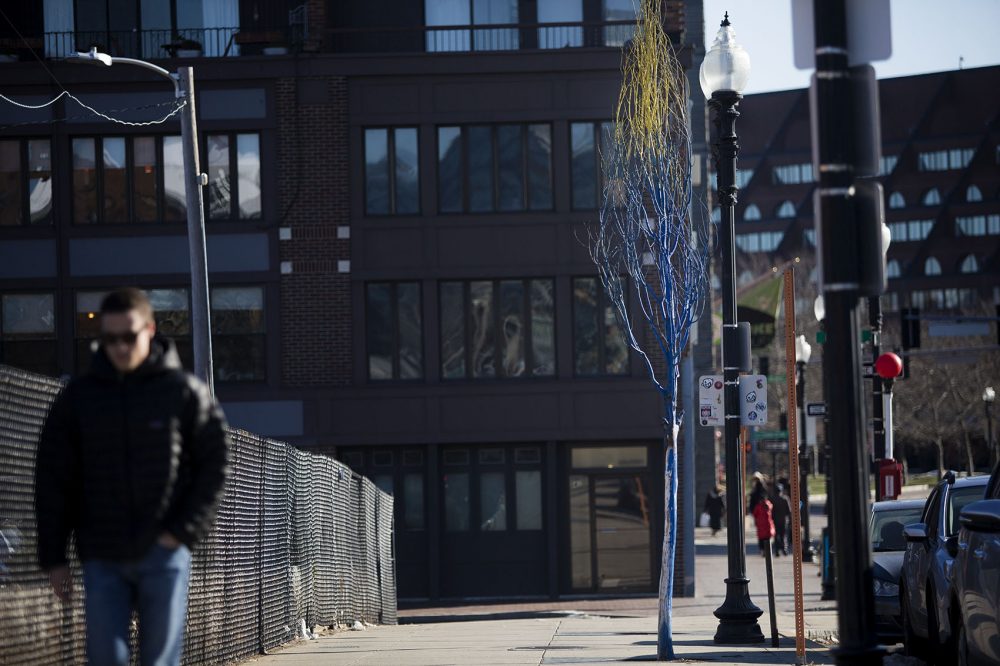 "Boston is really full of dead street trees," Nate Swain notes. The Bostonian is an astute observer of the city — in part because he's always scoping out opportunities to add a bit of magic to the place.
Swain is the artist who patched the crumbling bricks of a Congress Street building with a tiny Lego wall, who created a guerrilla Zen garden by raking the gravel under the Zakim Bridge, who has painted several murals around the city.
The dead trees got him thinking: "If only I could paint the dead trees, I could turn something dead and blighted into something art and beautiful."
Beginning around June, along Cross Street near Fulton Street, he stealthily painted nine of them — red, yellow, blue. In his typical guerrilla art style, he takes something kind of ugly, something that we usually tune out, and turns it into a surprise.
"Six were cut down a month after I painted them. Two got knocked over. One is left standing," he writes. "I am planning on painting more dead trees next year and beyond. Boston should not have so many dead street trees, but until then I will be doing my part to add awareness to the growing situation and making a bad situation better."
---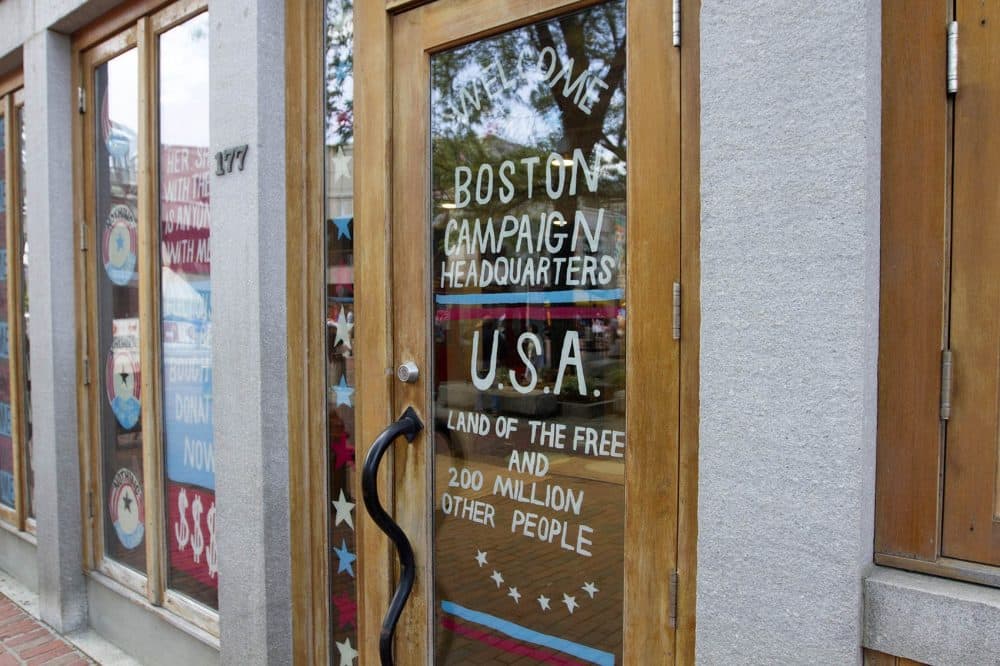 Last June, at Boston's Faneuil Hall — that landmark of American patriotism and retail shopping — Boston artist Pat Falco filled one of the storefronts with his faux election office. "Welcome to Boston Campaign Headquarters. U.S.A.," the door read. "Land of the free and 200 million other people."
It ran through the fall, filled it with deadpan signs and banners addressing the country's struggles to live up to its promise. One sign read, "With liberty and justice for some." Or "Elections can't be bought, donate now."
"It's a campaign for nothing, for no one," Falco said. "It's a campaign against the evils of campaigning."
---
"Public Trust," by Paul Ramirez Jonas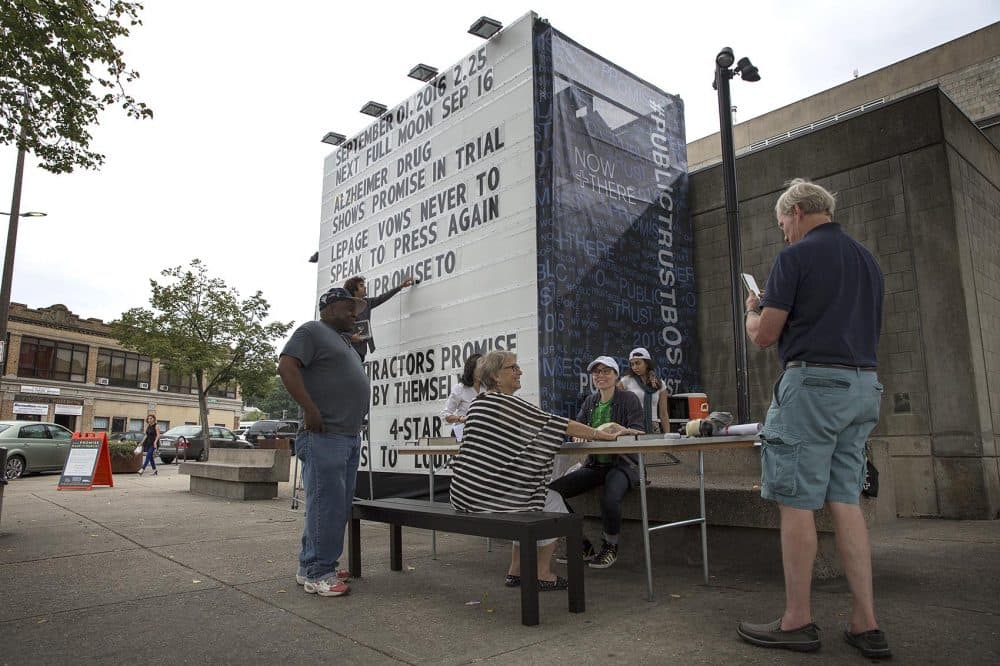 "What is the nature of promises? What can be kept? What is promissory? What is a fact? What will never come true?" asked Brooklyn artist Paul Ramirez Jonas, working on a commission from Boston artist Kate Gilbert's Now + There public art nonprofit.
The team set up a 16-foot-tall billboard in Dudley, Kendall and Copley squares in August and September to display promises by politicians and other public figures alongside those of hundreds of locals who visited the project. "I promise to make sure black lives matter." "I promise to not take my life." "I promise not to run away from what is good for me." "I promise to have faith in humanity." "I promise to never give up no matter how dark times get."
---
White tiger mural, by Problak, Imagine Nation and friends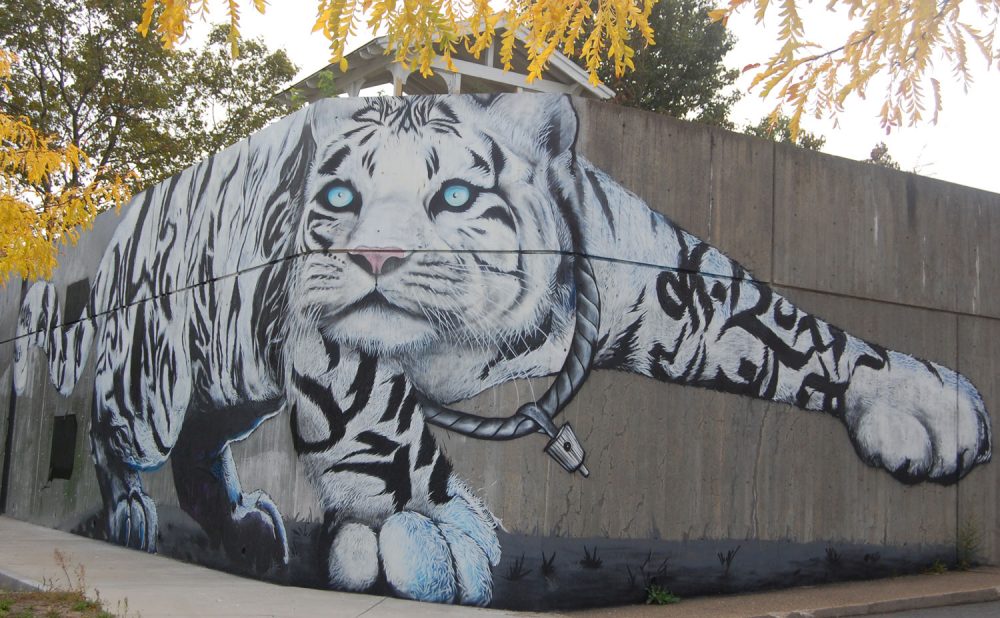 At Boston's O'Bryant School of Mathematics and Science, a team of graffiti artists — including Problak (Rob Gibbs), Imagine Nation (Sneha Shrestha), Soems, GoFive (Ge Ortega), Hannibalskepter, Geobany, Wisogee, Hypetimes, Bostonbravez and Brandalizm — came together to produce this amazing, monumental version of the school's feline mascot. With the artists' names hidden in the stripes.
"The idea was to have the tiger be admired, then realize that the graffiti is what brings the tiger to life," Ortega writes. "We wanted to show the beautiful aspect of graffiti, that not too many people outside of the culture get to experience."
It's part of the "The Lab" graffiti project that is transforming the grounds at the school at 55 Malcolm X Boulevard. While you're there also check out the memorial portrait of Prince by Ortega, who helps oversee the art.
---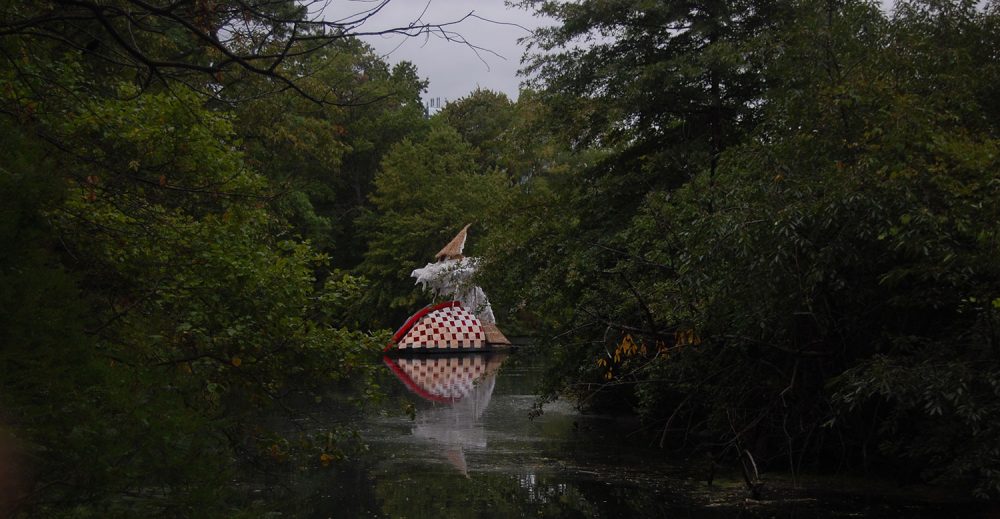 Gazing down Boston's Back Bay Fens, it emerged from between the trees — a mysterious concoction of fabric and plywood and thatch, resembling maybe an overturned boat or some sort of shell-cottage.
In fact it was a sculpture, temporary floating in the lagoon behind Boston's Museum of Fine Arts this fall. It was inspired by Hy-Brasil, an island that began appearing in maps of Ireland's west coast in the 14th century — but perhaps not in reality. Connected with the Irish belief in Tír na nÓg — the "otherworld" or "land of eternal youth" — it was an elusive place, said to appear only once every seven years, shrouded in mist.
"It would come and go like a mirage," visiting Irish artist Caoimhghin Ó Fraithile explained. "It would appear and disappear. They couldn't find it."
---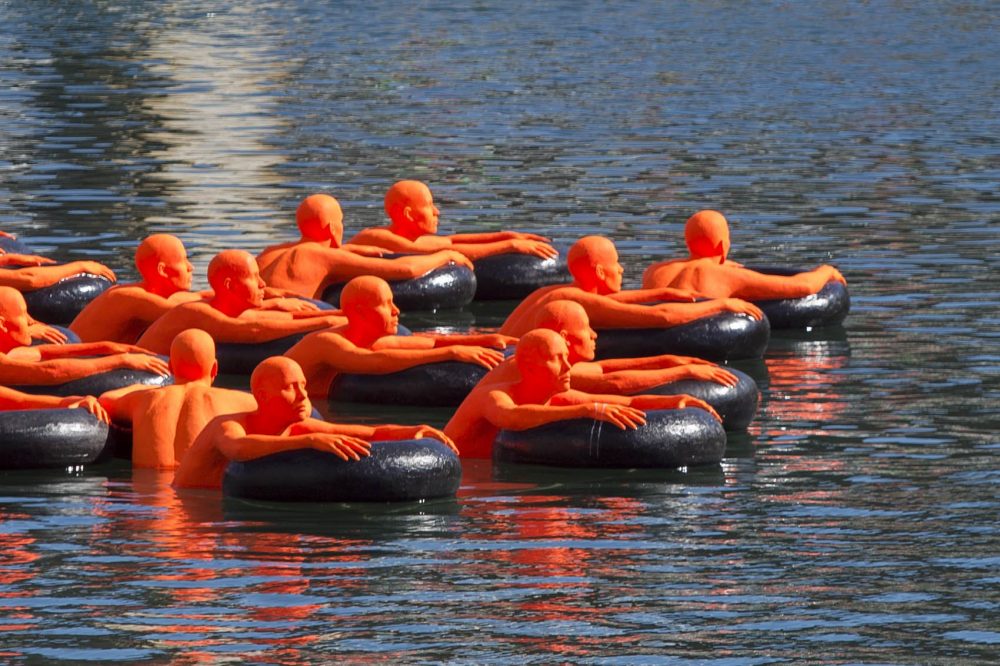 "We are very specifically concerned with the magnitude of the [international refugee] crisis and how many people are displaced. We're talking about a global issue. But it's important to connect back to Boston," explained Ann Hirsch, one of the Somerville partners who set sculptures of 22 orange people clinging to black inner tubes afloat (temporarily) in Boston's Fort Point Channel in October. "We're a city of immigrants in a country of immigrants."
---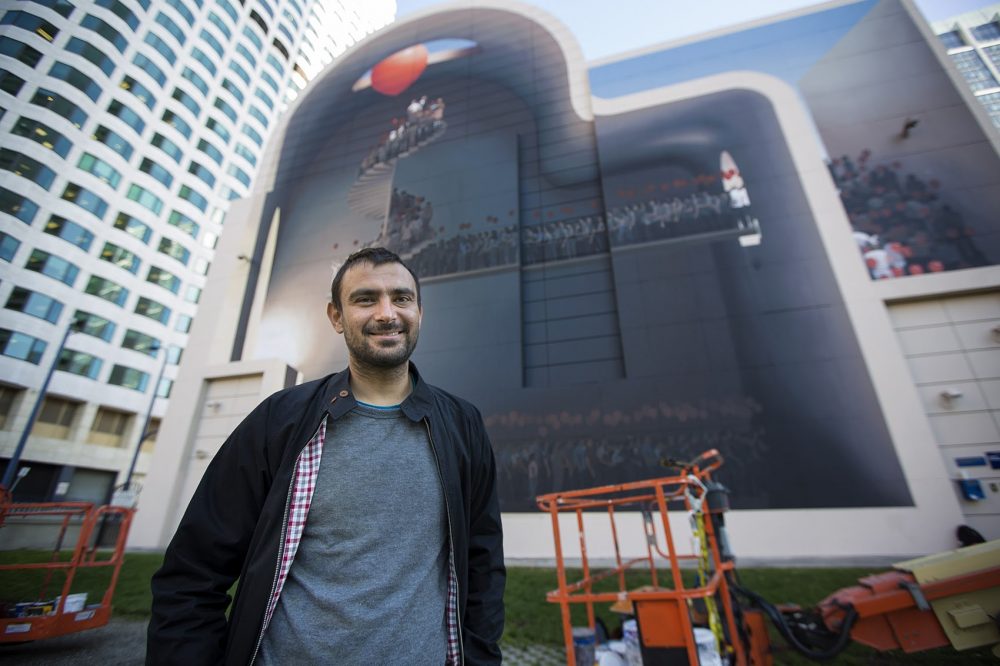 The Iranian muralist Mehdi Ghadyanloo's American debut came in October when he painted the 70-foot-tall wall on the Rose Kennedy Greenway in Boston's Dewey Square. It was the first time since the Greenway mural project began in 2012 with the Brazilian twins Os Gemeos that the artist selected was actually a muralist. The improvement in quality is apparent.
In Ghadyanloo's trompe-l'oeil painting, which is expected to remain on view for about a year, a line of people holding red balloons winds through dark rooms and climbs stairs toward a giant red balloon that hovers in an opening in the roof to the sky, maybe floating up and away, or maybe not. It feels like a metaphor for escape, for hope. But it's ambiguous.
"My aim was when people see my mural [they] think about something else rather than their problems," Ghadyanloo has said. "I think all of us — people in Iran, people in America, people everywhere — usually receive lots of bad news, and we all need hope."
---
"Election Therapy Booth," by Julie Ann Otis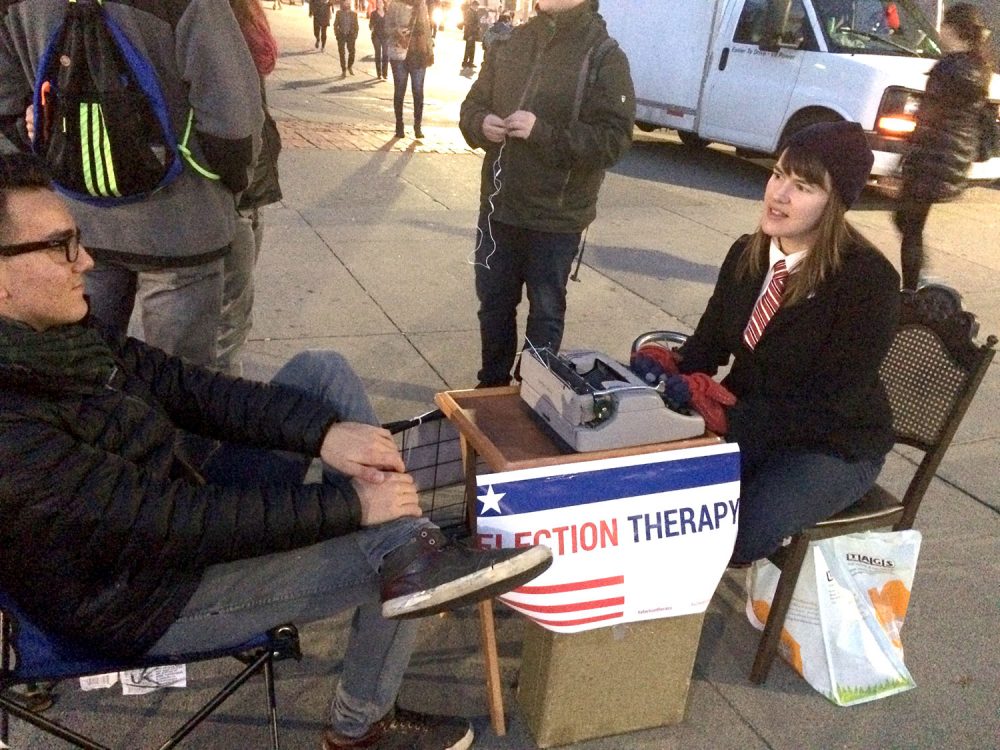 "Armed with a typewriter, a willingness to listen, creative solutions and zero credentials as a health care professional," Julie Ann Otis parked herself outside the Park Street MBTA station in Boston on the afternoon of Election Day, Nov. 8.
The Somerville artist offered "therapy" to "anyone suffering from Post-Trump Trauma" or "Post-Hillary Hysteria."
If only we'd known then that Election Day was only the beginning. Now she's mulling traveling to Washington, D.C., to set up another street therapy booth for Trump's inauguration.
---
"Subway Therapy," by Venita Subramanian and friends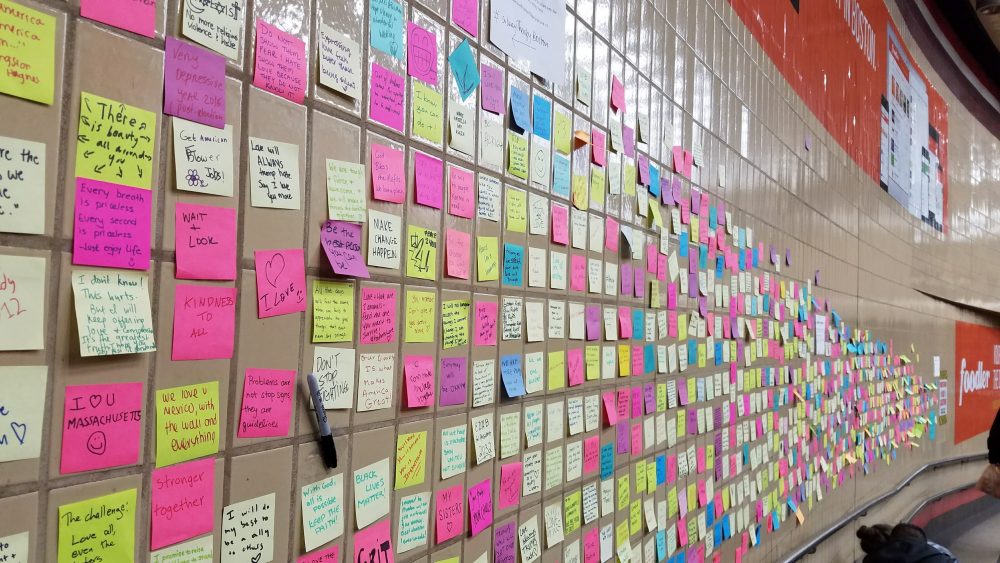 "Share your post-election message of hope; come express yourself and channel your energy into something good," read the Facebook invitation. "Let's put positive messages back into the world and normalize love, not hate."
In the wake of Trump's election victory, and imitating the "Subway Therapy" project in New York, local artist and activist Venita Subramanian and friends invited people to stick Post-It notes inside MBTA stations at Park Street, Harvard Square and Downtown Crossing on three days in November and December.
"How beautiful it is," one note posted by a participant read, "that nobody needs to wait a single moment before starting to improve the world."
---
"Little House on Green Street," by Merkthose, Brandalism and others
In November, a small house at 197 Green St. in Boston was transformed into a graffiti showcase by Merkthose, Brandalism, Angelonce, Goopmassta, JB183, Marone, ProBlak and Go5.
City Realty Group in Brookline bought the dilapidated single-family home as part of a plan to demolish it and construct a larger development also involving surrounding properties. In the meantime, Clifford Kensington, the firm's director of acquisitions, says they thought, "If you can't do anything with the inside of it, at least spruce up the outside."
Much as the firm has done over the past year with CityPop Egleston, a cultural space in a property at 3195 Washington St., they've turned the space over to artists while the firm waits for permits to redevelop the property. The project is expected to last about a year.
City Realty Group sees these art projects as a way to give back to the community, to enliven neighborhoods, and to help create connections with neighbors as they pursue future real estate development there, Kensington says.
---
"Medicine Wheel," by Michael Dowling and friends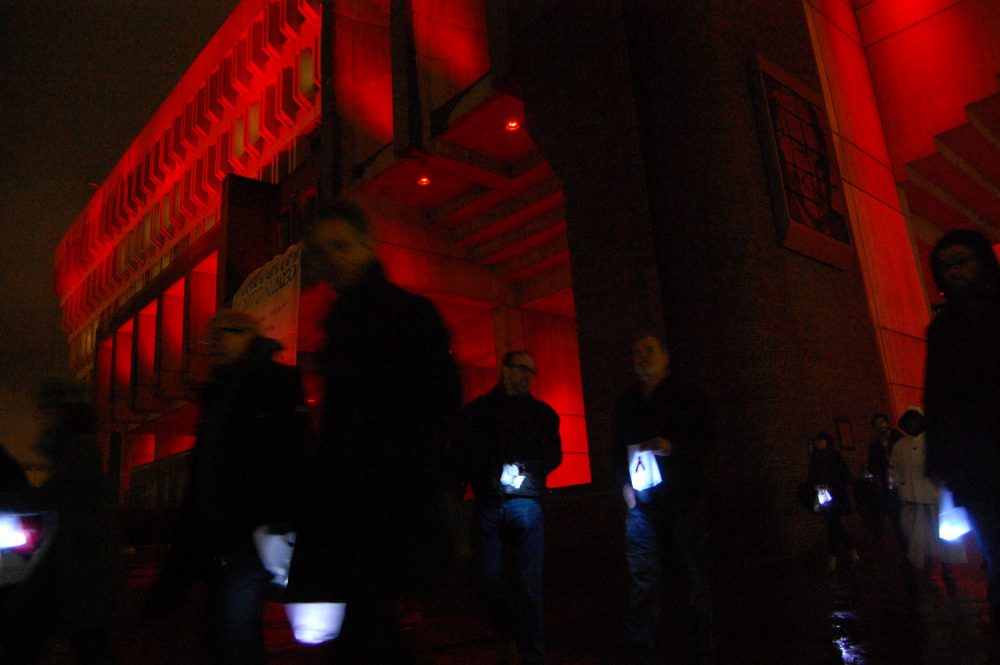 It was raining at 11 on the night of Dec. 1 as about 30 people gathered under the overhang of Boston City Hall, the concrete building lit all in red (taking advantage of the new, outdoor LED lighting that debuted at the structure in October), to begin the 25th annual "Medicine Wheel" vigil to remember the millions of people lost to AIDS.
"In the early years, artists marked this day to hold the human heart, to hold the human condition," Boston artist Michael Dowling, who founded the event, said to launch this year's 24-hour vigil. It began with a solemn lantern procession and dancing from City Hall to the Boston Center for the Arts, where a monumental shrine was set up in the Cyclorama.
"I'm 62 years old. Of my generation, one in four of us died from AIDS," Dowling said. "I've always believed art is the thing that guides us through those difficult times, and those wonderful times."