With New Year, Mass. Minimum Wage Will Rise To $11 An Hour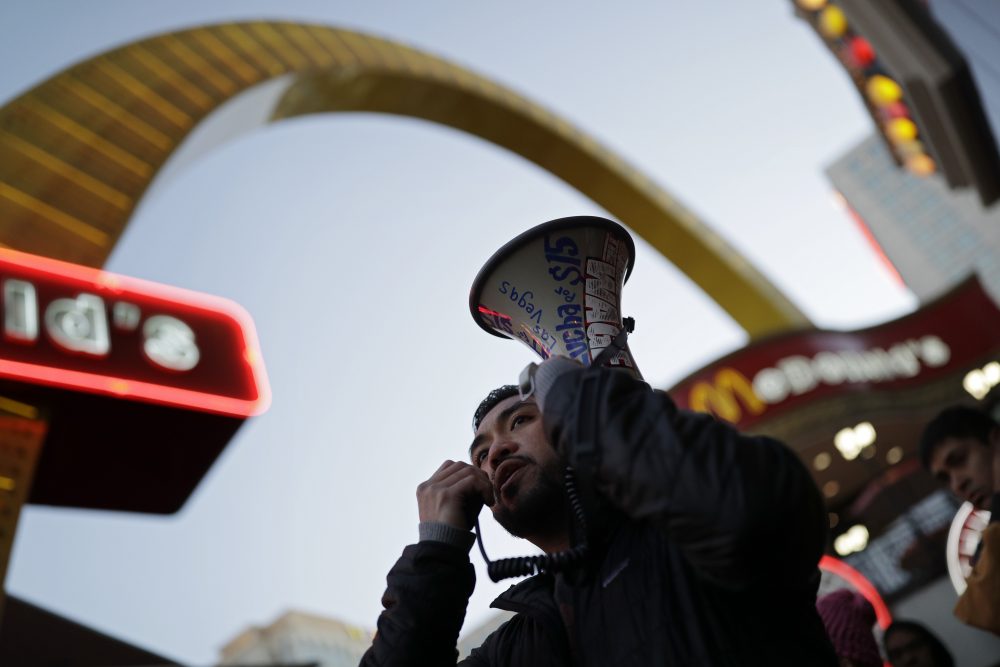 This article is more than 6 years old.
New year, new minimum wage in Massachusetts.
The state's pay floor rises to $11 an hour on Jan. 1, the third and final step-up outlined in a 2014 law. That law called for the minimum wage to increase incrementally from $8 an hour to $11 over three years.
Also rising as of 2017: the minimum wage for service workers who receive tips, from $3.35 per hour to $3.75.
As it's the third planned increase, Bill Rennie, vice president of the Retailers Association of Massachusetts, says businesses have budgeted for the higher pay floor in 2017.
But he says it's a costly hike, adding to the regulatory mandates on the state's employers, including earned sick time and overtime pay on Sundays for retailers.
"While the minimum wage will be increasing by $1 on Jan. 1," Rennie said, "that really has an added effect [for retailers] on Sunday; it's really a $1.50 increase on Sundays."
The minimum wage has long been debated. Critics of a higher one say it just increases labor costs, which force businesses to then raise prices and/or cut other wages, benefits or jobs. Backers of a higher minimum wage say it boosts worker earnings, leading to more spending overall in the community.
Many in Massachusetts are already looking beyond the $11 minimum wage.
After discussions at the local level among municipal politicians, the union-affiliated group Raise Up Massachusetts in November began advocating for a $15 statewide pay floor, calling it "the next step in the campaign for livable wages."
Rennie says that's been more of a topic of conversation among RAM's members than the impending $11-an-hour minimum.
"[We're already hearing that] even though we're just now going to $11, suddenly they want to start talking about $15," he said, "and that is where our members get extremely concerned."
There's been a lot of activity around state minimum wages this year. California and New York, along with Washington, D.C., enacted laws to raise their respective pay floors to $15 an hour over the next several years. And just in November, voters in four more states -- Arizona, Colorado, Maine and Washington -- approved state minimum wages of at least $12 an hour by 2020.
Many other states will see their minimum wages increase Jan. 1 as well, including the aforementioned Maine (to $9 first), Connecticut (to $10.10) and Vermont (to $10).