With Nation's Second On-Campus VFW Post At Northeastern, Vets Look Beyond Smoky Bars
Play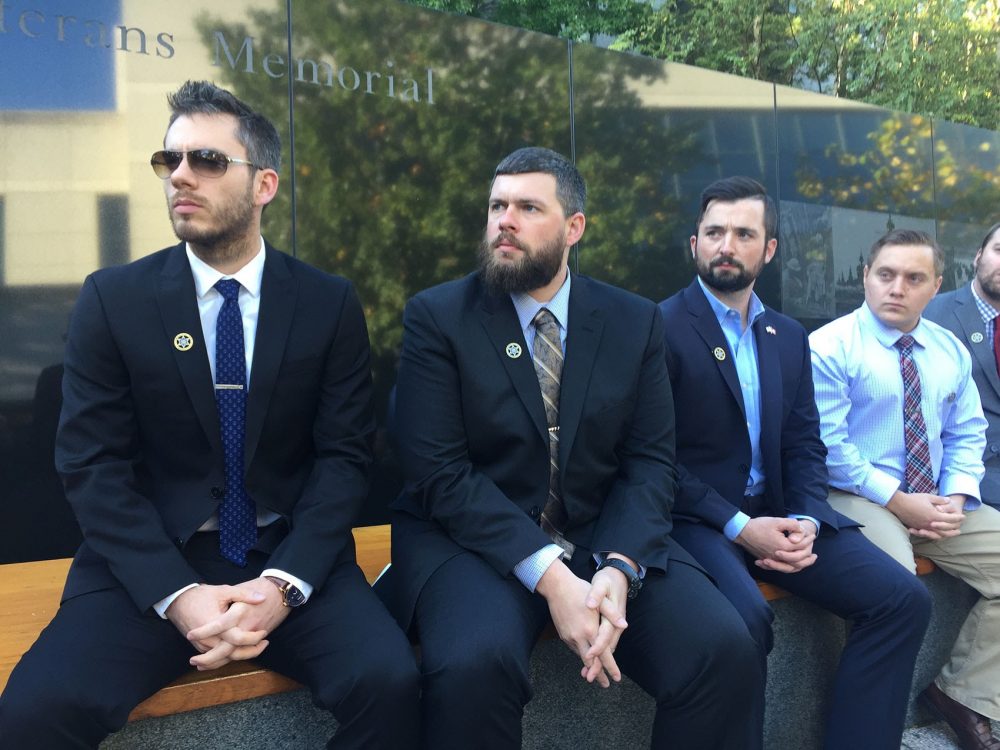 This article is more than 6 years old.
The Veterans of Foreign Wars now counts two posts on college campuses.
The nonprofit veterans' service organization was founded in 1899. And in recent years, it's struggled to engage younger veterans.
With the opening of their new post at Northeastern University in Boston, students hope to overcome challenges faced at the first post located at the University of Oregon.
A New Post To Keep Vets Connected
The founding members of the new VFW Post were sworn in by Brian Duffy, commander-in-chief of Veterans of Foreign Wars. The inauguration took place at Northeastern's Veterans Memorial.
The president of the VFW post, Marine Corps veteran Max Spahn, a senior at Northeastern, calls it a "paper post."
"A paper post is pretty much you get all the benefits of being a VFW member, but we don't have a bar and we don't have an actual clubhouse," he said. "It's really just there's no bar." The group does not have a regular meeting space.
The first post on a college campus, at Oregon, offers a cautionary tale for the student vets at Northeastern. Over the last few years, Michael Nguyen, the Oregon post's quartermaster, said it has been a struggle to keep the post afloat.
"They have school. They have finals. They have tests," Nguyen said. "They have quizzes to prepare for, not always able to make it to meetings. A lot of what they need to do is very personal, and they have less time to contribute to the veteran community as a whole.
"Being a student veteran, you have, usually, too much going on to do much else."
Nguyen said he's one of only two active members. He said turnover is a big problem. When a class takes positions of leadership in the post, they graduate and then new leaders must be found.
But at Northeastern, the student veterans see their new VFW post as a way to help them stay in touch with one another as they graduate.
"We were looking for ways that the community that we built here at Northeastern from the students could continue on through alumni and after college, because the student vets organizations are really focused on the current undergrads," said John McGuinness, of Northborough, the president of the Northeastern Student Veterans Association. "We lose a lot of people, really, after they graduate and they move on with their lives."
The young veterans like the location on a busy, urban campus close to many other universities and public transportation.
It's one reason Duffy, the commander of the VFW, believes this post can succeed. But he makes it clear his organization is not pushing new posts. He said the VFW will open posts on college campuses only under some conditions.
"Whenever a Student Veterans of America chapter or a group of veterans approach us about putting one in," Duffy said, "it's important obviously to put a VFW post [there], but we also look at the sustainability [of the campuses].
"Northeastern has its sustainability," he continued. "They have an open campus footprint here, so not only can they draw from their student population, they can draw from the local community, and also from their alum."
Many Young Vets Dislike Posting Up Inside Smoky Bars
Some students have been turned off by previous experiences with the VFW. But they see in the Northeastern post an effort to bridge the gap between older and younger veterans.
Brian Fountaine, an Army veteran from Plymouth, lost both lower legs in Iraq in 2005 to an improvised explosive device. When he got out of the military in 2007, he tried to fit in at several VFW and American Legion posts.
"And a lot of them were just in really dark, smoky, kind of bar atmospheres, and there was a lot of really angry and resentful people, and for me, trying to transition and trying to make my own recovery, it wasn't a healthy environment to be in," Fountaine said. "So I kind of distanced myself from that and started trying to concentrate on my studies and student veterans groups."
Rather than dark, smoky bars, some of the younger veterans say they are interested in camping trips and raising money for the New England Center and Home for Veterans.
Brian Martin, state commander of the VFW in Massachusetts, said the younger veterans are looking for more active ways to interact.
"They do more of the social gatherings, and it's not necessarily at a VFW post all the time," Martin said. "They're looking for the camaraderie, but in different settings. They have running teams. They do the Tough Mudder races, things like that. That's how they join together. They go out together, and they compete in things."
Younger veterans sometimes require wooing to be persuaded to join the VFW, and that can cause tensions with older veterans.
"So it's a matter of how hard we are willing to work to gain their interest and trust, whereas in previous generations, they were fighting to get in the doors," said Joy Cumming, state adjutant of the VFW in Massachusetts. "So it's a complete turnaround, and there's a whole bunch of issues that are intertwined within that, whether it be an older veteran a little upset: 'I had to work to get in, but now I have to work to get you in? I don't understand.' "
But, the young veterans at Northeastern don't have to be persuaded to join another VFW post now. They have one of their own.
This segment aired on January 4, 2017.