Jury Sentences Carjacking Killer Gary Lee Sampson To Death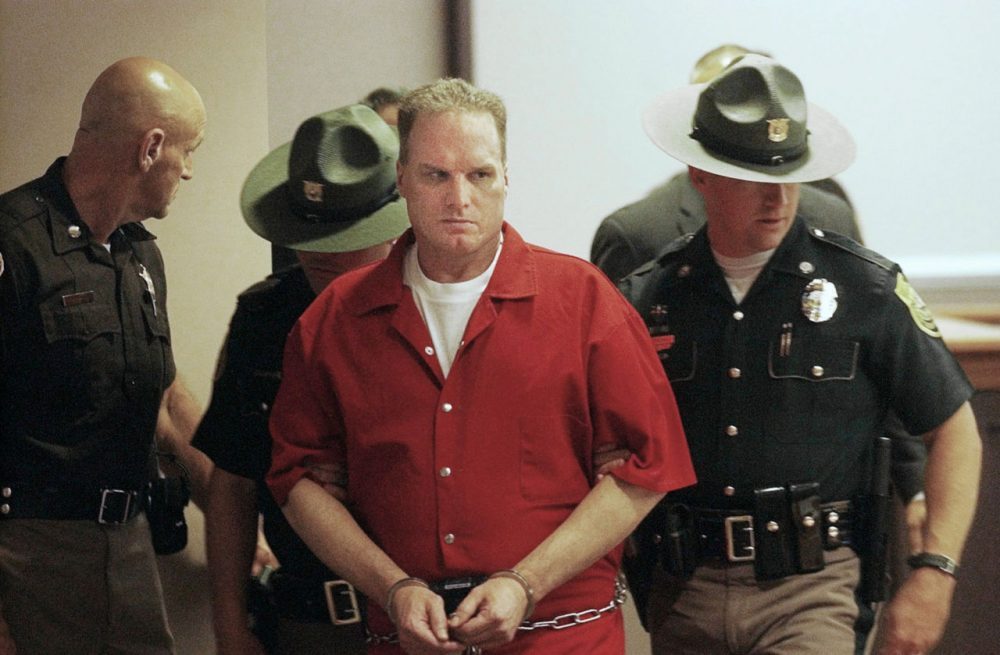 This article is more than 3 years old.
A drifter convicted of killing two Massachusetts men in 2001 carjackings was sentenced Monday to death for the second time.
Gary Lee Sampson was first condemned to die in 2003, but a judge later granted him a new sentencing trial after finding that one of the jurors at his first trial had lied about her background.
A new federal jury deliberated for three days before sentencing Sampson to death for the killing of 19-year-old Jonathan Rizzo. Jurors were unable to reach a unanimous decision on Sampson's penalty for the killing of 69-year-old Philip McCloskey, so Sampson was sentenced to life for that crime.
McCloskey's son Scott said the split sentencing was a little disappointing, but it didn't matter in the end.
"It was difficult, but we still got the verdict we wanted, either way," Scott McCloskey said after the verdict was announced in U.S. District Court. "When it's all said and done, he's getting the death penalty. That's what we fought the fight for, and as far as I'm concerned, we won."
Sampson, 57, had no reaction as the verdict was read. The judge did not immediately set a date for formal sentencing but must follow the jury's decision.
Sampson's lawyers said he was brain damaged and mentally ill when he separately carjacked Rizzo, a college student from Kingston, and McCloskey, a retired pipefitter from Taunton, stabbed them each more than a dozen times, slit their throats and left them to die in the woods.
Prosecutors said the killings were especially cruel because Sampson repeatedly assured the men that he only wanted their cars and would not kill them if they followed his instructions. They did, but he killed them anyway, telling police he didn't want to leave any witnesses.
Sampson, a drifter who grew up in Abington, a small town south of Boston, received a separate life sentence for killing a third man, Robert "Eli" Whitney, in New Hampshire.
Sampson pleaded guilty to the killings, so the jury was asked only to decide whether he should get life in prison or the death penalty. His defense lawyers called experts who testified that Sampson had received numerous head injuries as a child and had a traumatic brain injury they said could help explain his lifelong struggle to control his behavior. They urged the jury to spare his life.
But prosecutors said the defense testimony was unreliable and called Sampson's alleged mental deficiency "the most convenient brain injury you will ever see."
Assistant U.S. Attorney Zachary Hafer said that Sampson planned the killings and manipulated his victims by dressing like a businessman so they would lower their guard and trust him. "Dressed to deceive," he said.
Massachusetts abolished its state death penalty in 1984, but Sampson was prosecuted under federal law, which allows prosecutors to seek the death penalty when a murder is committed during a carjacking.
This article was originally published on January 09, 2017.