Boston Playwrights' Theatre Revives 'The Atheist' With A Female Faustian Lead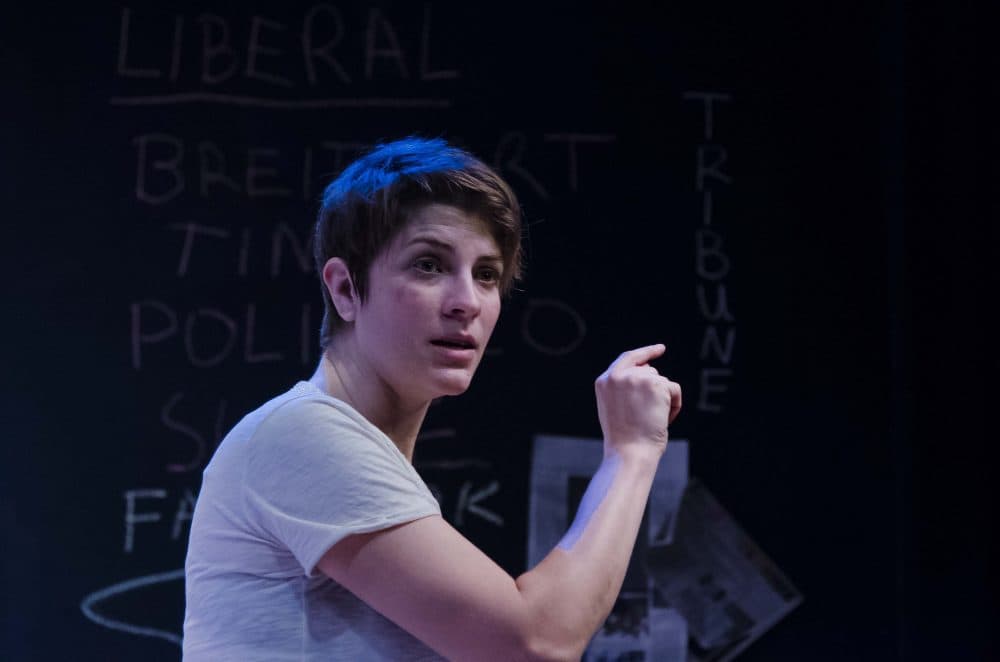 This article is more than 5 years old.
If "The Atheist" hadn't been written, Donald Trump would have had to invent it. In Ronan Noone's intriguing if not entirely credible rethinking of the Faust legend, the person who sells his soul for celebrity is a crooked journalist (albeit one dispensing more engineered than fake news). And the soul-purchasing Mephistopheles takes the form of a trailer-park garbage man who can manipulate words to form a life-changing trick question.
Between 2006 and 2008, "The Atheist" was performed in New York, in London, by Boston's Huntington Theatre Company and at the Williamstown Theatre Festival. In all those productions its antihero, named Augustine Early for the confessional saint, was a man: a charming rogue without faith or principle, hoping to become as famous as Walter Winchell and Hunter S. Thompson combined.
The character has undergone a sex change for this revival by Boston Playwrights' Theatre (through Feb. 5), which is directed by the author. The scrappy Midwestern trailer-park child turned news-making journalist is now one fierce, magnetic "nasty woman" portrayed by a swaggering Georgia Lyman and surrounded by a sea of media-centric graffiti and nested video screens. On one of several side screens, the trusted Walter Cronkite holds sway, but we are not in Cronkite's Kansas anymore.

According to Noone, he saw no reason why Early could not be female and wondered in what ways the alteration might change the way in which the conniving journalist feeding on a story she's helped cook up might be perceived. He also speculated that the increasing omnipresence, desperation and polarization of today's diverse media might make the tale of "The Atheist," though set in the world of tabloid newspapers (whose reporters rarely become celebrities), more urgent and credible.
But "The Atheist" is no analysis of or screed against the media (sorry, Mr. President). Noone wanted to pen a Faust story with its inevitable Faustian ending. "But the play," the Irish-born-and-bred dramatist says in an online program note, "needed a world to travel through, and I gave Augustine the world of newspapers" (albeit one smacking more of supermarket rags than of mainstream American newspapering).
At heart, however, "The Atheist" is a godless shaggy-dog story that asks whether it's the corrupt messenger or those of us who can't wait to devour the message that is most culpable. And Augustine Early tells quite a tale; it involves sex, lies, videotape and all manner of calculated, screaming exposure thereof.
The play can also be seen as a morally skewed Horatio Alger story, in which an underprivileged youth with "a talent for deception" can steer a course through "politics, pornography and power" to personal fame and fortune, however briefly enjoyed. And of course Noone is testifying as to the power of words. Even Early's comeuppance, though based on an allegation as bogus as some of her own, holds water — after all, "it's f-----' printed."
For the most part, the gender switch works — though more so in Early's betrayed love for a sexy, ruthless, aspiring actress than in the character's later seduction of a sheltered if hot Christian helpmeet. (Though he has promoted a congressman to senator, Noone has made no gender-related changes to the script; the female Early even alludes to wearing a tie.) And at BPT, the theater piece seems edgier than it did 10 years ago at the Huntington, where actor Campbell Scott mostly told his tale from behind a table.

Lyman takes the stage bristling with energy, her manner as spiky as her butch haircut. And she punctuates her reminiscence with ups, oft celebrated in triumphant little jigs, and downs, in which she kicks the crap out of the wadded pages of newspaper that litter the stage. Retreating to a small table near the back of the wide, shallow stage, she pours a finger of bourbon or rolls a cigarette she doesn't smoke. Occasionally she rushes from the stage to stick her face right into the video camera so that her countenance looms, distorted, on the screen we're watching — like a guppy's viewed through a fishbowl.
For the most part, Lyman's Augustine Early is a tough, sly cookie exultant in her ability to control the narrative, keep the balls in the air, all to her own advantage. She's given to mischievous, almost teasing flashes of contempt for both her overseers and her victims. Most compelling, though, are the moments of vulnerability in which the talented performer's Early, hurt, must harden herself against her own inconvenient decency. "I wish I could stop," she confides, for once not crowing of her conquests. And yet: "I ain't going back to no graveyard of ambition. Unless my name's on the tip of everyone's tongue."
In the end, immortality is the ticket. The integrity of your story — or yourself — is less important than that you leave one — and that your byline is at least as big as your sins.