Charting Resolution For Dookhan Cases, Judge Urges Cooperation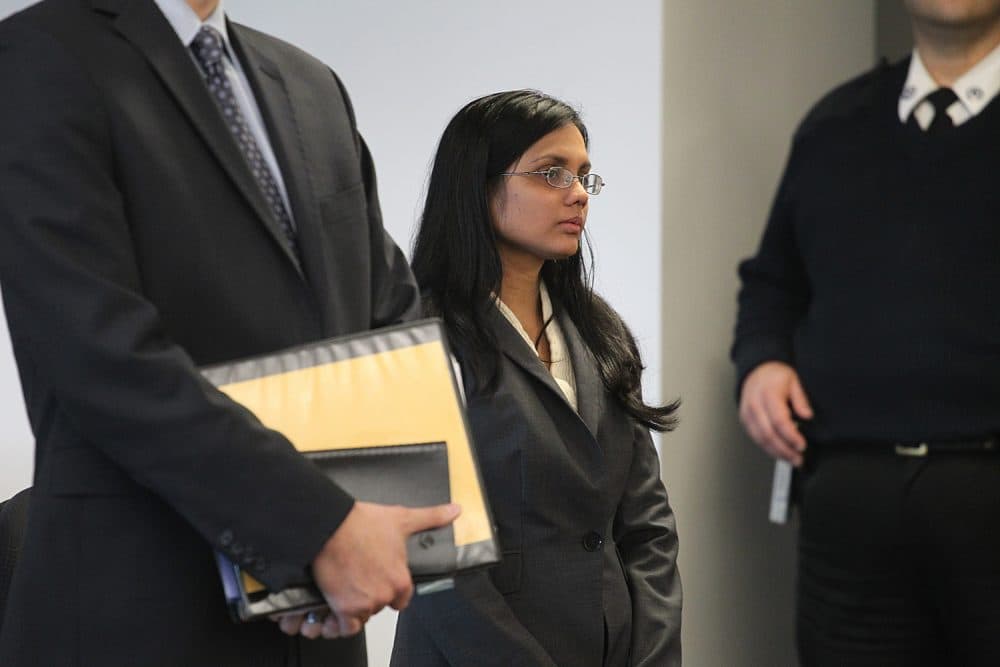 This article is more than 4 years old.
Underlining the firmness of an April 18 deadline, one of the state's top judges directed prosecutors and defense counsel to assemble a working group to begin crafting notices for criminal defendants whose cases were tainted by a former state chemist and who would need to take court action to clear their records.
"These are real deadlines," Supreme Judicial Court Justice Margot Botsford told lawyers at a hearing Monday dealing with the aftermath of Annie Dookhan's widespread fraud in handling evidence at the former Hinton drug lab. "We cannot anticipate that there will be extensions except for absolutely enormously cataclysmic acts of God that prevent events from happening."
Last Wednesday the court ruled that prosecutors would need to identify within 90 days the defendants whose convictions they intend to dismiss, and the defendants who would need to seek to clear their records. The ruling instructed prosecutors to provide adequate notice to defendants by May 18.
Botsford asked lawyers for the defense and prosecution to propose two members each for a four-person working group to begin working on the notices to defendants whose convictions would not be vacated by prosecutors.
"We need to put this whole episode behind us, and so I am really entreating you all to work cooperatively together," Botsford said at Monday's hearing. She said, "This is history, and it's a bad history. It's a staining history, and we need to do something about that."
Nearly five years after Dookhan's fudging of drug testing was exposed to the public, the court has laid out a framework for handling the more than 20,000 "Dookhan defendants," putting much of the onus on prosecutors. The vast majority of the defendants have already served their sentences, though the convictions on their criminal records provide barriers to housing, benefits and employment, according to the split decision by Chief Justice Ralph Gants.
The decision gave Botsford authority to approve the notice and authorized the single justice to "order additional forms of public notice, such as through newspapers or social media, to enhance the effectiveness of the mailing and to attempt to reach those who might not receive it."
ACLU Massachusetts Legal Director Matthew Segal suggested that for each of the cases that the prosecution does not dismiss, they list the independent evidence they could show at a new trial, though Botsford appeared disinclined to follow that course.
"The goal here is not to have all of us adjudicate each of these certifications: Was it warranted or not? We will be here until God knows when," Botsford said. Segal had suggested check boxes that could be used by prosecutors to show what evidence they could present of a defendant's guilt aside from the tainted Dookhan drug testing.
Benjamin Keehn, an attorney for the Committee for Public Counsel Services, which provides criminal defense representation to indigent defendants, suggested that if the list of cases prosecutors choose not to dismiss reaches "four digits," or about 1,000, the office would be overwhelmed and seek a complete dismissal of those cases.
"This is a substantial challenge and unless the numbers are, relatively speaking, tiny to what they are now this is going to be another exercise in frustration. I think the court gets that," Keehn said.
Middlesex Assistant District Attorney Robert Bender countered that, saying, "I don't see that this court made any distinction that draws a bright line and says 'It must be this number of cases or this percentage of cases.'"