For Pan-American Band LADAMA, Empowering Other Women Is The Ultimate Reward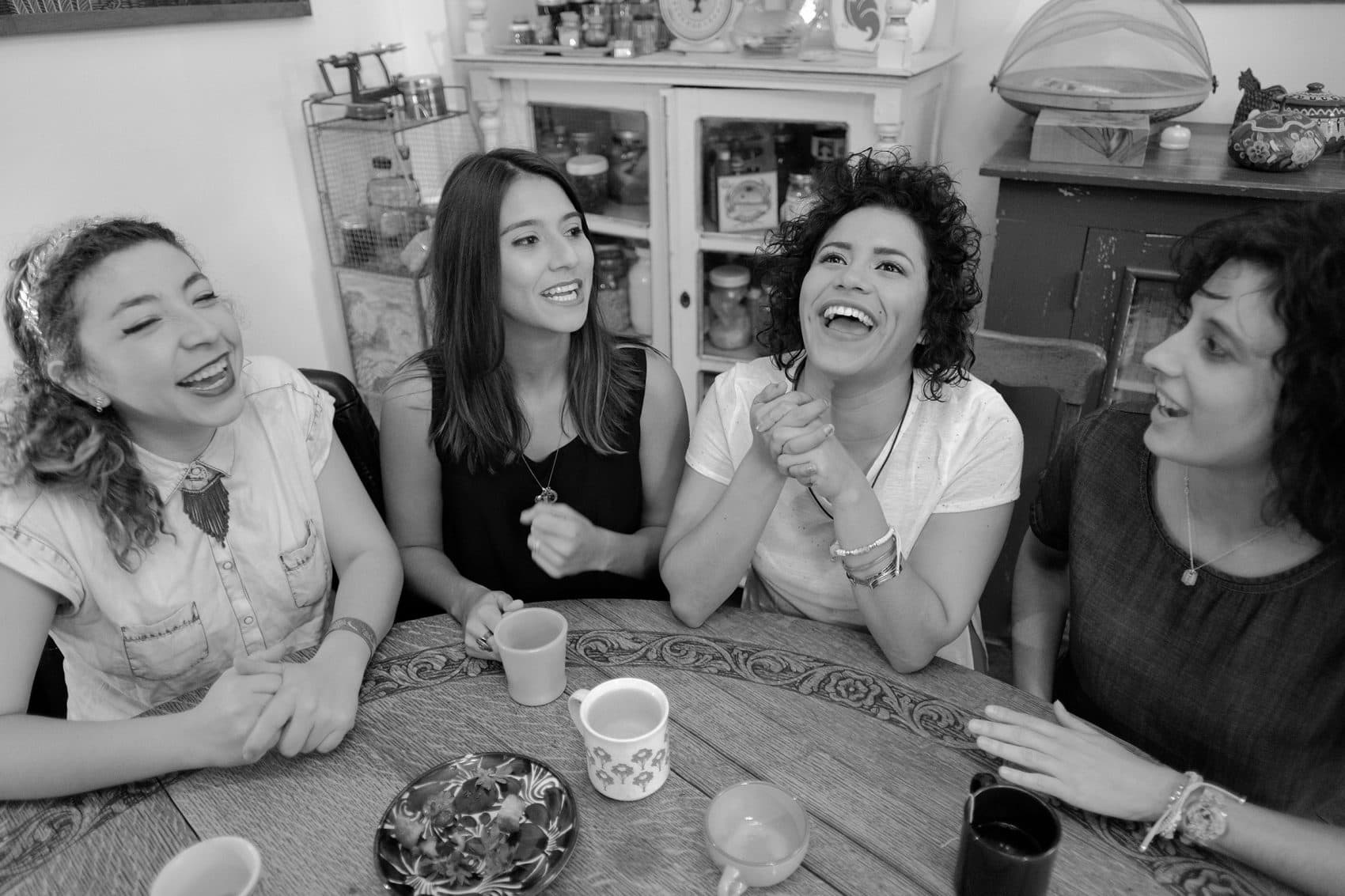 This article is more than 5 years old.
LADAMA is the kind of band that people tend to make assumptions about. "'Oh, I see you're in a new band of singers,' " says guitarist Sara Lucas, paraphrasing one common reaction. "I mean, that's sexism right there."
Lucas is sitting in her kitchen in the Gowanus neighborhood of Brooklyn, speaking to me via Skype. Her bandmates crowd around, straining to fit into the camera's frame: Daniela Serna, of Bogotá, Colombia; Lara Klaus, of Recife, Brazil; and Maria Fernanda Gonzalez, of Barquisimeto, Venezuela. They turn the computer back and forth, laughing, talking over one another in Spanish, helping each other translate.
LADAMA will be performing at World Music/CRASHarts' second annual CRASHfest at the House of Blues in Boston on Saturday, Jan. 28. The quartet plays propulsive original music rooted in the folk traditions of their home countries, a kind of cross-continental musical exchange. But theirs is something of a feminist undertaking, too.
The four members of LADAMA, it cannot be missed, are all women — hence, presumably, the assumptions about singing. But while all four musicians share vocal duties in the band, their primary identities are as instrumentalists. Gonzalez is one of the foremost practitioners of the bandola llanera, a traditional Venezuelan instrument related to the mandolin. Serna is a percussionist capable of spellbinding solos on the tambor alegre, a Colombian hand drum. Klaus dazzles equally on the trap set and other drumable instruments, while Lucas is a guitarist of uncommon sensitivity known for her work with the Brooklyn art-pop duo Callers.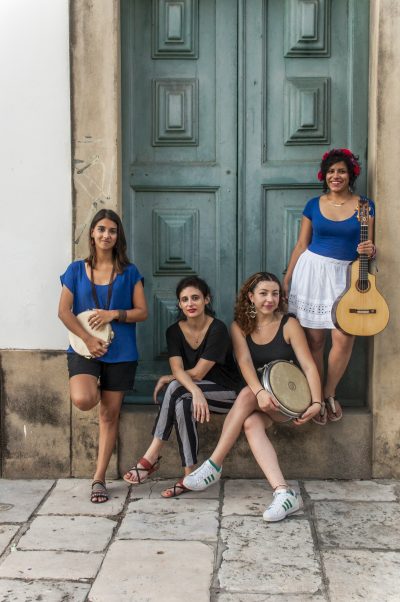 When the four get together, the results are, at least figuratively speaking, electric. LADAMA is a band built on rhythm. "Brazilian music, Colombian music, Venezuelan music, we all come from the African music," Klaus says. She and her bandmates compose together, usually through improvisation — Serna might lay down a springy cumbia beat, Gonzalez a lyrical bandola line, and a tune slowly emerges as the players fill in the gaps. The music is by turns nimble and funky, a rollicking celebration of rhythmic give-and-take. Lithe melodies twist around cacophonous percussion, four voices harmonizing in joyous bursts.
When I ask why it is important that the group is comprised of all women, Gonzalez, perched behind Lucas and sporting a short, punky haircut, leans forward. "When I changed my hair, people [were] like, 'Oh, I know why you play the bandola, maybe you are gay,' " she says. "It's never, 'You are [a] good musician.' No, [people never] talk about that. The people talk about my clothes, my new bandola, my hair. [People never] talk about: This is a good musician, this is a good human, this is a good person."
Sometimes, Gonzalez says, acquaintances ask if she has a boyfriend, and are relieved when she says she doesn't, because how could she keep a boyfriend if she is on the road all the time? "People told me, 'Maria, after [tour], you need to take more of your normal life.' Whaaat?" Gonzalez says, voice elongating incredulously. "Normal life? No, this is my best, normal life."
I remark that this seems like a more extreme reaction than typically encountered in the U.S., but Lucas, who grew up in St. Louis, shakes her head vigorously. "We do take a lot for granted here, but at the same time, it's not necessarily like we're doing so much better, or better things, or things are cooler or something. And then on top of that, they all make a living off of music," she says, gesturing to her bandmates, "and I have to work another job. So the economies work totally differently, and women in the economies work totally differently as a result."
"We are lucky," Serna says. "We have good opportunities, we went to the universities, we have good chances to study and express ourselves. But there are a lot of women in these little towns that, if they want to try to play a tambor or try to do something different than what a woman is supposed to do in music, they're going to have a hard time."
Klaus, Sera, Gonzalez and Lucas met in 2014 at OneBeat, an initiative by the U.S. State Department and the nonprofit Found Sound Nation that brings together international musicians for collaborative residencies. (Originally conceived by Klaus, Serna and Gonzalez, "LADAMA" is a portmanteau of the beginning two letters of their first names.) OneBeat's twin goals of fostering cross-cultural exchange and instigating social engagement are baked into LADAMA's mission as well. The group is in the midst of recording its debut album, which is slated for release in the fall. But for the past two years, LADAMA's members have done as much teaching as performing, building their tours around workshops in each of their home countries with the help of numerous grants.
LADAMA's workshops take many forms, but they tend to involve youth of all musical abilities, from total novices to young prodigies. "The goal is to get the participants to create whatever they want. And to get them to improvise," Lucas says. "When you improvise and you write together, the first thing you have to do is listen. And if you can listen to somebody, you can do anything."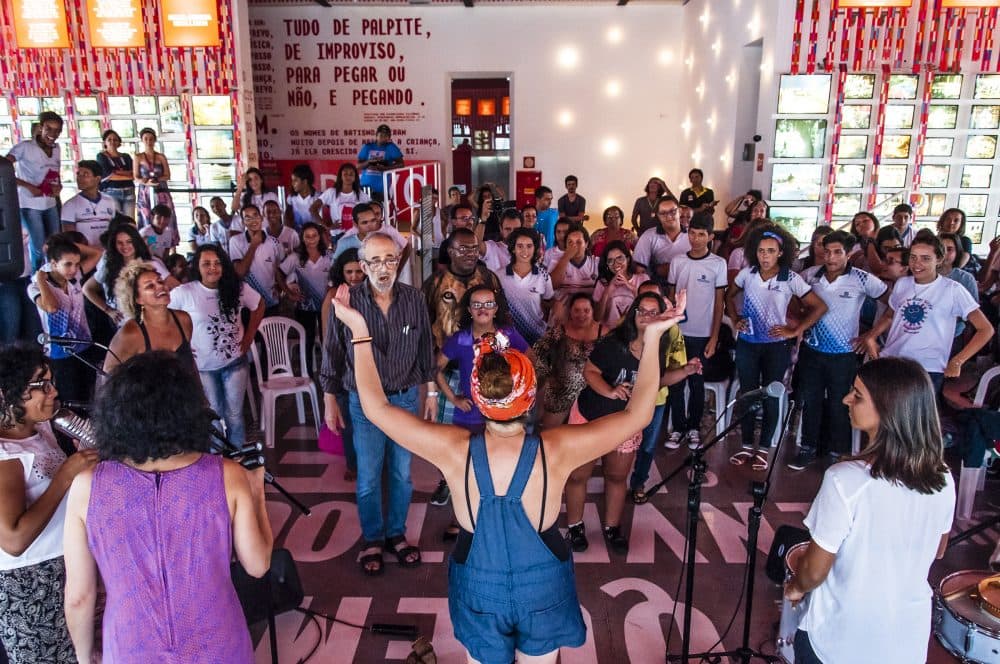 But it can be easy for the women to forget the impact of their work, especially on the road. On the final day of LADAMA's South American tour last year, in a small village in Venezuela, Lucas was exhausted, ready to call it a day. "It was 115 degrees and we had been giving workshops outside for seven hours a day for three days. And you know, I'm not going to lie, I was like, 'I want a beer,' " she recalls. "And then we get up to play finally ... and, oh my god — there were 30 young girls screaming and losing their s---. Like we were The Beatles."
Lucas smiles at the memory. "Dani would do a solo and they would be like" — she feigns the frenzied screams of several dozen girls — "'Aaaaahhhh,' and just losing it. I was like, 'Oh my god.' I started crying."
"That happens in every single country," Serna says. "There was a little girl or a teenager telling us, 'You just changed the way I see my future. I want to do music, I want to do dance, I want to do arts.' And I think that's the best reward for us at the end. It means that we are doing a good job."