Trump's Actions On Immigration, Refugees Are Felt In Boston Area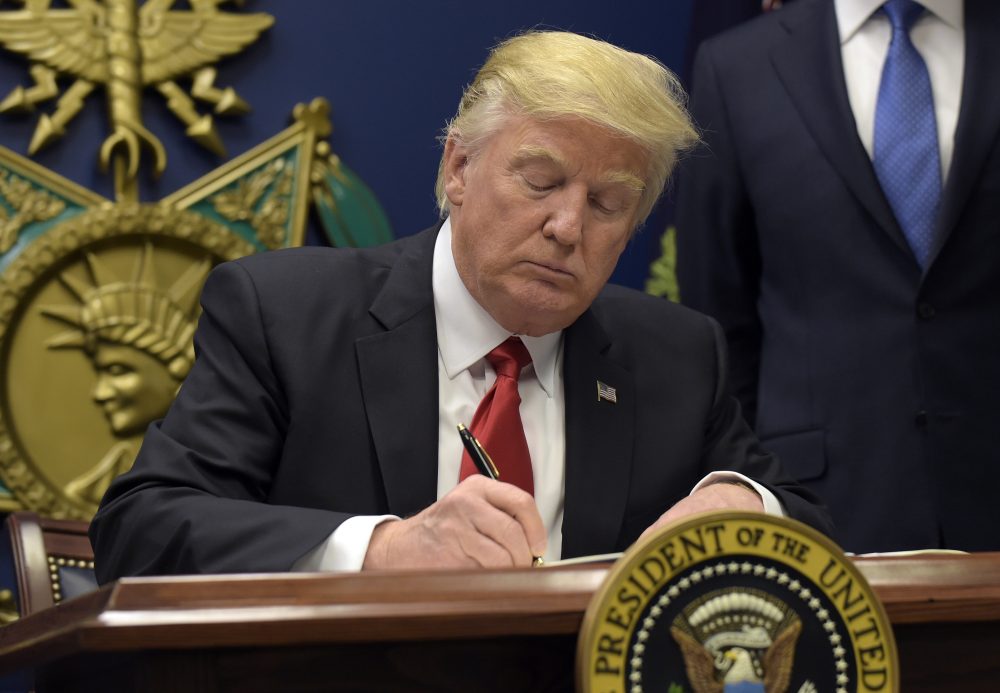 This article is more than 5 years old.
Boston is feeling the effects of President Trump's executive order that temporarily suspends the United States' refugee program and temporarily bars entry into the country for citizens of seven Muslim-majority countries.
According to Trump's order that took effect Friday night, nationals from Syria, Iran, Iraq, Libya, Somalia, Sudan and Yemen cannot come into the country for 90 days.
Samira Asgari, an Iranian national who is a post-doctoral fellow at Harvard Medical School, tweeted she was not able to board her plane to Boston to start working at a school lab that studies autoimmune diseases.
The lab's principal investigator, Soumya Raychaudhuri, confirmed that Asgari was denied access to her flight from Frankfurt, Germany, to Boston.
Raychaudhuri said he invited Asgari to work in his lab after being impressed by her work on tuberculosis that she presented at a research conference in New York last year.
"It obviously doesn't make sense to keep someone with her skill set out of the United States," Raychaudhuri said.
At MIT, administrators said Saturday that students and scholars have been directly affected by the executive order. In an email to the university community, the administrators promised to help those students:
"The Executive Order President Trump signed yesterday restricting individuals from seven countries from entering the United States is already having an impact on members of our community.

"While we are very troubled by this situation, our first concern is for those of our international students and scholars who are directly affected. We are working closely with them to offer every support we can."
For refugees, the ban means even those who have been vetted and approved to enter the United States will not be able to come, according to Jeff Thielman, the president and CEO of the International Institute of New England.
Theilman said a Syrian family of four who was scheduled to land in Boston on Monday will now be stuck in Turkey. He said the family went through a four-year screening process before they were approved to come to the United States.
"The process the United States uses to vet refugees is the most thorough in the world," Thielman said. "I don't know how we can make it any safer. And the argument that people are making — that we suspend the program while we study it — is bad management and is unacceptable to me."
Thielman added that if the Trump administration decides to create new procedures, the family and others like them may have to start the process again.
Immigration attorney Punam Rogers has been overseeing any issues that occur from the immigration executive order at Logan International Airport in Boston. Rogers said so far Logan hasn't seen passengers detained like in other cities.
She says the executive order applies to permanent residents and non-immigrant visa holders. That includes people with student visas or H-1B work visas who are citizens of the seven countries specified in the order.
Rogers says the order is unprecedented.
"I've seen extra vetting. Even post-9/11 there were registrations, but it was never a carte blanche ban, particularly on legal permanent residents," Rogers said. "And even when there were restrictions, there was an implementation period, so people could plan and be informed and understand what's happening. I've never seen anything like this, where people in transit who boarded planes are now being turned around."
American Civil Liberties Union of Massachusetts Executive Director Carol Rose went further and said Trump's executive action on immigration is unconstitutional.
"The notion that we would have a lot of good people based on who they are, whether their religion or their ethnicity when they have a legitimate reason to be here makes it on its face unconstitutional," she said.
The ACLU and other immigration groups filed a lawsuit Saturday challenging the immigration executive order.
Saturday evening, Boston Mayor Marty Walsh released a statement and made clear he believes Trump's actions are not an effective way to combat any terror threats the country might face:
"Preventing people from entering this country based solely on faith runs counter to everything we stand for as Americans. Let's be clear: this is not an effective way to combat terrorism and increase homeland security. It is a reckless policy that is rooted in fear, not substance, and further divides us as a nation and a world. It is simply morally wrong. As Americans, we must move forward together as a country proud of our diverse heritage, and find real solutions to the challenges we face."