Local Museum Seeks To Preserve Pink 'Pussyhats' From Women's March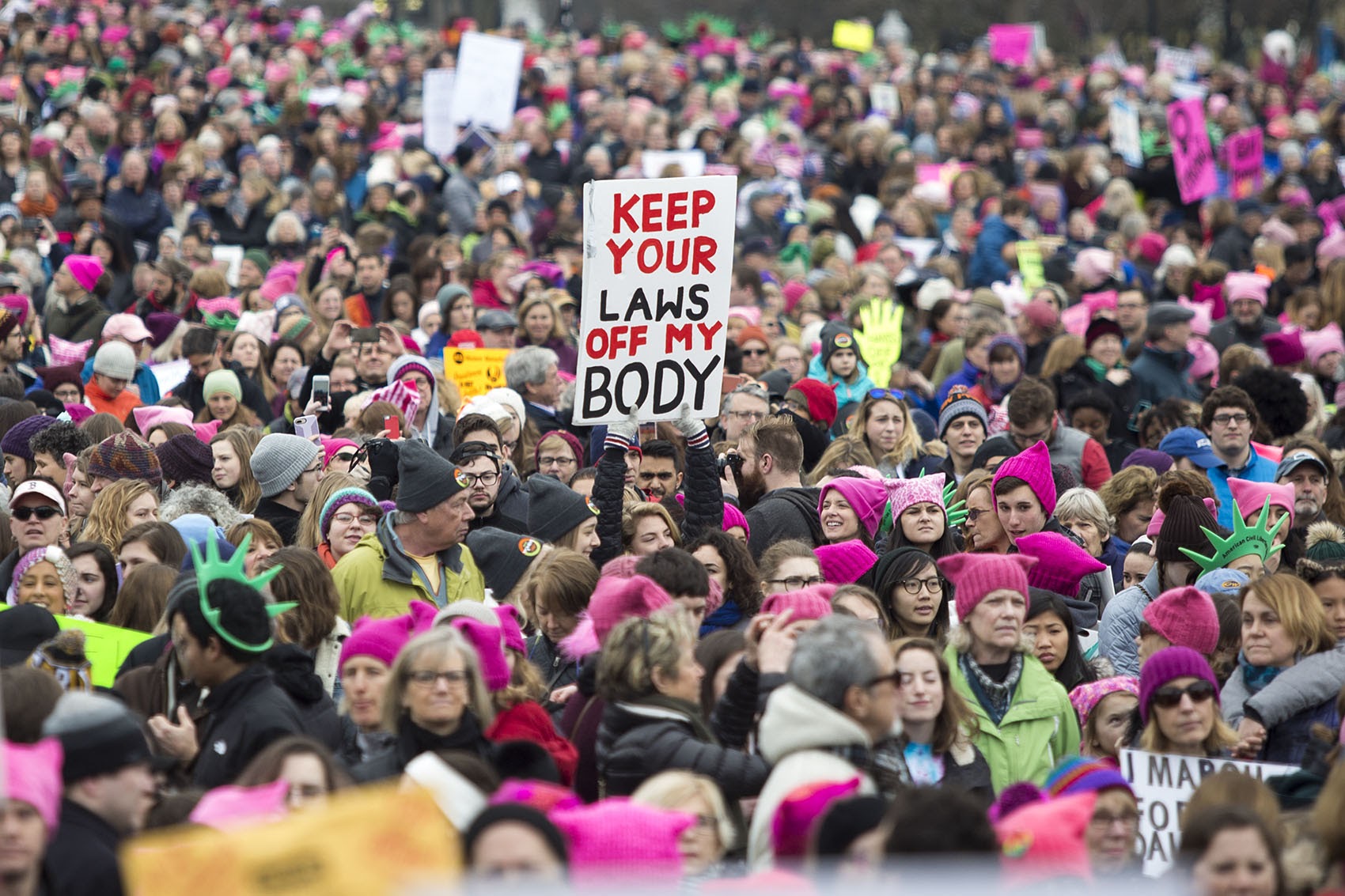 This article is more than 5 years old.
Last week Beth McLaughlin was sitting at her desk at Brockton's Fuller Craft Museum, where she's chief curator, still feeling inspired by participating in the Women's March on Washington the Saturday before. She'd been among the floods of people across the country who protested Donald Trump's inauguration as president. And she wore a "pussy power hat" — a style of pink hat that became one of the most visible symbols of the marches.
"I just realized we need to collect those," McLaughlin says. "This is such an important moment in our history, in our country."
So late last week the museum put out a call online seeking "pussyhat" donations — for a future exhibition and to create an archive of what the museum calls "the largest example of social activism through craft ("craftivism") in U.S. modern history." (Here's information on how to donate.) The museum's collection drive is part of efforts sprouting up around the country to preserve relics of the activism of this moment — including a project by Northeastern University Libraries, which collected a van load of posters after the Boston Women's March.

The "Pussyhat Project" was begun by a group of Los Angeles women — screenwriter Krista Suh and architect Jayna Zweiman with pattern help from their local knitting shop owner, Kat Coyle — around Thanksgiving. They shared a purposely simple cat-ear pattern — meant to be widely accessible — that became an international, viral phenomenon. The project was a response to the election and Trump's notorious, vulgar comments on a hot mic during a 2005 "Access Hollywood" television interview about the liberties male stars might take with women: "Grab them by the pussy. You can do anything." The "Pussyhat Project" was part of a larger effort to reclaim and transform Trump's insult into a statement of defiant power — often using the "This pussy grabs back" slogan.
The "Pussyhat Project" "really connected to celebrating skills that had been passed down by women from generation to generation, in sewing circles and knitting circles," McLaughlin says. "A lot of times these circles are perceived negatively … but in reality they are these really powerful gatherings of women."
The museum hopes to create an archive representing the variety of hats — knit, crocheted, sewed — as well as collecting stories and photos about their making, wearing them at protests and giving them to friends and strangers.
"The hats are these great symbols of resistance and these icons of protest, people speaking out," says McLaughlin, who ordered her own hat from Etsy ("I'm actually not a crafter"). "They're like these magical icons."
Archivists like to collect pieces close to the historic event, before they're lost. But one hurdle to creating the hat archive right now, McLaughlin acknowledges, is people want to hold onto them. Potential donors keep telling her: "We still need them to fight the fight."