It's A 'Beauty' — Martin McDonagh Takes Ireland To Task With A Scabrous Sense Of Humor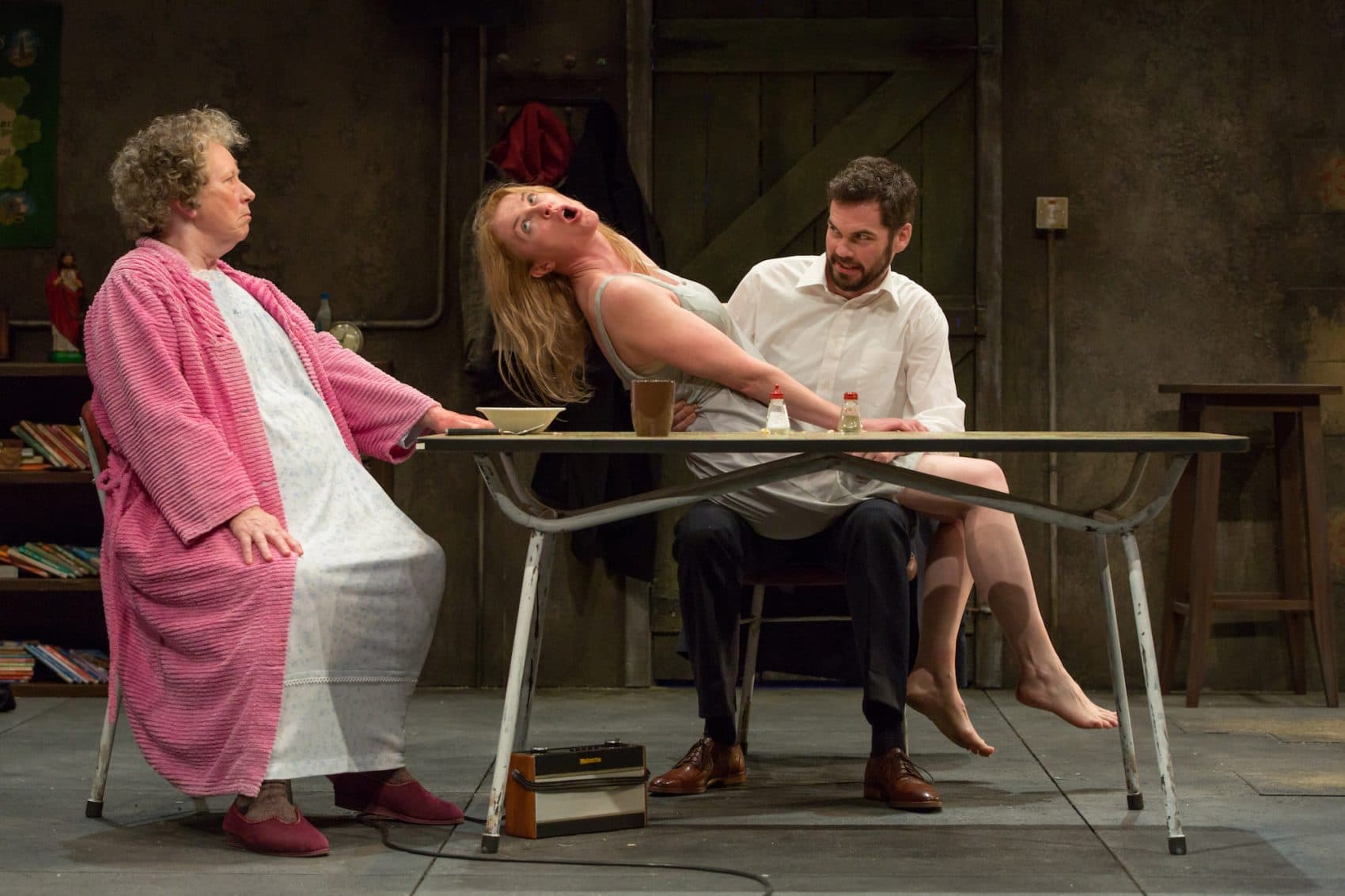 This article is more than 5 years old.
Much of contemporary theater sees empathy as a primary virtue, asking audiences to identify with the personal travails of the onstage characters or to take a deeper dive into the subject of the play. If many of today's younger playwrights make you want to hug their characters and assure them that everything will be all right, Martin McDonagh's characters inhabit a completely different theatrical universe.
You do not want to hug the mother and daughter of "The Beauty Queen of Leenane" as they go at each other with a toxic mix of vengefulness, frustration, loneliness and codependency. But if you don't want to hug them, you do want to embrace this dark comedy as mounted by the Druid Theatre Company and imported by ArtsEmerson to the Paramount Center (through Feb. 26). At least I do, even after seeing three previous productions.
When "The Beauty Queen" first landed in New York 20 years ago it introduced Americans to McDonagh the scabrous Anglo-Irish playwright who has been foolishly called the Quentin Tarantino of theater. There's much more going on above the neck in McDonagh's work, though he doesn't always get credit for it. (Check out this New York Times mini-interview.)

"Beauty Queen" makes a "nice" pairing with the superb production of Edward Albee's "Who's Afraid of Virginia Woolf," which just closed at the Lyric Stage Company. Like Albee, McDonagh strips his characters bare as they try to cling to illusion, to sentiment, to each other — anything that will help them escape.
McDonagh and Albee don't let the audiences get away with any semblance of sentimentality, but while they may put audiences through the wringer they also deliver a jolly good, often hilarious, time of theater. We're not laughing with McDonagh's characters, we're laughing at them, though that doesn't stop us from knowing that the existential stakes are high for everyone, characters and audiences alike.
In "Beauty Queen," the mother and daughter snipe at each other throughout the two acts. Mag Folan sits in her chair expecting her daughter, Maureen, to wait on her, passive-aggressively asking Maureen to make her tea or porridge or turn the radio up; pouring her urine down the sink behind her daughter's back; acting as if all's right with the world, at least in her little corner of it.
Maureen, for her part, treats her mother like a bag of lard, pouring her tea down the sink or shutting the radio off when she gets tired of Mag's demands, and launching insult after insult at her.
Fun, huh? Well, yes it is. As cruel as they may be, there's a basic humanity to them that, along with McDonagh's bracing dialogue, keeps them from becoming caricatures — as if they are so weighed down by the miseries engendered by the mythologies of church, nationalism and family that loneliness and spiritual poverty are the only logical outcomes.
There's an infectious twinkle in Mag's eye that keeps us, through most of the play, from writing her off. Aisling O'Sullivan's Maureen reminds us constantly that she's more sinned against than sinning — is there any way that this wounded creature can find solace in the arms of Pato Dooley, charismatically portrayed by Marty Rea? (The Paramount acoustics are not always kind to McDonagh, though once the accents settle in the actors are easier to understand.)
Mullen's performance as the mother is particularly notable because she played the daughter in the original Druid production, with the spectacular Anna Manahan as the mother. Both won Tonys, as did Tom Murphy as Pato's brother Ray, and director Garry Hynes, who also directs the remounted version.
There's a clip of the original at the 19:37 mark here:
Mullen isn't as funny as Manahan or as mean as Julie Harris in Jeff Zinn's equally unforgettable production at the Wellfleet Harbor Actors Theater, but she may be the most soulful. Hynes' production is also more mournful and less claustrophobic than the earlier incarnation, with the roof of the dismal West-Irish cottage opening up to the ocean. It's hardly a picture post card. The rain makes Leenane look utterly dreary.
McDonagh's writing is never dreary, though, as tragedy is always balanced by farce. There is also no ethnic pride in McDonagh's playbook, which again makes him vastly different from many American playwrights. Ireland is a place to escape from — both as a nation and as a state of mind. The geography and history have made Leenane an insular bastion — his other plays make the case perhaps even more dramatically and comically.
Coincidentally, Pato wants Maureen to join him in Boston, where he is going to work because he wants nothing more to do with either Ireland or England. Boston, he says, will welcome them. Read into that whatever contemporary politics you will. All I know is that Boston should welcome McDonagh and this production of his dark comedy with open arms.