Teaching 'News Literacy' Takes On New Urgency At UMass
06:05
Play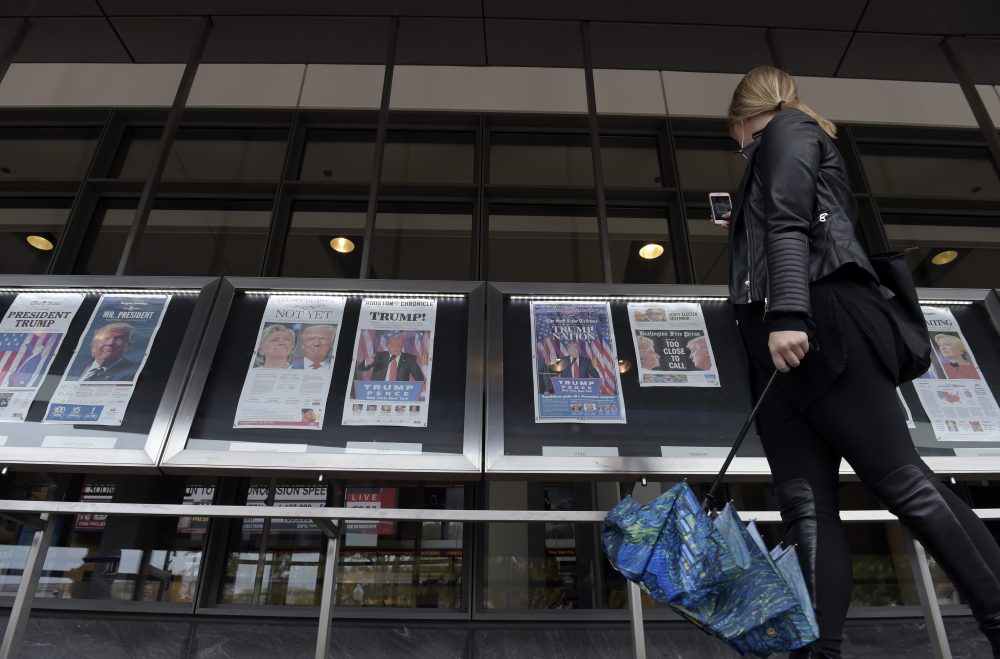 This article is more than 4 years old.
In a time when the president calls some news media, including The New York Times and ABC News, "the enemy of the American People," universities are trying to help students figure out which news sources they can rely on.
UMass Amherst offers a class called "News Literacy," a subject faculty and students are finding especially needed this year.
Professor Steve Fox uses recent news stories to get the class to think critically — like an interview with White House adviser Stephen Miller conducted by ABC News' George Stephanopoulos.
Fox picks an exchange about unsubstantiated White House allegations of voter fraud in New Hampshire to show the students an example of what he calls real-time reporting, where the host won't let the guest off the hook.
"This issue of busing voters into New Hampshire is widely known by anyone who's worked in New Hampshire politics," Miller tells Stephanopoulos.
Fox points out that Miller tries to deflect several follow-up questions, repeatedly claiming that voter fraud is "pervasive and widespread" without providing concrete evidence, but Stephanopoulos does not fall into the trap. (The exchange begins at 14:50 in the video below.)
"You can start by providing evidence to back up your claims," Stephanopoulos interjects, before ending the interview.
The class erupts into laughter.
"What do people think about this?" Fox asks. "I mean, this is a pretty astonishing exchange."
Among the 32 students in the class is junior Sarah Heinonen, of Worcester. She offers her analysis, applying concepts learned in class.
"I noticed a lot of the things that he was saying, and he's pushing, 'Anybody who's working in New Hampshire' without actually naming anything," Heinonen says.
"Right, there's a certain segment of the population where you hear something over and over again, and all of a sudden it becomes fact," Fox says.
Most of the students are freshmen and sophomores. Some, like Heinonen, have made up their minds that they want to be journalists. She says she's taking the course because she wants to learn how to present the truth in spite of the obstacles she perceives. She finds people she knows are easily misled and as a result end up skeptical about journalism.
"I'm a lot more critical of how many sources I'm checking and where I'm backing up my facts, and not just re-sharing something because I got really mad when I read it," Heinonen says. "I feel like it's making me a much more critical thinker about the information that's out there."
Whether they want to be journalists or not, the course treats all the students as news consumers.
Freshman Benno Kraehe says he's learned that he needs to pay more attention to the news.
"I feel like in the times that we're in it's getting harder and harder to determine what's true and what isn't, sort the truth from falsehoods, so it's empowering to learn how to go about finding the truth," Kraehe says.
Over the next hour, Fox urges the class to demand evidence when they hear generalizations. He reminds them that journalistic stories change as new evidence comes to light, and of the importance of context. He warns the students that in the rush to get a story out, journalists can report information that turns out to be wrong. He urges them to question what a news organization has been able to verify and whether the sources it cites are in a position to know what's going on. He also warns them to be wary of anonymous sources, vague sourcing, and reflexive retweeting.
"It's become this extremely relevant topic now because of the environment that we're in and the whole idea of alternative facts and fake news and all that," says Fox, who's been teaching the course for three years.
Fox says students today are actually better informed and more media savvy than they used to be — through social media, news alerts and word of mouth.
This year, the UMass Amherst journalism department opened its News Literacy course to all students. It's now classified as a general education course and the the department plans to make more seats available.
"It's important for students all over the university to be news literate and information literate, and so I think it's going to be attractive broadly," says Kathy Roberts Forde, the chair of the department.
Forde is impressed with the critical and analytical skills students bring with them to UMass Amherst.
"They're well informed. They're by and large pretty savvy at sussing out and open to sussing out what we're asking them to think about in News Literacy and then higher level courses as well," Forde says. "They seem to have a good sense of how to authenticate information, authenticate sources, how to think critically about where they're getting their information from."
UMass Amherst is not alone in teaching a news literacy course. Fox was inspired by a curriculum developed at Stony Brook University in New York. The University of Washington posts its syllabus online for a course on how to detect BS. Suffolk University is developing a curriculum tackling information literacy.
"Younger people who've grown up in the presence of digital media sometimes take the content less critically than they should," says Maria Toyoda, the dean of Suffolk's College of Arts and Sciences.
Others find students can be overly cynical.
"I get concerned that the political rhetoric has seeped down into students' faith in objectivity," says Boston University historian Seth Blumenthal. When he guides students to acceptable sources for their research, he can find them surprisingly skeptical.
"As a budding historian growing up and training in graduate school, we always looked to the New York Times as one of the most credible and straightforward periodicals that we could rely on for research," Blumenthal says. "And I had a student come in and ask if the New York Times was a credible source for a research assignment. To me, that was a wake-up call."
This segment aired on February 22, 2017.