On The Eve Of Reunion, Beyoncé's Original All-Female Band Remembers How They Ran The World
This article is more than 6 years old.
In 2006, years before she ended her VMAs performance silhouetted against the word "feminist" rendered in glowing LED splendor, Beyoncé put out a call for musicians to try out for her all-female band. The 10 women who eventually made the cut endured a grueling process, beating out hundreds of other musicians throughout multiple auditions.
The band became a steadfast and electrifying presence in the star's elaborate live productions, starting with 2007's "The Beyoncé Experience" tour and continuing through 2014's "On The Run" tour, a double bill with Jay-Z. And on Thursday, March 2, the group will reunite at Berklee College of Music in Boston to mark 10 years since its inception, with performances by current Beyoncé backup dancer Ebony Williams and students in Berklee's Beyoncé Ensemble.
Singer Crissy Collins, trumpet player Crystal Torres and keyboardist Rie Tsuji all followed different paths to Beyoncé's glittering stage. Tsuji grew up playing classical piano in Japan and studied jazz at Berklee; Collins got her start in upstate New York, and later Atlanta, singing in a gospel quartet with her family; and Torres (who performs solo as RØVÉL) picked up trumpet in the Philadelphia public schools.
All three spoke recently, and at length, about touring the world, Beyoncé's laser-like focus and what it will be like to reunite after several years apart. The following excerpts have been lightly edited for clarity.
On Getting The Gig
Crissy Collins, current backup vocalist for Beyoncé: "[Creative director Kim Burse] asked me if I could do a favor for her and sing background for this gig that [Beyoncé] had that she was looking for background singers [for]. And I said of course, went to New York, met Beyoncé, and I ended up introducing the band because she needed a set change. And from there, she told them, 'I like her, I want her to go on the tour with us.' And that's how I got onboard with Beyoncé. That was back in 2005, 2006, something like that."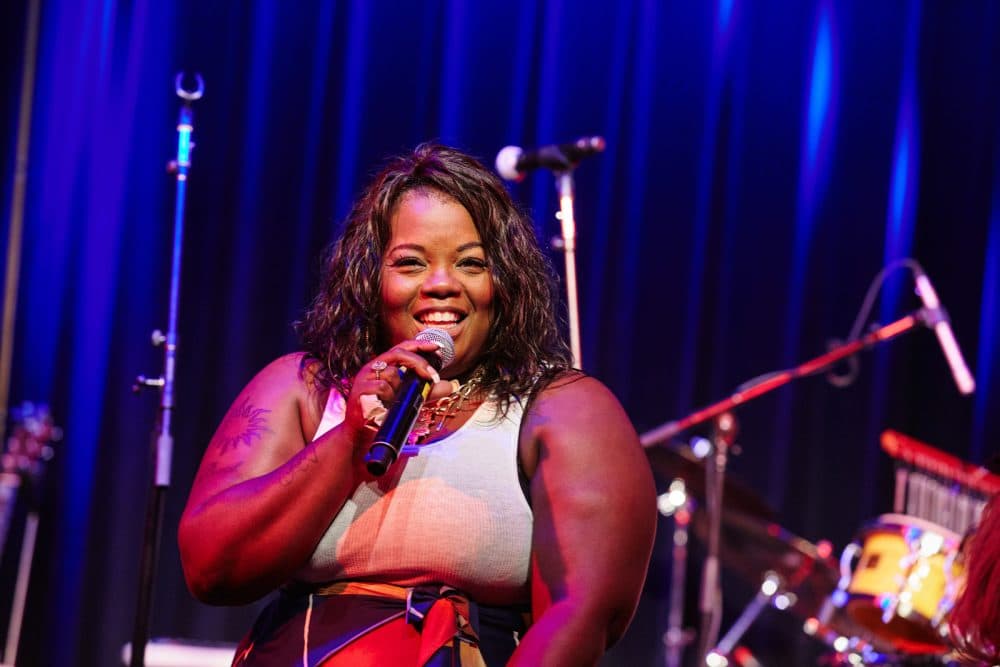 Crystal Torres, trumpet player on "The Beyoncé Experience" tour through "On the Run" tour: "A day before I was supposed to start this tour with [The RH Factor], I received maybe 20 phone calls from people all over saying, 'Beyoncé's having auditions, you need to go.' And, 'That gig is for you.' And I remember consciously deciding that it was more valuable for me to spend that day preparing charts and getting ready for this tour with one of my musical heroes than to go to these auditions with Beyoncé. So I opted not to go. And a few months after that, I kept running into [original saxophonist] Tia Fuller, who is a professor now at Berklee. … One day I just had the guts to say to her — maybe the third time I'd seen her by chance, at a jazz club somewhere — and I said, 'Tia, I know you guys already have a trumpeter for the Beyoncé band, I didn't go to the audition, I was touring, if you ever need someone please keep me in mind.' And that's what she did. Maybe six months later, the night before Valentine's Day, 2007, she called me and said 'Crystal, our trumpeter can't do the world tour and I thought of you. Would you like to come in and audition tomorrow?' "
"And I knew then. … When I got back from that tour with The RH Factor that summer, I went to visit my mother and she was watching 'Good Morning America,' and Beyoncé was doing a promotional tour with her all-female band. And we were sitting on the couch, and we were eating breakfast, and I saw the band, and I just had this feeling in the pit of my stomach like, 'Oh, that is where you're supposed to be.' "
Rie Tsuji, keyboardist and assistant music director from "The Beyoncé Experience" through "On The Run" tour: "I am kind a quick when it comes to getting the song. ... It's totally different than classical music. Classical music, they put the music sheet in front of you and you play exactly that. [With] jazz, still, you see the chord charts and you follow the chord changes or whatever. But R&B stuff ... they just hear it by ear and you just have to get it. So they kind of need people that can get the music by ear. That's a very important skill."
Torres: "I knew 'Deja Vu' was the radio single. So I had prepared myself in case they decided to throw it, in the moment, onto me. And they didn't tell me when they started playing it that they had changed the key from the radio key. ... I start playing and it's the completely wrong key. ... They also had some pretty involved choreography to that song. And they said, 'We need you to dance while you do this.' I'm like, 'OK, sure.' And I crashed and burned. I did my best, but the choreography was very involved."
Collins: "I think what won [Beyoncé] over is my natural humor. The way that I am, I don't change for nobody. I'm very personable, I like to laugh, I like to make people laugh, I like to make people comfortable. I think that, and the fact that I sing tenor, and there's not that many women that can sing deep tenor, like a man."
On Touring
Collins: " 'The Beyoncé Experience' I liked because it was all about the musicians, it was about the music. I've never seen an artist who gave her whole team a solo. She loved the musicianship, she's a musician herself. So for everybody — and you have a 13-piece band, [including the backup singers], — to have a solo, to feature their gifts, I thought that was remarkable."
Tsuji: "I would say the first one was still my favorite tour, I guess. Because we all came from different backgrounds — I mean, Bibi [McGill], the guitar player, she's done Pink and some big tours before Beyoncé. But pretty much everybody [else], we'd never really done any big production tours before. So it was really exciting, you know. … When I was younger I always wanted to travel everywhere. So literally I felt like, 'Oh my god, I'm living in my dream,' you know? You get to play music, and then on top of that you can travel the world?"
Torres: " 'The Beyoncé Experience' was crazy. Everyone was very young, including her. Everyone was experiencing many firsts together. And during those first two tours, we went to the Great Wall together. We went to Egypt. … Speaking for myself, where I was born and raised in North Philadelphia and [am of] Puerto Rican descent — people like me don't always get to see the world, don't normally get to see the world like that. And this was a dream for me from [childhood]. Music kind of was the vehicle that allowed me to live out my dream of seeing the world. That was always something that I had in my mind. So to be able to live out those dreams, and to be able to do it via music — and doing it all with women, and women of color, and women from all parts of the world, women who were talented, who worked really hard. It was empowering."
On Working With Beyoncé
Collins: "It's amazing. You watch this person who knows everything about the lighting, the cameras, the blocking, and how she sees it, because it's her vision. So to watch her be on the floor — she's normally the first one there, and when we leave, she's still there. It makes your work ethic go higher. It makes you say, 'OK, there's nothing that I can't do.' "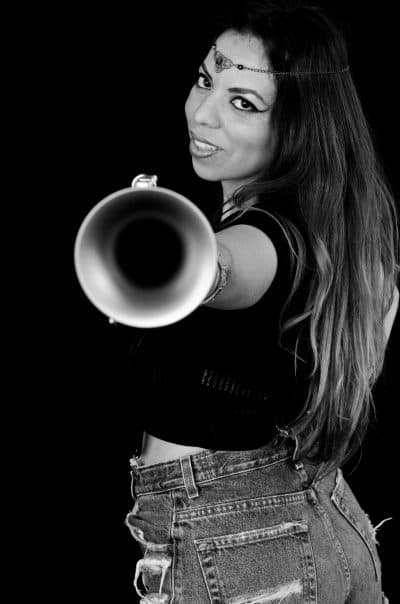 Torres: "She cares about every detail. [As] an artist, she's really open. But she cares about every detail because it's important to her what message her art is conveying. So she's very focused. And she's also artistically, I feel, from what I know of her and from all the years of working with her, she's very competitive with herself. Which is a beautiful thing. She's not competing with anyone else. But she likes to push and push and push to be a better version of whatever she had done, or to grow."
"The other thing that really surprised me that I could never have known just from listening to her pop records was how great her ear was. She wasn't just a vocalist or just a singer or just an entertainer — she used her voice as an instrument. And there were many times where she would come in and arrange the songs or give us ideas just with her voice. She'd sing each part that she'd want us to do, and kind of give us ideas and let us develop. She's very present. Very present and very, what is the word — deliberate. There's nothing that she does by chance."
Tsuji: "The rehearsals are like eight hours a day … we start at 10 and finish at 6, or something. But you know, we [have to] go to the bathroom. But sometimes she just sits down and she doesn't even go to the bathroom [all day] — she's just so focused."
On Beyoncé's Evolution
Torres: "I think at that time, we were all discovering that — separately and together — that it's OK to be powerful and a woman. And also be beautiful at the same time. You don't have to be one or the other, you don't have to be hard to be powerful. You can be strong and be feminine. There's many ways to express being a powerful woman, and I think that's what we all taught each other."
Collins: "I've been with her almost 12 years. So to see the difference and everything ... and her artistic views and her political views and all that, it just makes you say, 'OK: She's for women and she's for us breaking the curses and knowing how to forgive our families and our mothers and our grandmothers.' … She is letting us women know [that] we have to pick it up and quit making excuses. We have to go after, we have to rebirth, we have to revive, we have to regenerate ourselves, we have to love ourselves and love the skin we're in. Don't worry about what you see on TV and the magazines. You are who you are because God made you that way. So let's just go ahead and love you, love yourself, because if you don't love yourself nobody else will. She's trying to get that message across, that we have to pass this down to our little nieces, our little cousins, our daughters, our sons, and this that and the third, because it's important."
On What They Learned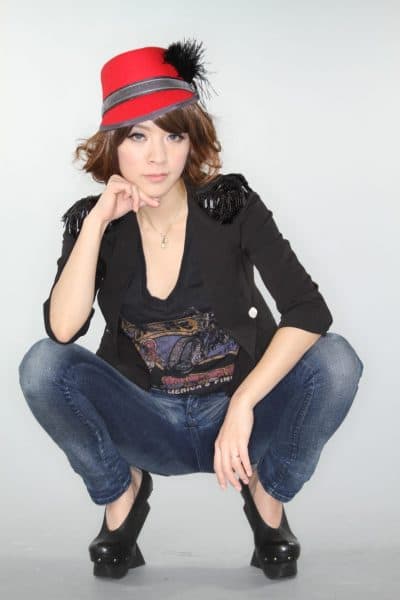 Tsuji: "I'm really thankful and I appreciate that they put us under [so much] pressure. That made us — made me — a stronger musician, I think. But at the same time, I learned, it wasn't only the music. This past 10 years' journey was — we became almost like a family. ... Basically what I learned was, I try to see the good side of everybody. The kind side, or sweet side. Because everybody's not perfect. Everybody has good and bad. So I really started focusing on everybody's good side. And then, [that] strategy, I can use for anywhere, for any situation. So it's really helping my — I guess, my life."
Torres: "One of the biggest things that I learned, and it sound so cliché, but people talk about the power of music and the power it has to transcend — but I got to see it in action. I got to see people in South Korea and people in Ethiopia and people in San Paolo and people in Idaho all coming together for one moment in time and experiencing joy. And being uninhibited and forgetting about whatever it is that divides us, and just being present for that moment. And I got to [be] … reminded every night at work why it is that I decided to pick up this instrument, or open my mouth and sing."
On The Berklee Concert
Tsuji: "First of all, I'm simply so excited to see these girls. Because some of us left earlier. Like Tia [Fuller], she teaches at Berklee, and she left after 'I Am…' tour. So since 2010, we haven't played together. ... And then I'm excited that I can go back to Berklee and play, where I studied and graduated from. I can't wait to see these young, coming-up artists. And we [get to] collaborate together, so I can't wait."
Torres: "I'm really looking forward to connecting with the students. … I want to talk to them and just hear their thoughts about where music is going, and what their hopes and dreams are, and encourage them and give them some insight. Maybe, if there's one thing that they leave with for me, that they get how important it is to really focus on what it is that you want, and visualize it, and then just be open with how it comes to you. Because touring with Beyoncé — or touring with anyone, but especially Beyoncé — was not a dream of mine at all. My dream was just to see the world and just to be as great as I could at playing the trumpet and singing. And it just formed into this beautiful path that I could have never imagined in my wildest dreams."
Collins: "I'm excited because I don't know what to expect, either. I'm excited to see my fellow sisters, because a lot of them I haven't seen in awhile. But they're the best bunch of women that I've worked with in my life. And I never thought that I could say that about working with a whole bunch of women, because I've always worked with men. So to be amongst these wonderful talented geniuses, it is going to be a fun-filled, energetic night of music. And it's the music that we love, and it's the music that brought us all together."
Correction: An earlier version of this post incorrectly identified The RH Factor as The Orange Factory and the date of the concert. We regret the errors. 
This article was originally published on March 01, 2017.