At Lyric Stage, Sarah Ruhl's 'Stage Kiss' Sends A Satiric Smooch To Theater
Imagine "Kiss Me, Kate." Leave in the theater jokes, but sub out the Cole Porter score for a few deliberately wobbly songs and one heartfelt rendition of "Some Enchanted Evening." Sprinkle with sentimental/existential musings on reality and artifice, love and lust. And you've just brushed up your Sarah Ruhl.
"Stage Kiss," the smart 2011 comedy by the author of "Eurydice" and "The Clean House," is a nested affair in which actors with a passion in their past are cast in a play — as characters with a passion in their past. This proves awkward at first, as rehearsals involving lots of lip-lock unfold, but eventually the ex-lovers start to wonder just how "ex" they are.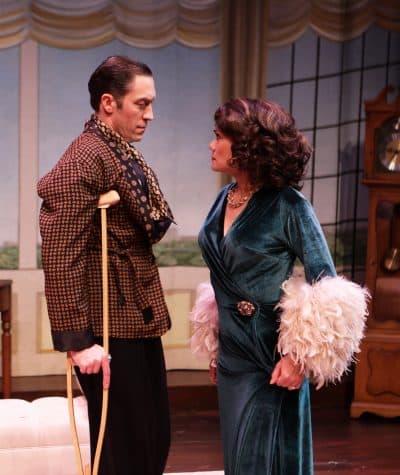 The play, seen here in a spirited Boston premiere by the Lyric Stage Company of Boston (through March 26), is less original than Ruhl's quirkily profound forays into magical realism. But its combination of theatrical pastiche and dissected feelings is pretty irresistible. As is the physically deft, deer-in-the-headlights performance by Celeste Oliva as an actress who can't decide whether it's her career or her life that needs a jump-start.
Oliva plays She, whose jangled audition for a revival of some melodramatic 1930s flimflam begins the play. Intense, tardy and as scattered as the contents of her tote bag, She is a crackling, affectionate satire of the concentration actors must bestow on all sorts of unreality, from manufactured drama to exploring the tonsils of strangers — who may turn out not to be strangers, whereupon things get downright Pirandellian.
It is when rehearsals for the 1930s warhorse begin that She, cast as a wife with just one month to live, discovers that the lover with whom it is her deathbed wish to reunite is to be played by an actor, He, with whom her own youthful, passionate affair ended badly. Strain ensues, along with a whole lot of stage kissing that, however technical to begin with, eventually triggers some long dormant feelings. In short, "Kiss Me, Kate" meets "Private Lives."
But Ruhl's comedy is also a valentine to the theater — and to the valiant practitioners who must embrace its florid unrealities, however destabilizing or unworthy they may be. And the plays within "Stage Kiss" (there are two) are veritable combustions of cliché, the one a mix of Emily Brontë and Noël Coward, the other an even sillier, sordid romance between a prostitute and a soldier of the IRA. (One shudders to think what He and She might get up to if their Lazarus of a romance were jolted back to life by Shakespeare.)
Still, as actors must, Oliva's She and Alexander Platt's He (a handsome Peter Pan of a thespian married to his art) throw themselves into the material with a commitment that's ridiculous yet touching. For them, of course, it is also confusing. "When I kissed you just now," She asks He, "did it feel like an actor kissing an actor or a person kissing a person, because I've kissed you so many times over the last few weeks I'm starting not to know the difference."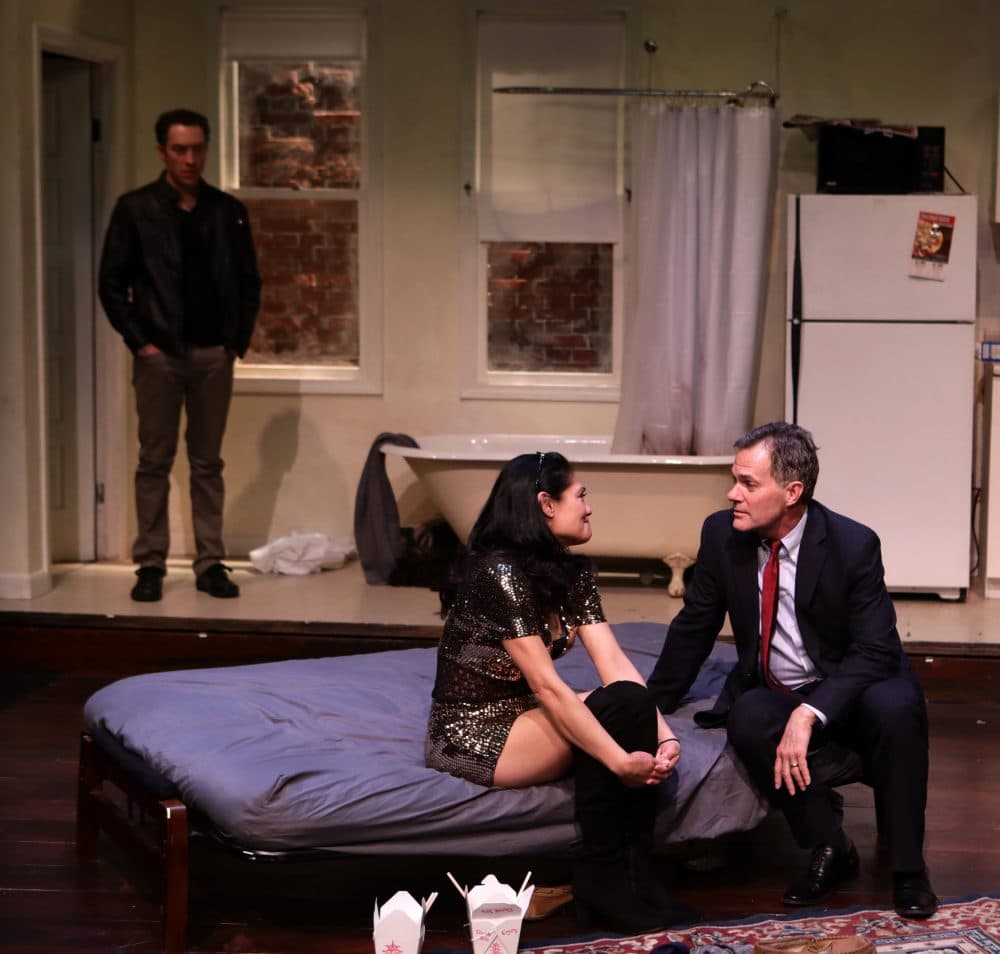 It eventually takes She's tolerant banker spouse to put his calculator-pushing finger on the truth. Using He's character's name, he adds it all up: "You and — Johnny here — have kissed each other — let's see — nine times a night, eight shows a week, four-week run, that's two hundred and eighty-eight times. That's not love. That's oxytocin."
It's also the stuff of hoot-worthy backstage farce (let's not talk about the understudy whose stage osculation technique is more Hannibal Lector than Don Juan), leading up to an earned dollop of sentimental wisdom. And at the Lyric, under the broad but controlled direction of Courtney O'Connor, the play's gathering of artifice is neatly mirrored by a first-act set (the design is by Matt Whiton) that balloons from empty space with grubby rehearsal table to full, two-dimensional period splendor.
Arshan Gailus's enhancing sound design alternates between melodic, tinkling bells and some het-up percussion. And costume designer Amanda Mujica's creations include a set of "pimp" duds for the IRA play, sported with a near-panicky mix of awkwardness and bewilderment by Michael Hisamoto, that are worth the price of admission.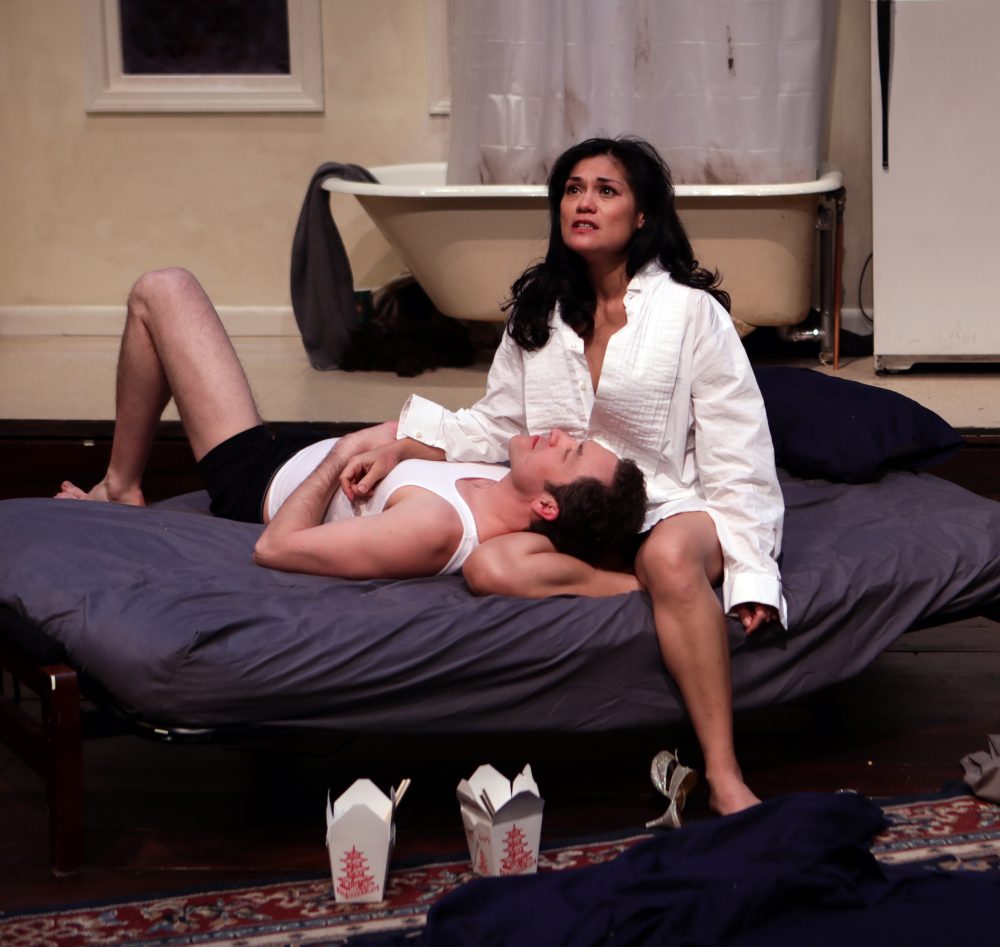 Oliva's is the standout performance, combining comic exaggeration with urgent, all-over-the-place emotion. Platt's He, as written, is more callow, with less to lose. But the performer is sufficiently smoky and dashing — even when his character is wrestling a broken ankle as well as a broken heart. And Will McGarrahan — as the pair's optimistic, inscrutable director, abetted by Hisamoto's game if incompetent amanuensis — ably balances satire with credibility.
For a writer whose voice is as particular as Ruhl's, the dramatist shows here that she also has a knack for parody — and that she has done time in the wings, not just observing the strange interplay of onstage and backstage, but pondering it. And one thing she's gleaned is that, just as the course of true love seldom runs smooth, neither does the path paved with pheromones and nostalgia.