ICE Agents And The Power Of Discretion In Immigration Enforcement
Resume
At a sports bar in Randolph, the TV in the corner is tuned to Fox News and there's a White House press briefing on. Sports dominate every other screen and a steady stream of '90s pop music plays in the background.
This is where Albert Orlowski and I agreed to meet to talk about his career as an Immigration and Customs Enforcement agent in New England.
"Over 25 years in federal law enforcement. Twenty-one in immigration, ICE," he says.
Just the term "ICE" evokes emotion. Three letters emblazoned on the back of a dark jacket; nondescript white vans — they're images synonymous with fear among immigrants in the country illegally. ICE agents seek out so-called "targets" and often use the element of surprise. The role is inherently boogeyman-esque.
Sitting at the bar, the neatly dressed Orlowski orders a pint of his favorite beer: Yuengling.
'I Went Home ... With A Good Conscience'
I ask him, what's it like to enter a home searching for someone you could play a role in deporting?
"Well, you have to act professional, and of course you try to be as humane as possible. You try to get that situation as low key as possible," he says. "I would try to avoid any situation where I knew there was a child in the house. I would wait. That's the last thing I wanted to do, traumatize a young kid."
But based on our conversation about his own experiences in the field, it's apparent that not all agents exhibited the same restraint.
"That's the way I felt. I'm not responsible for anybody else," Orlowski says. "I go home at the end of the day, I don't care what these people do. I went home at the end of the day with a good conscience."
"I would try to avoid any situation where I knew there was a child in the house. I would wait. That's the last thing I wanted to do, traumatize a young kid."
Orlowski says he had 100 percent discretion as an agent on a fugitive operations team and his mentality was get in, get your target and get out.
But, he says, that's certainly not the case for every agent.
"Basically, there's usually one agent, one officer who's in charge of the operation. We basically do what he tells us to do," Orlowski explains, his leathery hand wrapped around a pint glass.
"Like I said, when I was in charge I made it perfectly clear, 'We go in, get who we came for and leave. No stragglers, no extra baggage.' Other people like to interview other candidates. We'd interview them, and then we'd get out whenever we could."
Orlowski tells a story of accompanying a younger agent into the field. Once they were in the target's house, the younger agent wanted to interview other people he suspected were in the country illegally. Eventually, the two of them were outnumbered and tempers were running high.
"We stood in there too long and the thing almost got out of hand," he says. "It got to the point where, like, we were surrounded and now what do you do? That's why I learned my lesson. I only got burned once."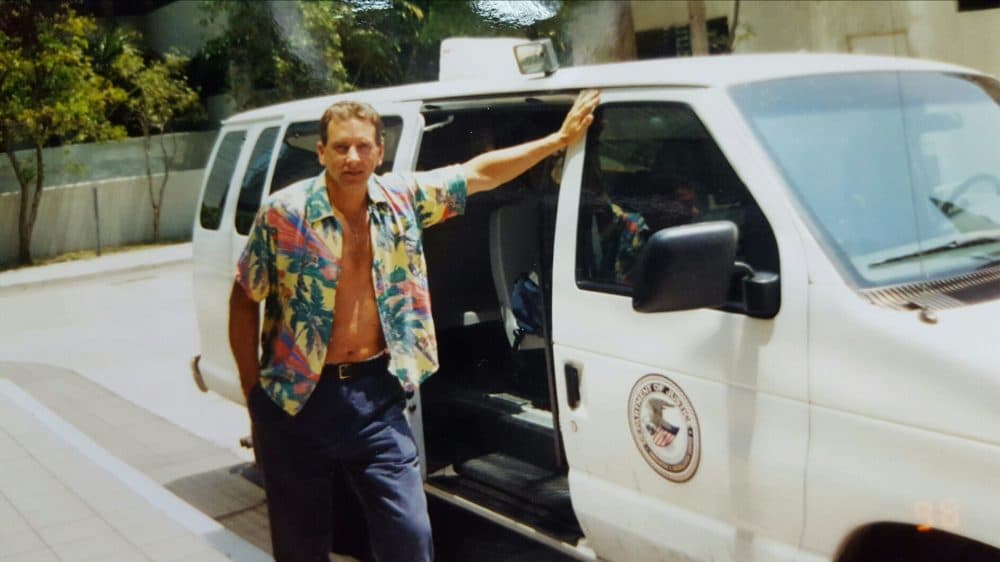 Listening to the 59-year-old, retired Orlowski speak about his experiences as an ICE agent reveals some interesting dynamics. At times he laughs recalling stories about far-flung assignments. Other times he answers a complicated legal question with a dry accuracy that only comes from working in the field for 20 years. Still, at other points, he stares off, talking about young children clutching his leg, crying and begging him not to take their family.
He stiffens a bit when speaking into the microphone, explaining how he believes ICE agents will respond to Trump's new priorities for deportation.
"I think they'll be a lot more aggressive now due to the fact that there's more people in the pool to apprehend, more potential candidates out there."
Orlowski says the job, at its most basic level, hasn't changed.
"No, it's still the same job, the only thing is right now they're actually enforcing the laws they were sworn to enforce instead of just not enforcing the laws."
Individual Determinations, Uneven Enforcement
Trump's executive orders on immigration have brought renewed focus on the role of individual ICE agents like Orlowski.
Depending on how you read the guidance from Department of Homeland Security Secretary John Kelly, you could say that instead of broadening the priorities for deportation, the executive order essentially stripped away priorities all together, making almost any non-citizen vulnerable for deportation.
Former Boston immigration court judge Eliza Klein says ICE agents have always had a certain amount of discretion in the field and that doesn't necessarily change with these new priorities.
"You have some ICE officers who are like, 'I really want to follow the law. You know, I was hired as a law enforcement officer, basically, and I want to enforce this the way it's written,' " she says. "And then you have others who are like, 'You know, man, I don't want to see these family members suffer.' So there will be some individual determinations."
And even though agents may have always made these individual determinations, the fear right now among immigrants in the country illegally is tangibly different.
Clinical professor at Boston University's Immigrants' Rights Clinic Sarah Sherman-Stokes says uneven enforcement from community to community and a newfound bravado among agents terrifies many immigrants.
"Because there is a sort of unpredictability or, maybe better put, the only thing that's predictable is a heightened degree of aggressive enforcement, then the impact is fear," she says.
Fear of going to the doctor, fear of going to school and fear of going to work, she explains.
Asked about how the new guidelines affect an ICE agent's day-to-day duties, the Department of Homeland Security declined to comment, saying it would allow the executive orders to speak for themselves.
This segment aired on March 3, 2017.