Gay Veterans Group To March In Boston St. Patrick's Day Parade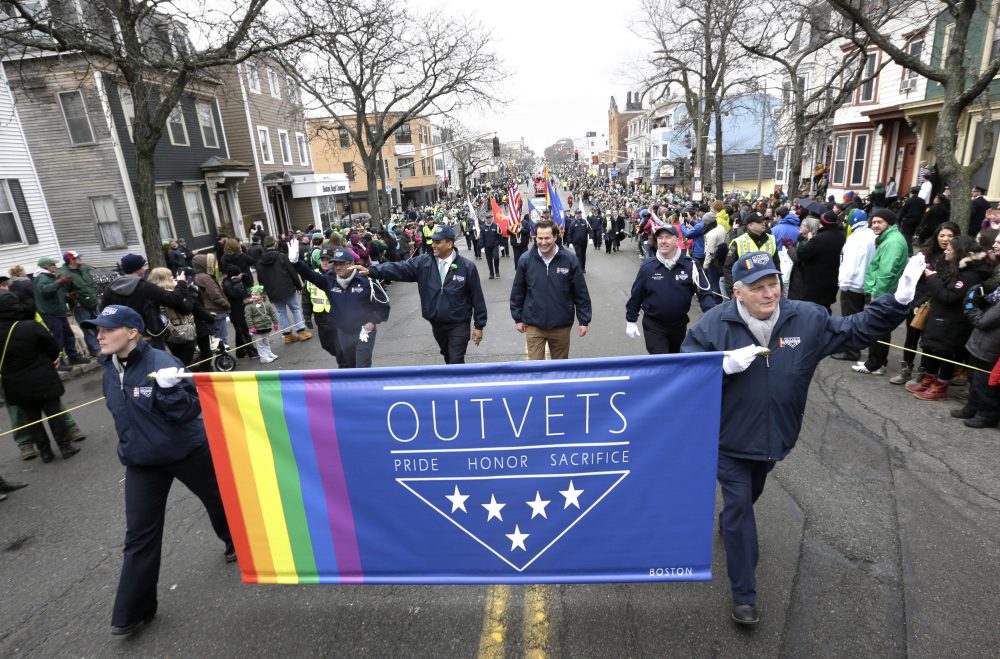 This article is more than 5 years old.
The organizers of Boston's St. Patrick's Day parade have changed course and have invited the gay veterans group OUTVETS to march in this year's parade.
The South Boston Allied War Veterans Council voted unanimously — 11-0 — Friday night to permanently accept OUTVETS into the annual parade. The council tweeted Friday afternoon that it had signed an "acceptance letter" that would allow the group into the 2017 parade.
A lawyer for OUTVETS said late Friday that the group had accepted and looked forward to "marching proudly" and representing LGBTQ veterans.
"We are honored and humbled by all the outpouring of support that has been displayed for our LGBTQ veterans - who are one of the most unrepresented demographics in our veterans community," lawyer Dee Dee Edmondson said in a statement.
An earlier vote by the council to bar OUTVETS from marching drew immediate condemnation from high-profile politicians, some of whom said they would not march if the gay veterans were excluded. It caused some sponsors to back out and stirred up a furor on social media.
On Thursday, parade organizers said OUTVETS had not been "officially notified" that it could not march but that the group's rainbow flag was in violation of the parade's code of conduct. Organizers said OUTVETS "was informed that our Code of Conduct prohibits 'the advertisement or display of one's sexual orientation,' and that the 'rainbow' flag on its banners and logo was in violation of this rule."
South Boston Allied War Veterans Council member Edward Flynn said Friday night he was proud the group invited OUTVETS to be part of the parade. "South Boston is an inclusive community, and with this development, we are one step closer to a parade that reflects that spirit," he said.
It was unclear if the reversal of the decision was a result of a second vote by the council.
Earlier Friday, OUTVETS executive director Bryan Bishop said the council offered to allow the group to march if its members did not display the rainbow flag, a symbol of gay pride, which is on their banner and their jackets.
The group said no.
"I almost fell out of the chair at that point, said, `You gotta be kidding me,"' Bishop said.
He said OUTVETS has displayed the rainbow at the parade the last two years.
"It infuriates me to look at the veterans that I know, gay and straight, who have served this country with valor and honor and distinction, and just because you're a veteran who happens to be gay your service is somehow less than someone who is not of the LGBT community or someone who's not gay," he said.
Edmondson, the OUTVETS lawyer, earlier Friday described the acceptance letter as "generic" and said it did not make fully clear whether the gay group would be allowed to display its banner.
Another veterans group, Veterans for Peace, said it also had been denied permission to participate. That group has been trying unsuccessfully for several years to march.
OUTVETS was first allowed to participate in the parade in 2015, in what was seen as a groundbreaking decision after parade organizers had, for decades, resisted the inclusion of gay groups. The case went to the U.S. Supreme Court, which in 1995 upheld the council's right to bar gay groups on free speech grounds.
The council said in their statement Thursday its decision had been misinterpreted.
"The council is accepting of all people and organizations, but it will not permit messages that conflict with the overall theme of the parade," the statement said.
That decision resulted in backlash from other veterans' organizations.
The council is made up of representatives from several South Boston American Legion and Veterans of Foreign Wars posts.
The Michael J. Perkins American Legion Post said it had withdrawn from the council.
The Perkins post in a statement on its Facebook page didn't mention the OUTVETS decision but said it decided to withdraw because "recent efforts by several non-veteran parade volunteers to guide decision making has resulted in the subversion of the council as an organization being led by veterans."
Another former member of the council, the Thomas J. Fitzgerald VFW Post, assailed the council's decision to bar OUTVETS.
The Fitzgerald post withdrew from the council last year over the decision to bar Veterans for Peace.
With reporting by Associated Press writers Mark Pratt, Rodrique Ngowi, Bob Salsberg and WBUR's Newscast Unit.