Marathon Bombings Play Finds A 'Finish Line' Beyond The Tragedy
Resume
As the fourth anniversary of the Boston Marathon bombings approaches, Bostonians will have a new way to sort through the memories and lessons from the tragedy.
After a patient development process, "Finish Line," a new documentary play based on interviews with nearly 100 survivors of the 2013 bombing, makes its official premiere on Wednesday.
The play's creators say they wanted to facilitate a moment of catharsis for everyone involved. Unlike Mark Wahlberg's much-discussed film "Patriots Day," "Finish Line" is not fictionalized in any way — the account of the bombings is composed entirely of the actual words of people who were there. And unlike that film, "Finish Line" spends little time dwelling on the explosions or the perpetrators of the crime.
Director Joey Frangieh says his focus is on how the people of Boston responded.
"What happens if we focus on a story of positivity?" he asks. "What if we focus on the brave and the heroes and we don't focus on terror and fear and the things that traditionally sell well?"
This play is his answer. It's a series of interconnected monologues. People come and go, telling their stories.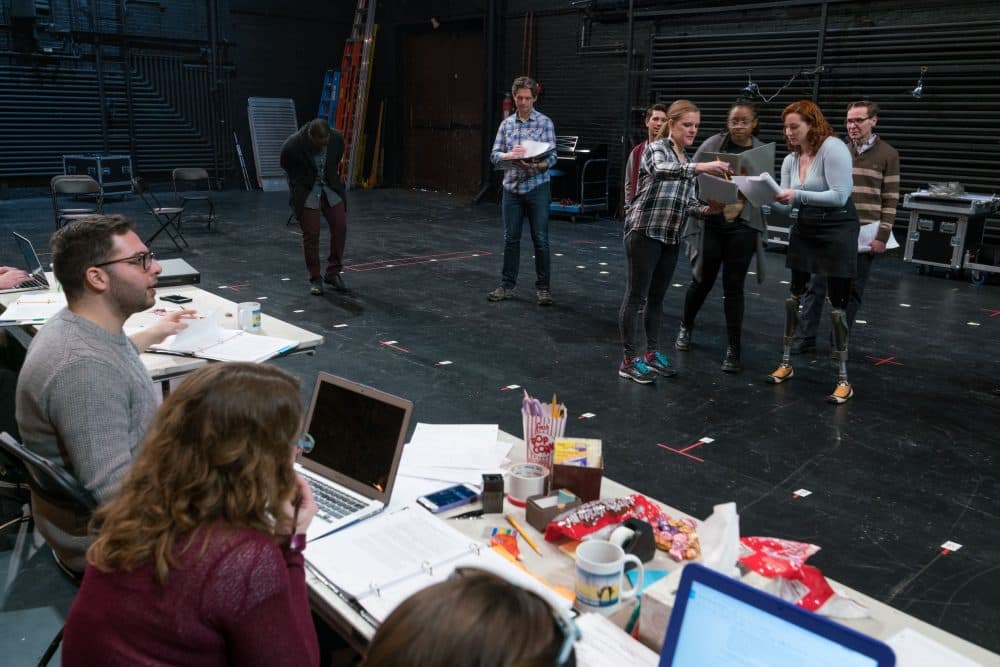 Frangieh is founder of the Boston Theater Company, a small troupe that typically produces a few small-scale shows a year. He created "Finish Line" with Lisa Rafferty, who is a playwright and professor of theater at Bridgewater State University. After a series of workshop readings in an office space last year, they are now able to present the play in the ornate surroundings of the Shubert Theatre due to the Boch Center stepping up to co-produce. ("Finish Line" plays there through March 26.)
Frangieh and Rafferty assembled a cast of 11, mostly locals who are familiar to Boston theatergoers. Most actors play multiple characters, from marathoners to reporters to medical personnel who treated injured runners.
One of the few actors from out of town is Katy Sullivan. She performs in an off-Broadway production shortly after "Finish Line" closes. Sullivan is also a runner who was born without the lower portions of her legs.
"I ended up spending about seven years on and off the U.S. Paralympic track team," Sullivan says. "I represented the Unites States all over the world, in the 100- and the 200-meter. The culmination of my time on that team was the London Games in 2012 — and ran the 100 and set an American record — and quickly retired after that."
Sullivan was at home in Los Angeles the day of the 2013 Boston Marathon, but some of her friends from Team USA did run the race and were unharmed. As an athlete, she relates to the terror of the marathon bombings in a visceral way.
"Being in London and being at that starting line and, your blood, your sweat, your tears, have gotten you to that point and you've pushed your body past what you think was possible. The last thing on your mind should be your safety. 'Cause a finish line should be a place of pride and victory and celebration, instead of something so awful," she says.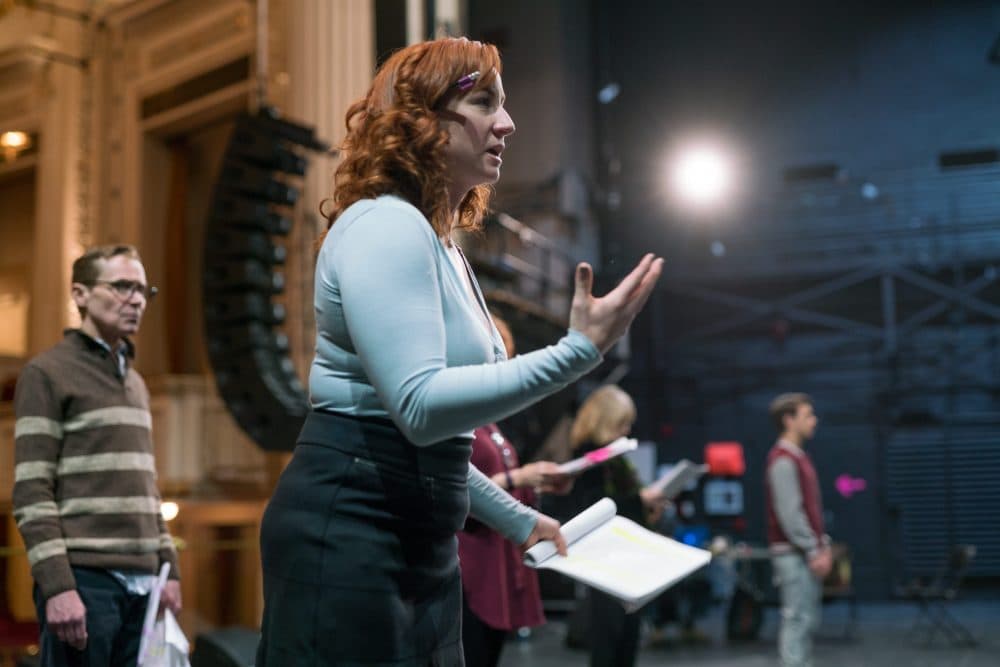 To tell the story of that fateful Marathon Monday in the words of people who lived it, the play's creators interviewed 94 people about their experiences. Frangieh says that led to some intense moments.
"For a lot of people it brings up a lot of emotions. The entire creative team asked ourselves, you know, 'Are we doing the right thing? You know, are we going too far? Are we asking too many questions?' And certainly at times during the interviews when it got really emotional we thought, 'Why are we doing this?' And we just always go back to the fact that these real people are defined not by what happened to them but what they do and how they've come out of it. And each one of them wants their stories told."
The set is composed entirely of a black backdrop hung with 1,100 individual light bulbs. It's a reference, the director says, to the combined power of individuals just trying to do the right thing and shine a bit of their own light on a dark time. That total of 1,100 light bulbs happens to reflect the Shubert's seating capacity. Frangieh says that's just a coincidence, but he very much has the audience in mind. He wants the play to be a chance for this city to come together.
"We're in Boston, we're less than a mile away from the finish line. And we've got Bostonians onstage, it's designed by Bostonians, we have a house full of Bostonians. And so we're really able to all come together to share and experience one piece of art, that was created by more than 500 people," he says.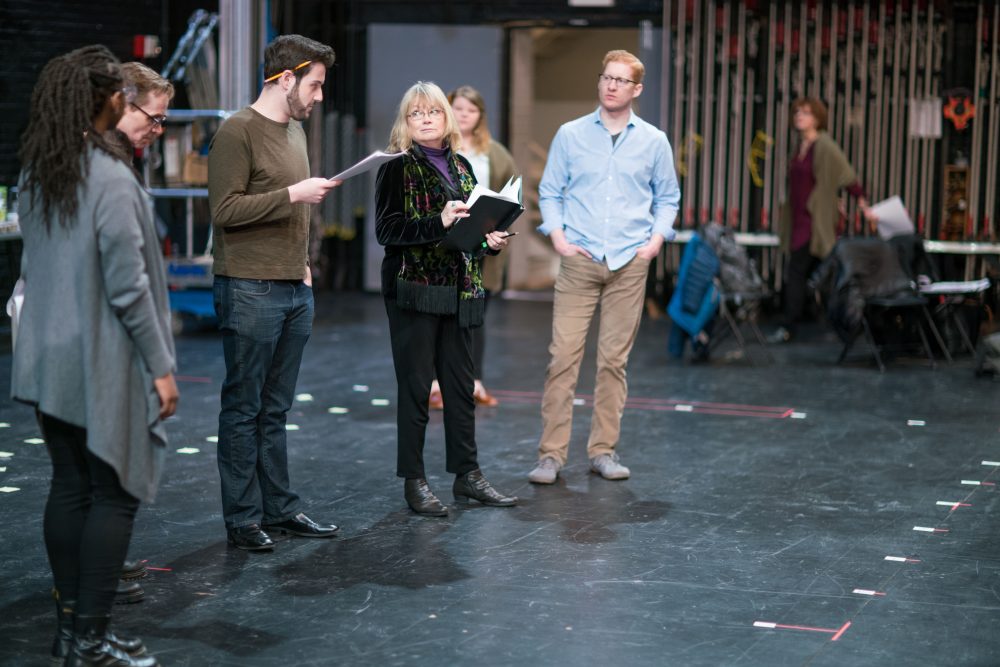 By focusing on the resilience of the community in response to the bombings, co-creator Rafferty says she hopes "Finish Line" will remind audiences of the positive lessons learned on that dark day in April.
"If by presenting 'Finish Line' we can make the connection to the audience and to each other that arose out of that day, if we can promulgate that same kind of connection and community that was the best part of what happened that day, if this production in any way reminds us about what it means to be a caring, compassionate community — that will be wonderful," Rafferty says.
Some memories of the bombings and what came after are stained with blood and tears and trauma. This play tells stories of loss and of eventual triumph. By giving a community-wide megaphone to so many otherwise quiet voices, the creators of "Finish Line" hope the way forward will be lit, like the set of this play, by the glow of a thousand little lights.
This segment aired on March 15, 2017.