With 'Wilde Opera Nights,' Odyssey Opera Celebrates The Master Of The One-Liner
Oscar Wilde was probably most famous for his wise and wise-ass one-liners, his zingers targeting society, mores, convention and complacency:
"The truth is rarely pure and never simple."

"I never travel without my diary. One should always have something sensational to read in the train."

"All women become like their mothers. That is their tragedy. No man does, and that is his."

"The very essence of romance is uncertainty. If ever I get married, I'll certainly try to forget the fact."

"I never change, except in my affections."

"I do not approve of anything that tampers with natural ignorance. Ignorance is like a delicate exotic fruit; touch it and the bloom is gone."

"In matters of grave importance, style, not sincerity, is the vital thing."
Wilde has always been full of surprises. He wrote the funniest play in English — "The Importance of Being Earnest" (from which all of the quotations above are taken) — and the most lurid ("Salome," which he wrote in French). He wrote one of the great horror novels — "The Picture of Dorian Gray"; unsettling children's stories; and a tragic poem — "The Ballad of Reading Gaol" (about his own incarceration for his homosexuality). Wilde loved music, and a number of musicians have been interested in him.
This season Odyssey Opera has been featuring a series of operas and operettas — "Wilde Opera Nights" — inspired by Wilde, musical works based both on what he wrote and on who he was. Last fall, Odyssey gave us a rare performance of Lowell Liebermann's operatic version of "Dorian Gray."
"The Importance of Being Earnest"
Coming up this month, we're getting an even rarer opera, Mario Castelnuovo-Tedesco's charming chamber-opera version of "The Importance of Being Earnest" ("L'Importanza di Essere Franco"), the last opera (1962) by the Italian-born Jewish Hollywood composer whose films include René Clair's "And Then There Were None" and "The Loves of Carmen," starring Rita Hayworth. He taught such film composers as Jerry Goldsmith and John Williams, composed a violin concerto for Jascha Heifetz and a cello concerto for Gregor Piatigorsky, and was probably best known for his great number of guitar pieces.
Scored for a cast of eight singers, two pianos and percussion, Castelnuovo-Tedesco's "Earnest" is punctuated by sly and telling, often ironic quotations from Mozart (especially "Don Giovanni"), Bach and Handel, Schubert, Wagner (never was that gorgon Lady Bracknell more literally Wagnerian), Verdi and Puccini, Chopin's "Funeral March" and Rimsky-Korsakov's "The Flight of the Bumblebee," and many others. It's not only delicious parody but an amusing "name-that-tune" guessing game, and lighter than a bubble.
Here's a complete performance in Italian:
Odyssey Opera's fully-staged production will be sung in English, with Odyssey's artistic director Gil Rose conducting. "Earnest" will have two performances (March 17 and 18) at the Virginia Wimberly Theatre, Stanford Calderwood Pavilion at the Boston Center for the Arts.
"The Dwarf"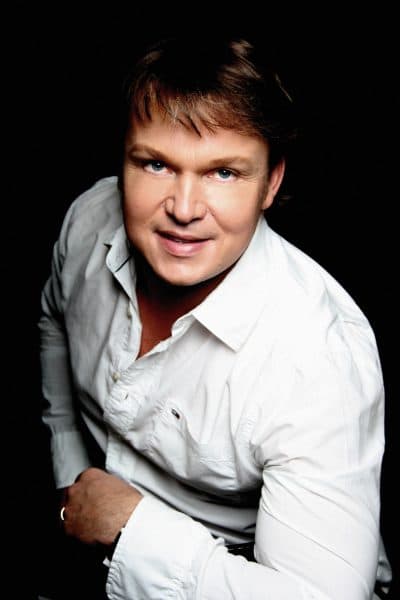 Alexander von Zemlinksy's "The Dwarf" ("Der Zwerg") is on every level a whole 'nother story. Based on Wilde's quasi-autobiographical short story "The Birthday of the Infanta," in which a hideous dwarf believes a beautiful young princess is in love with him but discovers the painful fantasy of his illusion when he sees his image in a mirror, this 90-minute opera by Schoenberg's friend and brother-in-law is thought to suggest Zemlinsky's memory of being abandoned by Alma Schindler, his lover before she married Gustav Mahler.
Zemlinsky's orchestra is as rich and large (the first performance was conducted by no less an eminence than Otto Klemperer) as Castelnuovo-Tedesco's tiny ensemble is pared down. And the score is as grand and gorgeous as Castelnuovo-Tedesco's is intimate and witty. Czech tenor Aleš Briscein, whose heroic singing created a sensation for Odyssey last season in the title role of Dvořák's "Dimitrij," sings the tragic dwarf. Gil Rose conducts this concert version, sung in German with projected English translations, on April 14 in Jordan Hall.
Here's James Conlon's excellent recording:
"Patience; or Bunthorne's Bride"
Odyssey's final Wilde night will surely be the funniest. It's Gilbert and Sullivan's "Patience; or, Bunthorne's Bride," the team's hilarious satire of the art-for-art's-sake movement, for which Wilde became a central figure ("There is no such thing as a moral or an immoral book. Books are well written, or badly written.").
The character of the effete aesthete Bunthorne is partly an early satire of Wilde, along with such High-Victorian figures as poet Algernon Charles Swinburne and poet/painter Dante Gabriel Rossetti. The big wrinkle in the plot is that Bunthorne isn't effete at all — he's actually a phony aesthete putting on a show to win the heart of the gullible dairymaid Patience. His how-to patter song is one of G&S's best comic numbers:
Then a sentimental passion of a vegetable fashion must excite your languid spleen,

An attachment a la Plato for a bashful young potato, or a not-too-French French bean!

Though the Philistines may jostle, you will rank as an apostle in the high aesthetic band,

If you walk down Piccadilly with a poppy or a lily in your mediaeval hand.

And every one will say,

As you walk your flowery way,

"If he's content with a vegetable love which would certainly not suit me,

Why, what a most particularly pure young man this pure young man must be!"
As in most G&S operettas, things don't end well for our deceptive hero.
Odyssey has assembled what sounds like an ideal cast of comic singing-actors. Gil Rose conducts the outstanding baritone Aaron Engebreth (Bunthorne), soprano Sara Heaton (Patience), baritone Andrew Garland (Grosvenor, Bunthorne's rival) and mezzo-soprano Janna Baty (the reluctant old maid Lady Jane). The irrepressible Baty was the hilarious leading lady of Odyssey's production of William Walton's "The Bear" a couple of seasons ago. "Patience" will be playing at the Boston University/Huntington Theatre on June 2 and 3.