Restaurateurs Try To Close Employee Wage Gap By 'Revenue Sharing'
05:41
Play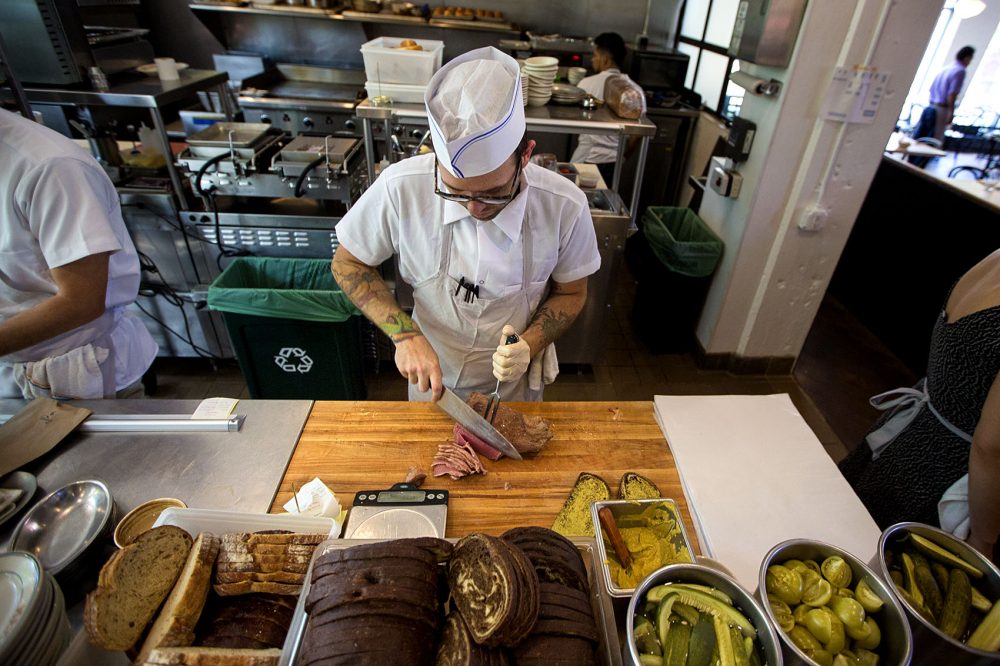 This article is more than 5 years old.
It's well after the lunchtime rush at Mamaleh's Delicatessen in Kendall Square and the place is still buzzing. Waiters dish out knishes, pastrami, lox, bagels — and of course, chopped liver ad infinitum.
"Ours is never as good as their grandmother's, or their great aunt's, or their mother's," says Rachel Miller Munzer, one of Mamaleh's seven owners. "Or they go, 'My grandmother's were never like this. Oh my God, this is so much better.' "
Of course, it isn't your grandmother making the chopped liver here. It's line cooks like 22-year-old Marvin Bonilla, who came to the U.S. three years ago from El Salvador.
"Welcome to Mamaleh's in Cambridge, Massachusetts," Bonilla announces in a voice suited for commercial radio. "If you want to have good food just try our matzo ball soup. You can also try our pastrami and the house lox salmon. You will love it."
Bonilla loves his job — but there's a but. He knows those who work in the front of the house make about twice what those in the kitchen make. It's because of the tipping system, which rewards servers and bartenders for hard work (and increased prices), while the wages of dishwashers and cooks stay flat.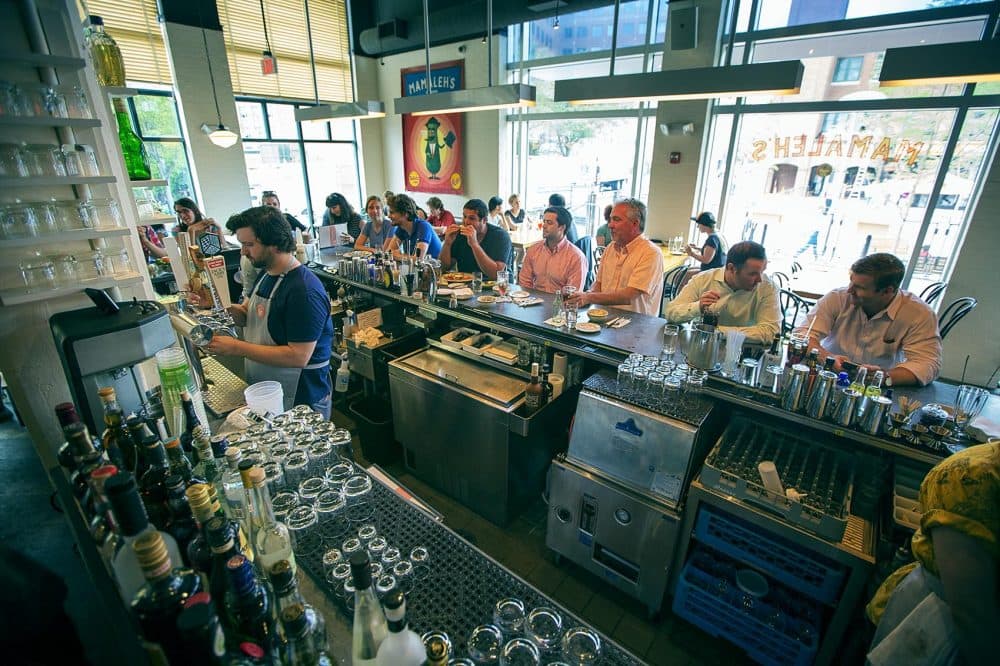 "If we get busy or we are slow we make the same, but for these people up front, if they get busy they make more money," Bonilla says. "And then you see who really does the hard job. The back kitchen is the part of the kitchen that's making the whole food."
Some say there's an advantage to flat wages — you always know what you're going to earn — but the bottom line is clear to anyone paying attention: Tipped workers make more.
Mamaleh's and its sister restaurant, State Park, are the latest of about a dozen establishments in Boston and Cambridge to adopt "revenue sharing" programs. The details vary from restaurant to restaurant, but the basics are the same: Charge customers a few cents on the dollar and funnel the money to cooks and dishwashers.
"In the industry [the wage gap] has been our No. 1 concern for the last five to seven years," says restaurateur Keith Harmon, who co-owns three restaurants in Jamaica Plain.
In 2015 he adopted revenue sharing at Tres Gatos before putting it into place at Centre Street Cafe. When they opened Casa Verde in the spring of 2016, revenue sharing was part of the business model from the get-go. Harmon says people often ask: 'Why not just increase prices and raise kitchen wages?' But that would automatically increase tips, he says, and thus perpetuate the wage gap.
"Now what you're doing is you're converting the idea that the busier the restaurant is, the better it is for everyone who is working in back of house," Harmon says.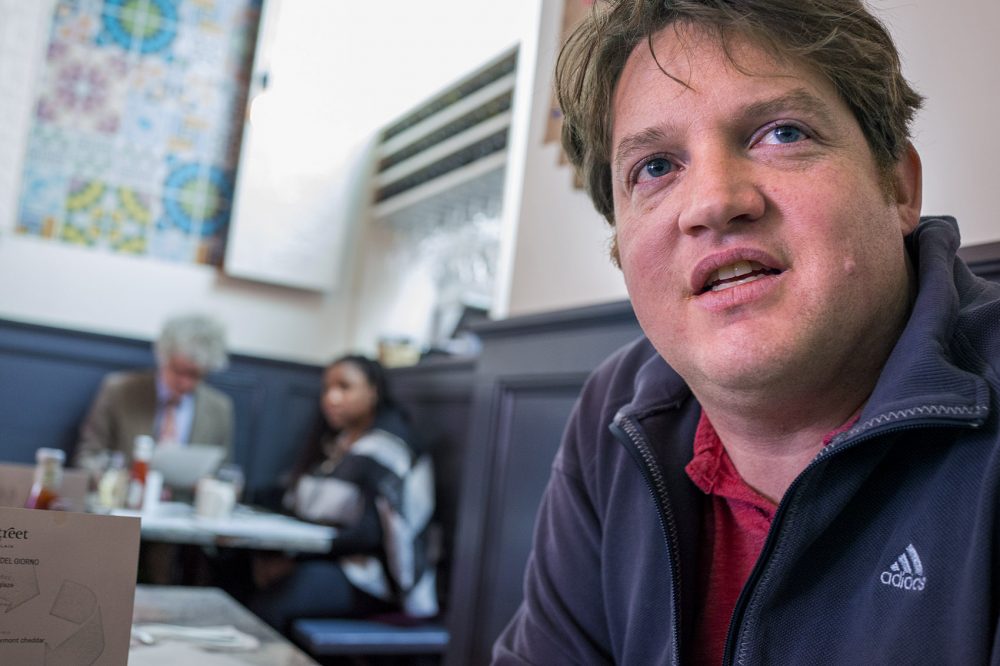 Revenue sharing has already taken off in California's big cities, to the extent that a spokesperson for the California Restaurant Association calls it "the emerging new norm." In the Bay Area, the association says revenue sharing is more common than not.
Another solution to the restaurant wage gape is to do away with tipping entirely, a model some restaurateurs in New York are experimenting with. Danny Meyer is leading that charge.
"I believe that hospitality is a team sport," Meyer said on "Freakonomics Radio" a year ago. "And same way as if you went to a soccer game, the ticket you bought would include the seat, but it would only include the strikers ... and expect you to pay the goalie separate, based on what you as a fan thought of the goalie's performance."
The tipping model is a relic of the Civil War, Meyer says, and it's time has come.
Harmon doesn't think the market he operates in — casual dining in Jamaica Plain — is ready for the elimination of tips.
"We didn't want to alienate the tipped staff to take care of the non-tipped staff, and so we came up with this pennies-on-the-dollar approach," he says.
Harmon admits revenue sharing is only a partial solution, but he calls it a highly effective form of "duct tape." Before it, Harmon says tipped employees earned about 2.5 times what back of the house staff earned. Now, that gap has been cut by a third, and Harmon says the entire staff is happier as a result.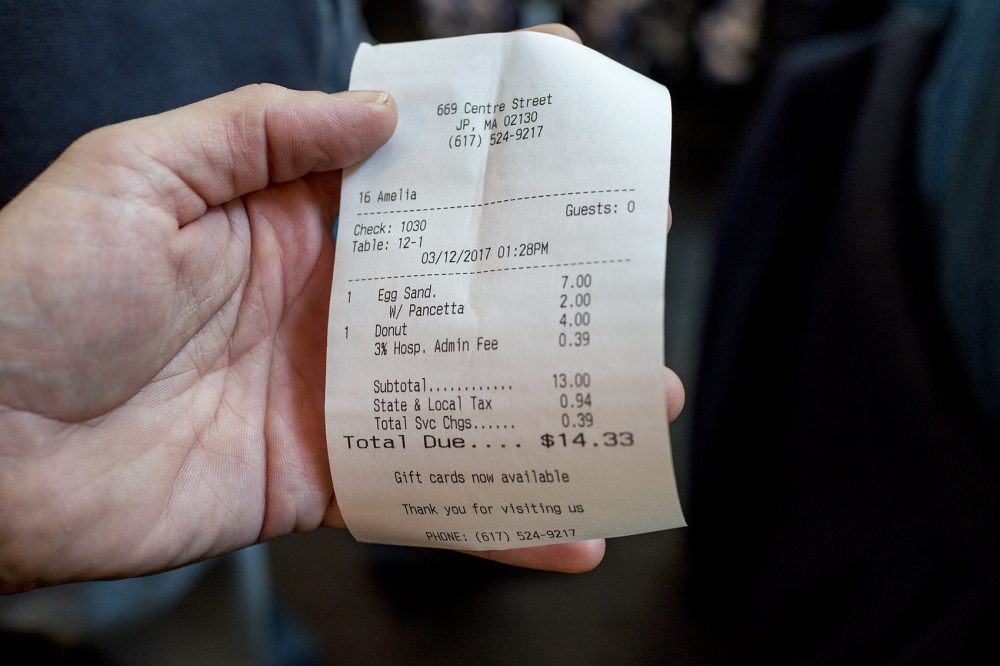 Harmon is spreading its gospel among his colleagues in the industry. Different restaurants have different names for the fees — living wage fee, administrative hospitality fee, kitchen appreciation fee — and each model is a bit different.
At Harmon's three restaurants, a 3 percent fee on all sales goes directly to the kitchen.
At Mamaleh's, 5 percent of food sales (not beverages) goes to kitchen workers at the end of the month. And because the fees are distributed equally, the lowest earners, the dishwashers, stand to benefit most relative to their base pay.
That's not the case at every restaurant doing revenue sharing. At Puritan & Company in Cambridge, co-owner and general manager Chris Yorty says management will decide what to do with the 3 percent "kitchen staff fee."
Yorty says he increased kitchen wages $1, and the rest of the money collected will be distributed as mangers see fit -- whether that means a raise for one worker, or a signing bonus for someone the company wants to hire.
"Selfishly, it'll help attract more talent," Yorty says.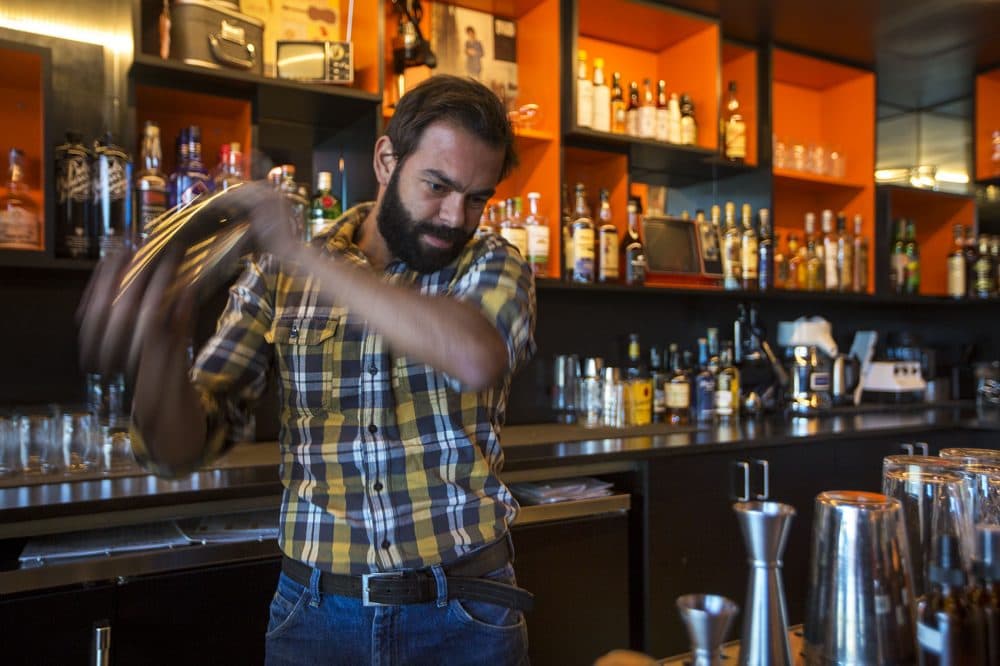 At Mamaleh's, which implemented revenue sharing in early March, owner Miller Munzer is nervous about raising prices on customers.
"It's frightening," she says. "I mean, our stomachs are turning right now because we don't know what effect it will have."
Mamaleh's regular Dan Meyers interrupts Munzer to say he supports better pay for hard work. "Let people earn a good wage," he says. "I'm happy to pay another 20 percent."
He adds: "It's a great thing, and that shows that [for] the people running the place, it's not just lip service. They actually care about their people."
Mamaleh's also cares about keeping its kitchen staffed. With a booming economy, restaurateurs across the state say a labor shortage is the top problem facing the industry. Munzer says Mamaleh's is constantly hiring, and they want revenue sharing to release some of the pressure.
"Ultimately we hope it will help with staffing, which means less turnover," she says. "I mean, there's a tremendous expense in hiring people, training them, and then turning them over."
The wage hike hasn't taken effect yet, but Mamaleh's cook Bonilla is beaming at the idea that his pay could go up as much as $3 an hour.
"I'm going to make another 5 percent of everything," he says. "I feel this is going to be a great thing in my life." He calls Mamaleh's "one of the best places" he's worked.
And the fringe benefits almost go without saying: all the matzo balls and chopped liver a line cook can dream of.
Correction: An earlier version of this story said Marvin Bonilla is from Honduras, not El Salvador. We regret the error. 
This article was originally published on March 21, 2017.
This segment aired on March 21, 2017.