Mass. House Creates Group To Guard State's Interests In Trump Era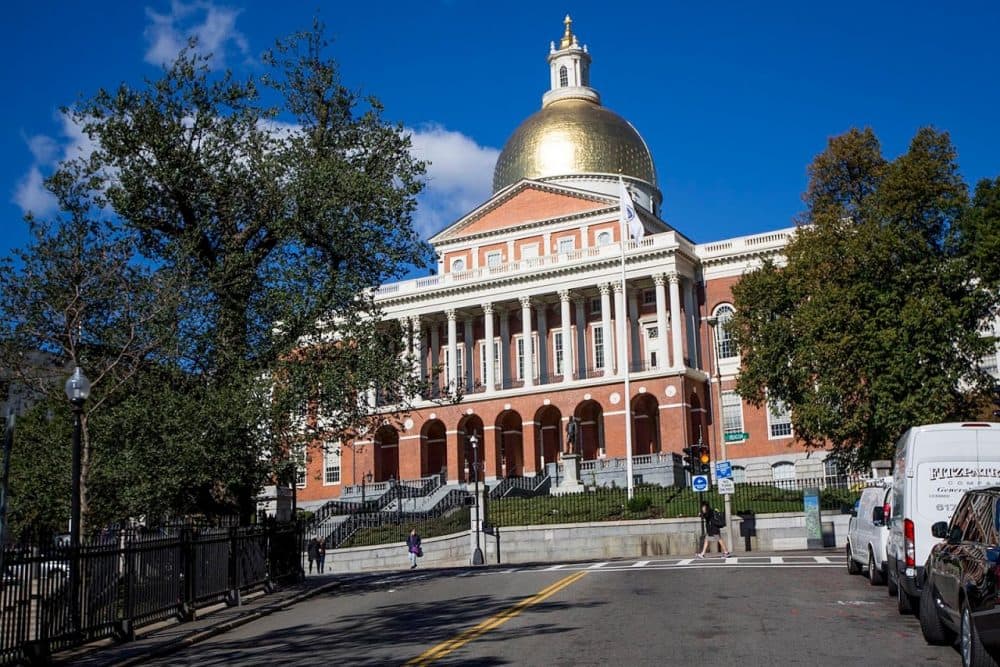 This article is more than 4 years old.
Only two months into his presidency, Donald Trump has already preoccupied Democrats in Massachusetts, who have attended rallies, supported legal challenges, and touted state legislation intended to frustrate the new Republican White House.
On Tuesday, a self-described "deeply worried" House Speaker Robert DeLeo took the unusual step of naming nine House Democrats to a working group to guide responses to "unprecedented actions" of the Trump administration. The group plans to examine impacts on economic stability, health care, higher education, and the state's most vulnerable residents.
Many of Trump's actions — including a controversial travel ban blocked by the courts — are squarely in the jurisdiction of the federal government, not state lawmakers, so the working group's effectiveness is an open question.
"The immigration issue is foremost in members' minds, although what we can do is extremely limited, so I'm a bit concerned that we may be going to a gun fight with a knife," said Rep. Ron Mariano, the House majority leader from Quincy.
DeLeo, who said he was "deeply worried by actions of the Trump Administration," announced Friday the group would be led by Mariano and Speaker Pro Tempore Patricia Haddad, and announced the rest of the membership on Tuesday. The group is charged with identifying legislative solutions that are "necessary and feasible."
"Depending on who you talk to they're going to want their issue to come out first," said Haddad, who said women lawmakers are particularly concerned about reproductive rights.
As the U.S. House moves ahead on the Trump campaign promise of repealing and replacing the Affordable Care Act, both Haddad and Mariano said health care is an area state lawmakers could address.
Five of the seven other members were plucked from the leadership ranks or committee chairmanships: Assistant Majority Leader Byron Rushing, of Boston; House Bonding, Capital Expenditures and State Assets Chair Antonio Cabral, of New Bedford; House Steering, Policy and Scheduling Chair James Murphy, of Weymouth; Public Health Chair Kate Hogan, of Stow; and Health Care Financing Chair Jeffrey Sánchez, of Jamaica Plain. Cambridge Rep. Marjorie Decker, vice chair of Rules; and Westford Rep. James Arciero, vice chair of Export Development are also on the working group.
House Minority Leader Brad Jones, a North Reading Republican, has not been asked to help fill out the membership of the Trump Administration Working Group.
"I have not had any communication with the Speaker on this," Jones told the News Service in a statement. "Thus far this has been a partisan undertaking and I have no indication it will not remain as such."
"It is a partisan undertaking, because it's generated by the acts of the Republican president," responded Mariano. He said, "We don't want to turn this into a debating society."
Haddad said some concerns are non-partisan and did not rule out the inclusion of Republican members in the future.
Mariano said the working group will not be a political operation and said both he and Haddad are cognizant of a range of opinions within the Democratic caucus about how to approach the controversial president. He said, "You've got people in different districts. I mean there are some folks in central Mass. who had Trump win their district overwhelmingly. And they don't want anything."
Haddad said public meetings "could very well be necessary" for the working group and said, "We're going to be very flexible in how we react."
The Somerset Democrat said lawmakers have historically collaborated around particular issues, but the "more structured" assembly of lawmakers tasked with strategizing responses to presidential actions is unique in her experience.
House Democrats huddled behind closed-doors for hours in February to discuss Trump. Lawmakers have already filed bills in response to the new president, including one that would require presidential candidates to release their tax returns before appearing on the ballot and another that would block Massachusetts inmates from working on Trump's proposed border wall.
Mariano agreed that Democrats have been somewhat preoccupied by the Trump presidency, and Haddad said members are "sort of thirsty" to learn how the House might respond to the president.