Mass. Unemployment Ticks Up To 3.4 Percent
The unemployment rate in Massachusetts has ticked upward for a third consecutive month, but officials say the state continues to add jobs.
The office of Labor and Workforce Development reported Thursday that the February unemployment rate was 3.4 percent, compared to 3.2 percent in January.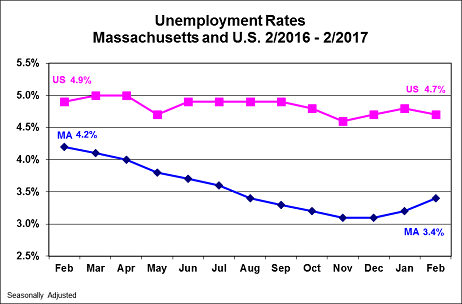 Preliminary estimates from the federal Bureau of Labor Statistics show Massachusetts added 10,100 jobs during the month, with gains in several sectors including education and health services, construction and manufacturing.
The uptick in the jobless rate appears tied to an overall increase in the state's labor force, a sign more people are seeking work. About 18,000 more residents were employed in February than in the previous month, while about 9,700 more were unemployed.
Massachusetts remained well below the February national unemployment rate of 4.7 percent.
The unemployment rate is based on a survey of households, while the jobs figures are based on a survey of employers, and both are subject to revision.