New Literary Group Turns History Of Boston's Legendary 'Saturday Club' On Its Head
Resume
If you walked down School and Tremont streets in Boston in 1855 you might've run into the likes of Emerson, Thoreau or Longfellow. If it was a Saturday night, you might see them talking literary shop over gin punch and cigars inside the brand new Parker House Hotel. But you wouldn't be invited in.
This private, all-male club was known as the Saturday Club and now a bunch of mostly female Boston-based poets have thrown open the doors to host public literary events at the same, historic location.
Omni Parker House historian Susan Wilson says the group of poets, philosophers and scientists started meeting at the hotel when it opened in 1855.
"The president of Harvard would be sitting here, Francis Parkman the famous historian would be sitting there, and [John Greenleaf] Whittier would come in and Thoreau snubbed his nose because he didn't like the cigar smoke," she describes. "There's a famous quote from Thoreau. He mentioned that he didn't really enjoy coming to the Saturday Club at the Parker House because it was so smoke filled he said, 'I much prefer the men's room at the Fitchburg Railroad.' "
The Saturday Club lays claim to many famous firsts, including Henry Wadsworth Longfellow's supposed first reading of his widely-recited Paul Revere poem. Wilson says that it cannot be proven, but "allegedly when he was working on 'Paul Revere's Ride,' ... Longfellow read it first to the people here."
The Atlantic Monthly magazine started in the Saturday Club's smoke-filled rooms and Charles Dickens — while touring the United States — debuted "A Christmas Carol" to its gentlemen members.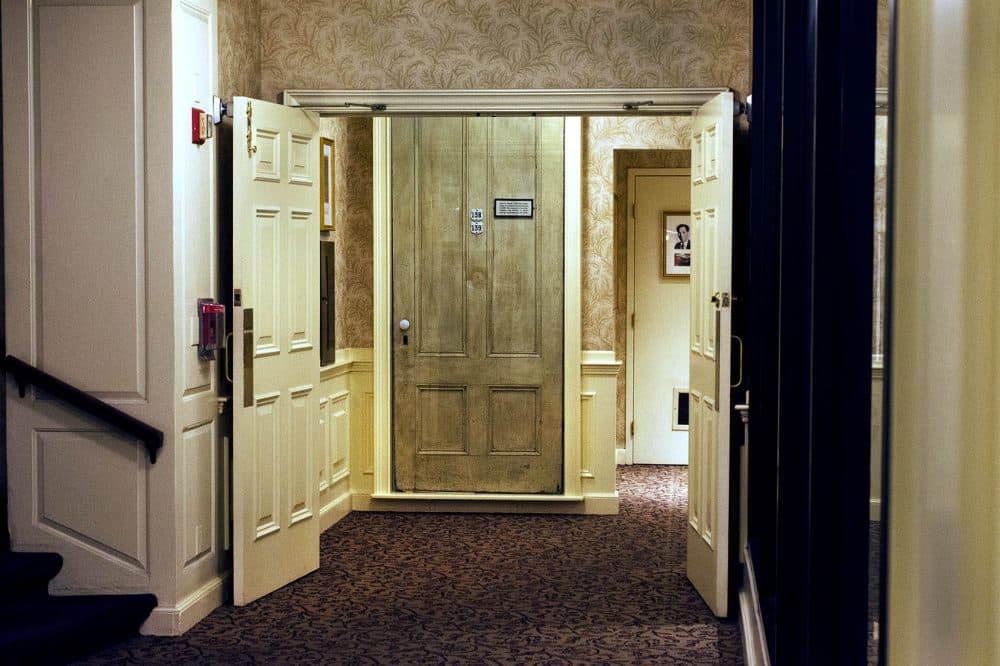 Wilson explains that into the 20th century it was very common for clubs to be either male or female. "Louisa May Alcott or Harriet Beecher Stowe or other women of the era wouldn't be coming to the Saturday Club meetings," she says. "This was a guys' club."
Today's club is very different. Sure, people gather around one enormous table in the still-elegant Omni Parker House. But the events are free, open to anyone, and are organized by a committee dominated by female writers. Boston's poet laureate Danielle Legros Georges is one of the co-founders.
"There are wonderful discussions that take place in schools and universities but we're interested in something extracurricular that was open to the public that was open to students and all kinds of people," says Legros Georges.
The club's latest guest speaker was best-selling local author Anita Diamant. She read a passage from Virginia Woolf's "A Room of One's Own," which she says inspired her to write historical fiction about women's lives.
"What I find deplorable, I continued, looking about the bookshelves, is that nothing is known about women before the 18th century."
"When I read that in the 1970s, we knew more about women before and after the 18th century, but there was still a sense that we were missing a lot," Diamant said.
After the talk and roundtable dialogue, Diamant says she thinks that while reviving the tradition of the old club is a great idea, she's not sure the men who made up the original club would know how to work this particular room.
"It's nice to remember that these literary lights from the past sat at a long table," she says. "I don't think they would recognize this as continuous from what they did. I think they would be freaked out by it. I can't imagine them, thinking 'What are they doing here?' "
The new group was only temporarily called the Saturday Club. That's thanks to an unexpected email received by co-founder poet Joe Bergin. "It was from the president of the Saturday Club. And he very cordially set us straight and said that the Saturday Club did indeed still exist and we would be well advised to find a new name for ourselves. So fair enough," recalls Bergin.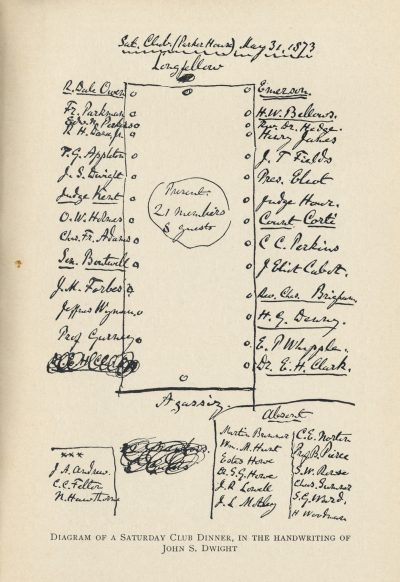 "Some people might have a vision of the Saturday Club of older white males sitting around a table in the 19th century and that would essentially be accurate and that certainly is no longer accurate today," says James Engell. He would know. The Harvard professor of English literature is president of the Saturday Club — yes, the one started in 1855 is still ticking.
The Saturday Club is still invite-only but Engell says there are female members and people of color. But try to find it online as Bergin did? Nothing. And it's no longer a literary club. Engell calls it an "old-fashioned conversation club" for leaders of all professions.
"People don't keep it secret, there's no oath about secrecy, there's no secret handshake — there's nothing like that," Engell laughs. "It's not that kind of society, it's not a society in that sense. It's a simple club."
The new group is now called the School Street Sessions. Like today's Saturday Club, both groups embrace the increasingly rarefied art of conversation.
With five gatherings behind the group, covering topics from African-American literature during colonial New England to textile workers' lives as told through poetry, the Sessions are gearing up for its Women's History Month meeting with a lineup of local women poets reading women poets. As always, conversation will continue in the bar downstairs as it did after Diamant's talk, when I spoke with Boston College sociology professor Eve Spangler, a first-timer who came with a book club friend.
Spangler admires what she calls the Victorian-era bar's "noisy but atmospheric" décor with wainscoting and tin ceilings. Then she explains that as a social science writer she attends a lot of events related to her subject of study, the Israeli-Palestinian conflict, but not literary events. "So this was fun," she says.
School Street Sessions advisory committee president, poet Deborah Melone, says there's a core group who attends and often faces she doesn't recognize. She got involved with the group because of how it was taking an idea from Boston's elite and opening it up to everyone. "I was thrilled that there was this slightly rebellious aspect of it and I think that's working," she says.
Poet Sandee Storey, also one of the Sessions' organizers, says she has longed for a forum that presents "non-fiction elements as they've been dealt with in literature — especially in New England. And now we finally have one," she says. "So we can talk about the mill workers, through poetry. We can talk about immigrants through poetry."
Storey also organizes a poetry reading series in Jamaica Plain and for her the School Street Sessions add a new dimension to Boston's literary community. "It's unique. I don't know of any other places where there's literature and history all in the same program. We're not a historical society and we're not a literary organization, we're both. And so the combination is really fascinating," Storey says.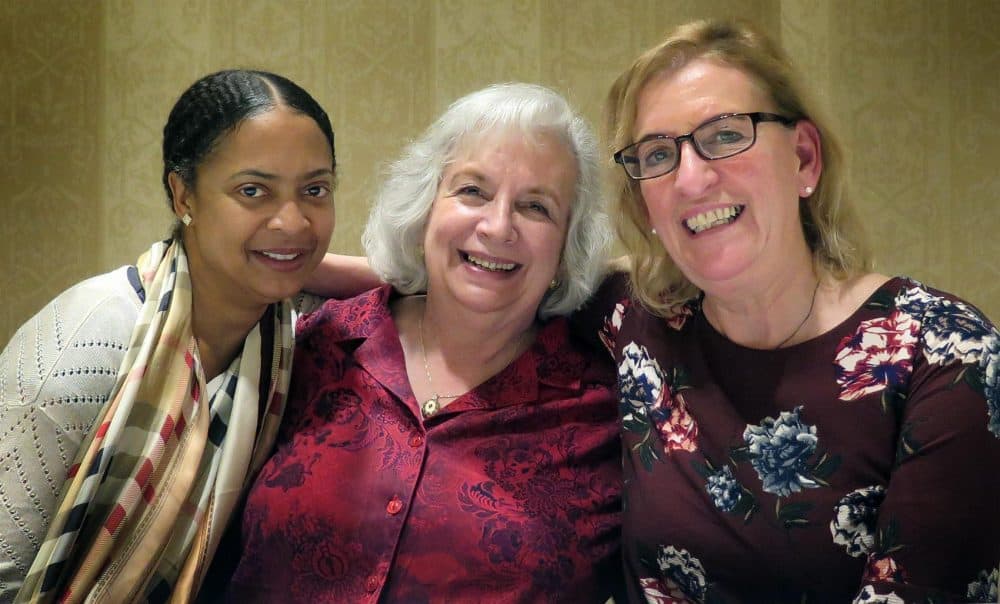 While the past has certainly inspired the group, Legros Georges says they are now more concerned about the future. "We've become our own thing, a new thing, even though we drew inspiration from that group initially, maybe less of a focus on the Saturday Club. I mean I like the history — I like our history and its history — but I think we're kind of moving beyond that."
Yet in one last striking similarity to the Saturday Club, the School Street Sessions has no web presence, either. To learn more, you need to send an email to the president.
The next School Street Session is a celebration of Women's History Month with a lineup of local women poets reading other women poets. It's on Saturday, March 25, at the Omni Parker House at 3:30 p.m. and is free and open to the public.
This segment aired on March 24, 2017.