At Tree House Brewing, Beer Lovers Are Willing To Wait Hours
Play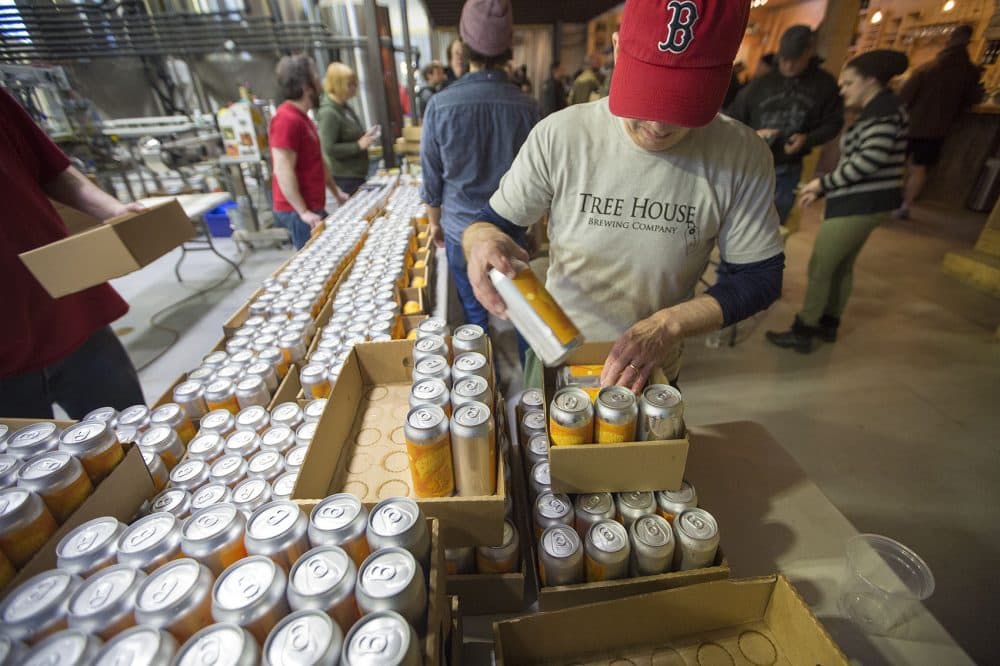 This article is more than 5 years old.
It's the kind of line you'd expect to see for tickets to a popular concert, but the dozens of people waiting outside Tree House Brewing Co. in Monson on a cold, windy afternoon are there for -- you guessed it — beer.
The earliest arrivals will have waited for almost two hours before the doors open. Some, like 37-year-old Dave Cutter, pass the time chatting with friends and other beer fans. He drives 30 minutes from Enfield, Connecticut, at least four times a week to buy this particular brand of craft beer.
"It may be an obsession but it's love at first sip. Once you try it, that's it. It changes your life. I'm telling you. No more package store beer," he says.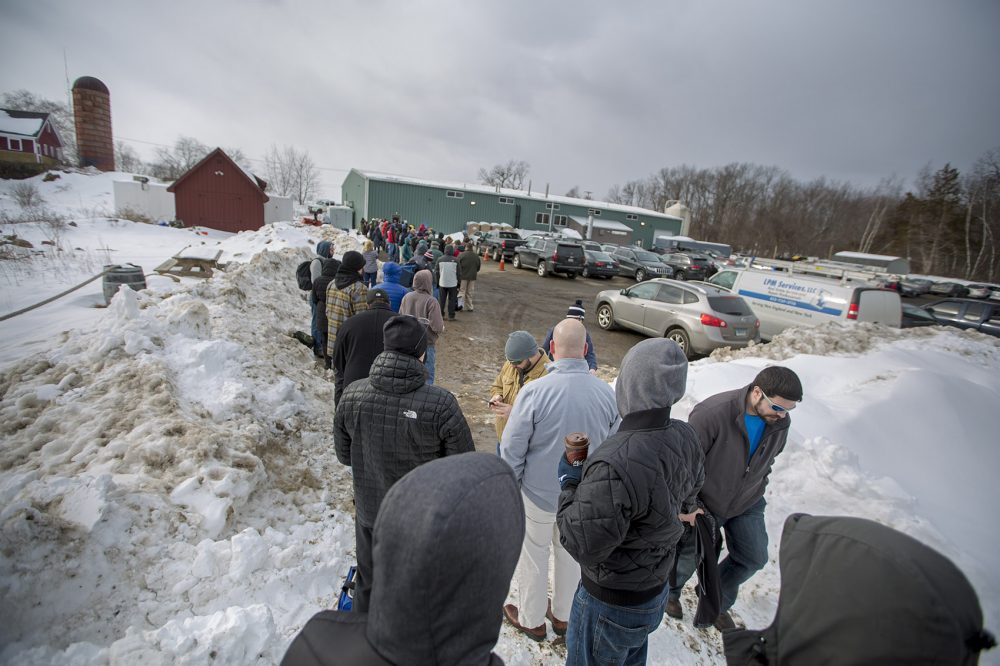 Cutter is hardly the most dedicated fan. One New York man says he drove six hours from Buffalo and plans to do so again in two weeks. Matt Kennedy and his wife Laura Jedrzejewsky are standing further behind Cutter in line. They drove an hour to Monson from Cumberland, Rhode Island, and it's not their first time.
"If you're a beer aficionado, and you love beer, this beer is pretty unique," Kennedy says.
Craft beer is big business in Massachusetts. There are at least 143 brewers in the state right now, according to Beer Advocate's Andy Crouch, who writes for the Boston-based magazine. That number is up from around 80 five years ago. There are two main factors behind the craft beer boom: a growing passion for variety among beer consumers and a low cost-of-entry barrier for brewers.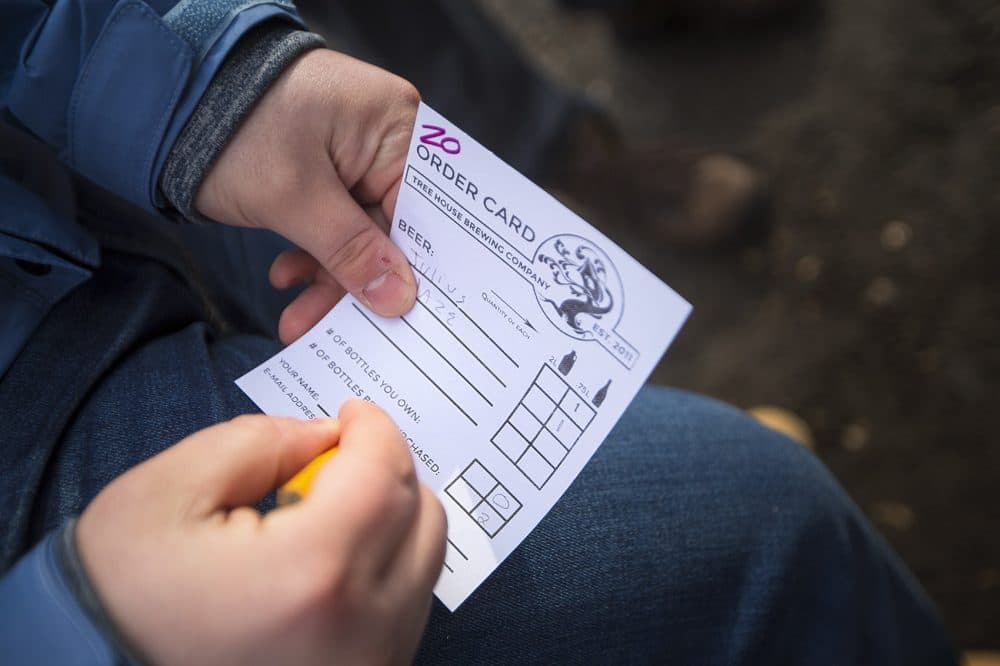 Crouch says the long beer lines like the one in front of Tree House are a relatively new phenomenon that started at Midwest breweries, when crowds would show up to celebrate the release of a new beer. The enthusiasm caught on across the country.
"There are people who are there for the community. Opportunities to talk to like-minded, passionate folks," Crouch says. "And there is another group of people who would be called the 'completists', people who have to try one of everything."
A little before opening time, a Tree House worker steps outside, climbs up a pile of snow, and instructs customers to fill out their orders on little pieces of paper. Though many have driven hours to be here, there's a limit of just 10 cans per person plus two 64-ounce growlers. The beer rations are to make sure everyone who braved the long, cold line gets their prized beer, but it doesn't always happen that way, according to Tree House co-owner Dean Rohan.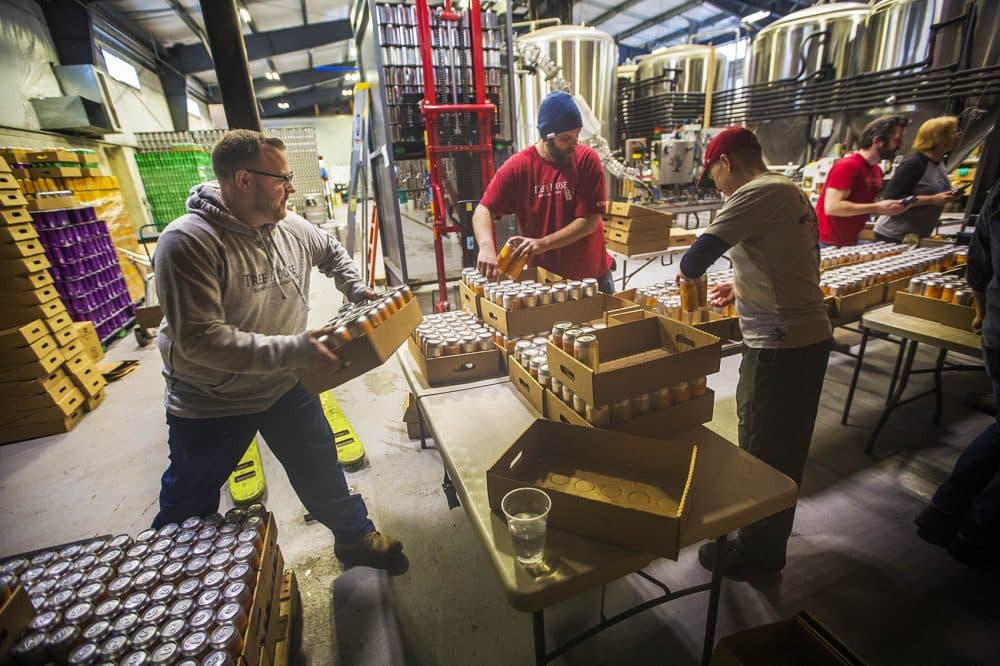 "That line is still sometimes there when we run out of beer and we have to tell these people, 'I'm sorry, we're out of beer.' On a weekly basis we have our hearts broken having to tell people that," he says.
Rohan started Tree House Brewing more than five years ago with business partners Nate Lanier and Damien Goudreau. A former plumber, Rohan put together a lot of the machinery in the building. He says their workweeks are easily 90 to 95 hours.
"I haven't seen my family for a week's vacation in five years," Rohan says. "We just started rotating Saturdays off."
Crouch, with Beer Advocate, says consumers and aspiring beer brewers sometimes romanticize what it's like to brew beer for a living.
"People think the air smells of sweet malt and there are little fairies dancing around, but really when it comes down to it it's an industrial operation," Crouch says. "It's hard work. If you actually want to do a brewery, you have to be incredibly dedicated to it."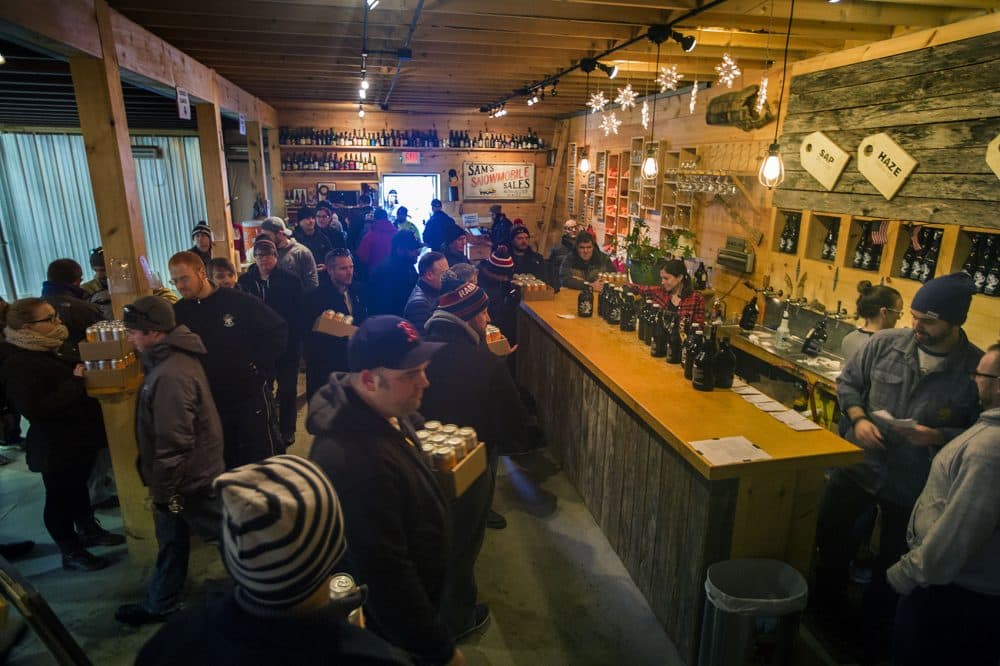 The Tree House team is planning to move to a bigger facility in Charlton this summer, where they'll be able to brew twice as much beer.
But how much is too much? And could we be heading for a craft beer bubble?
Crouch has an optimistic point of view.
"When you look at the number of wineries in this country, it is far in advance of where we are with craft brewers and no one talks about a wine bubble because many of them are small," he says.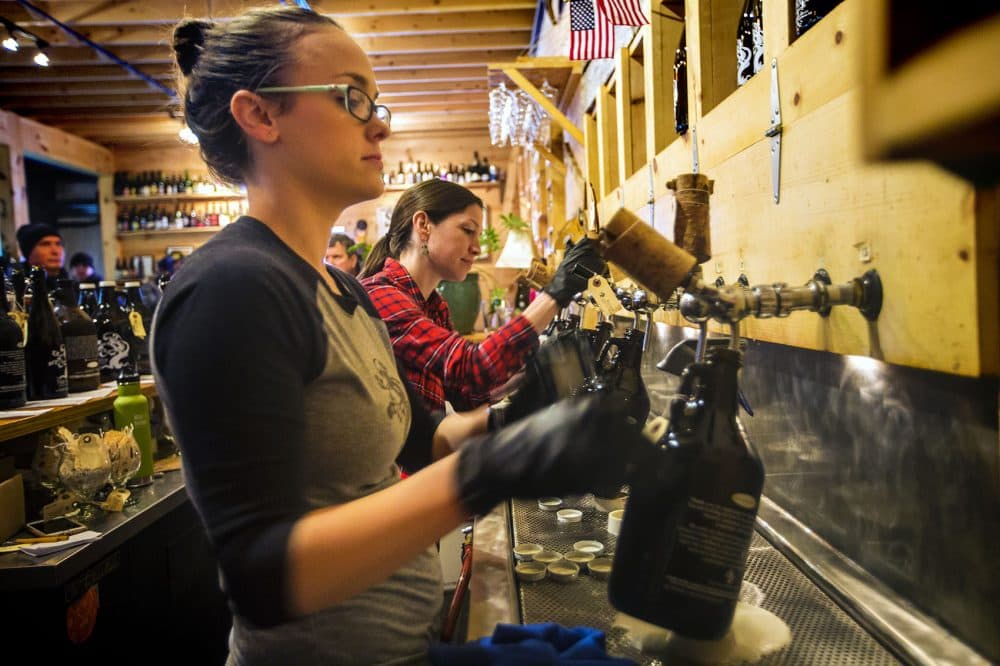 Crouch says if a craft brewer's goal is to stay local, then there's infinite space for growth. But expanding into stores is another question. Local brewers can't all aspire to be like Jim Koch, who started Boston Beer Co., which sells Samuel Adams, more than 30 years ago and now sells products nationwide.
"There's a finite amount of shelf space," Crouch says. "If those brewers are expecting to go to 50 states and compete, you're going to have a tough time."
---
Beer Suggestions From Beer Advocate's Andy Crouch
Lagers:
"I think we're now in this IPA craze, so I will suggest that we get a little bit beyond IPA. I think we're moving into a time now when lager beer, which for a very long time was not really beloved, is having a resurgence. So I would recommend that people try and get out and try some great lager beers that maybe they would think weren't something that they'd be interested in. They can have sharp hops or sweet malt flavors.

One of the ones that is a classic is Victory's Prima Pils out of Pennsylvania. It is a classic, German-style pilsner and it's a beautiful beer to start with."
Something Lighter:
"If you want something that's a little bit lighter, locally Jack's Abby out of Framingham is a brewery that is growing gangbusters, but they make a really simple, straightforward beer called the House Lager. It's reasonably priced, really easily drinkable. It's one that even if your parents or grandparents hate these newfangled craft beers, this is one that you'll be able to drink with them and have a good time."
Something Darker:
"If you're looking for something that's a little bit darker, with a little bit of a different character, also in Framingham there's a great brewery Exhibit A. They make a beer called the Briefcase Porter that is this beautiful, sort of English-style porter with some wonderful malt aromas and malt flavors that I think any dark beer drinker would love."
Something Different:
"And then, if you're looking for something a little bit more challenging, locally there's a brewery called Lamplighter in Cambridge where they make a series of Brettanomyces influenced beers, so it's sort of these wilder beers. But they make IPAs, they're called Brett IPAs, and they have a little bit of funk to them, a little bit of character, but still that underlying, familiar IPA flavors that I highly recommend you also get out and try."
This segment aired on March 29, 2017.