'Mr. Joy' Goes To Neighborhood Stages To Draw In People Who Feel Left Out
Resume
When it comes to bridging racial divides in the city of Boston, the performing arts can help people find common ground. But according to the city's master plan for the arts, released last year, many communities in Boston feel there are barriers that exclude them from the city's cultural organizations and events.
So one Boston theater presenter is trying to break down some of those barriers by taking a socially provocative play to different neighborhoods around the city. The free performances are paired with post-show discussions that focus on the issues the play brings up.
ArtsEmerson says it wants a trip to the theater to do more than entertain. One of Boston's larger theater presenters, ArtsEmerson believes the right play in the right hands in front of the right audience can help create social change. Or at least that's the idea behind a neighborhood tour of its play "Mr. Joy."
"We say here that what's onstage is not the point — it's the provocation. It's the prompt for the conversation. This is one of the most effective pieces we have presented as a prompt," says David Dower, co-artistic director of ArtsEmerson. He directed "Mr. Joy," a one-woman play that takes place in Harlem and deals with racism, street violence and gentrification.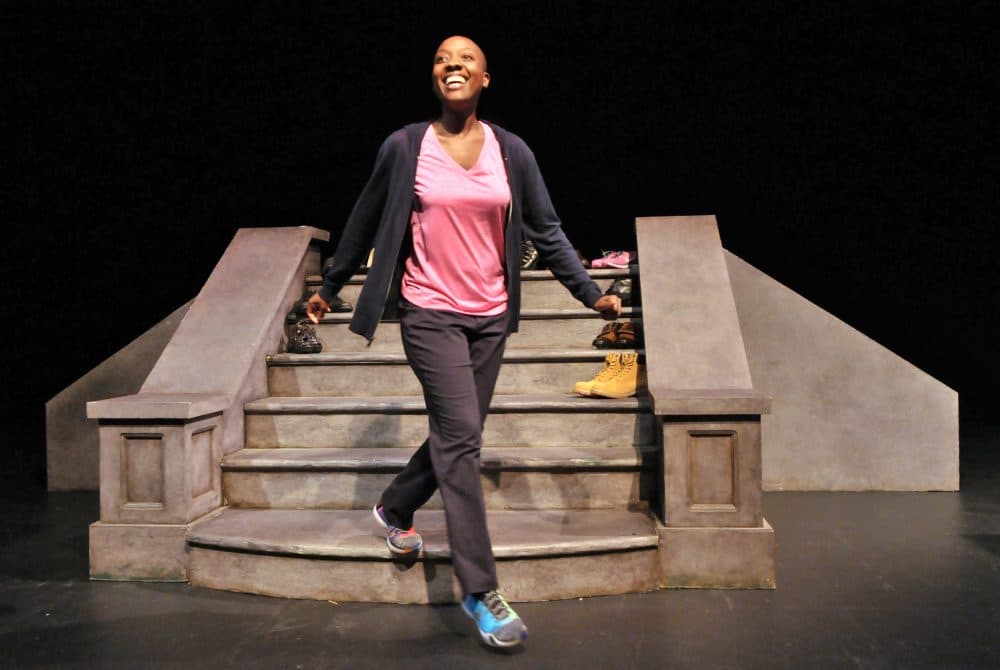 ArtsEmerson programming has a notably multicultural and international flavor. But that doesn't guarantee a diverse audience. Dower says his organization took a look at a hard question.
"Who actually is participating in downtown culture? And looking at people who weren't reflected in audiences," Dower said. "Ultimately, if we succeed, the audience at ArtsEmerson will look like the city of Boston. One of the ways we do that is by coming to neighborhoods where people aren't currently coming downtown to see the work and to introduce ourselves through our work and start an actual relationship rather than just a marketing effort."
"Mr. Joy" is the story of nine people, all played by one actress. Adobuere Ebiama seems to bring a whole community to life, playing a young girl with HIV; the girl's grandmother; a real estate executive struggling to accept his trans daughter; a teenage poet who watches his friend get apprehended by police for something he didn't do, and several others.
The show demonstrates the impact one person can have in a community. What connects the characters is a safe space in their neighborhood: the shoe repair shop run by a Chinese-American immigrant named Mr. Joy.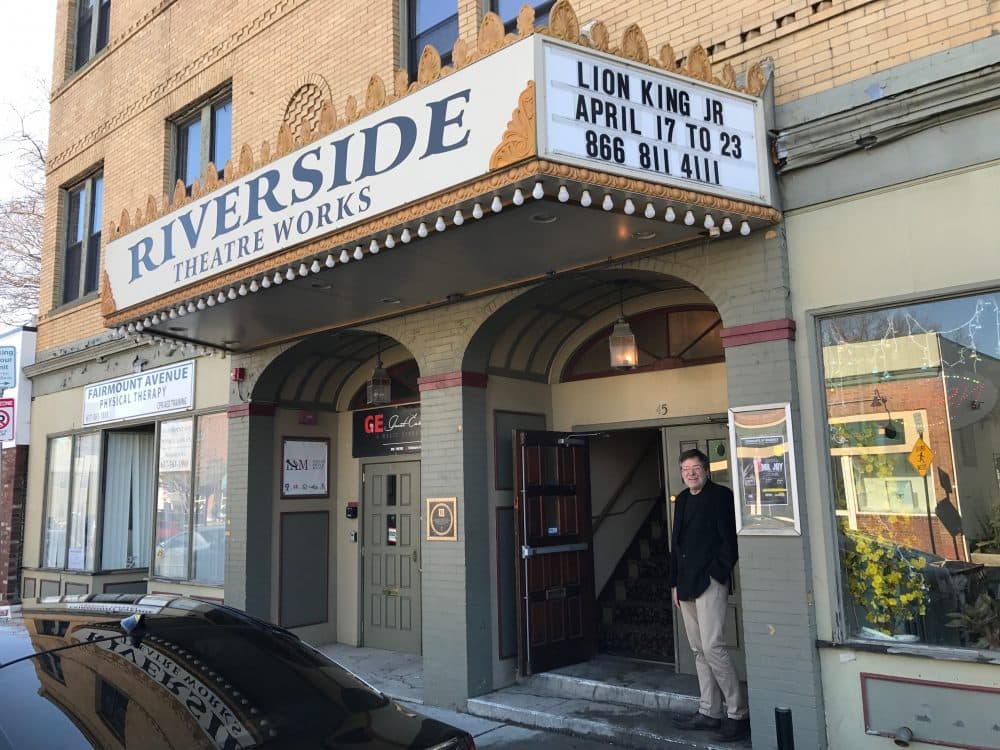 Bringing "Mr. Joy" to various neighborhoods is the idea of ArtsEmerson artist-in-residence Daniel Beaty, who wrote the play. Beaty is a playwright, performer and activist based in Los Angeles and New York City. He says he wants the performing arts to be a catalyst for social change by inspiring people to go beyond facts and figures and make an emotional connection.
"So many conversations around social justice live in the realm of statistics, in the realm of thoughts, in the realm of the inequitable distribution of resources — all things that are hugely important. But what the arts have the ability to do," Beaty says, "is to frame the conversation in a way that delves into our deeper humanity. Not just what the statistics say, but what does our heart say? What do we really feel?"
This neighborhood tour comes in the third year of Beaty's youth project called I Dream: Boston, run in partnership with ArtsEmerson. He's led similar programs in Los Angeles' Watts neighborhood and in Omaha. Beaty has performed for Boston students and encouraged them to write and perform stories about their own neighborhoods.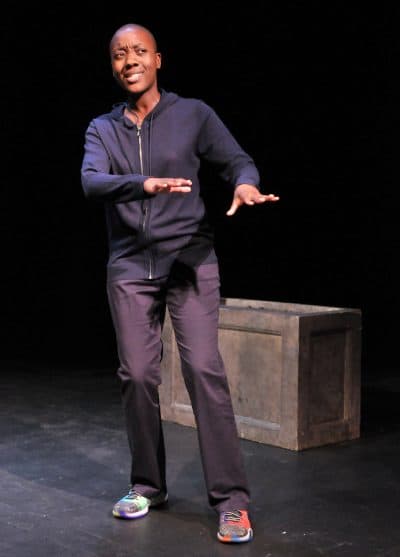 The tour is co-presented by Boston Mayor Marty Walsh's Office of Resilience & Racial Equity, which was created in 2015. Atyia Martin, the head of that office, sees this play as a way to reinforce the notion that the city's cultural life is open to everyone.
"There's not always the feeling like the whole city is theirs," she said of people who have talked about barriers to accessing Boston's arts scenes. "It's been explained to me that it's not always comfortable. But I think this is part of also opening up that possibility as well, because when folks see the range of performances that are being hosted downtown, they will be able to also see how it relates to their life — that downtown is part of their community too, and that it belongs to all of us."
The small French's Opera House in Hyde Park is the home of community theater group Riverside Theater Works. It hosted the first presentations of the traveling play last weekend. After Sunday's show, audience members talked about how they related to the show personally. Many in the audience recognized people like themselves or their neighbors in the show.
"What I saw was really kind of a message about Boston, even though it was placed in Harlem. And it was a message about how we're all connected," said Mela Miles of Dorchester.
Miles says she used to own a tailor shop in Jamaica Plain where neighborhood kids would hang out after school. The play had her thinking about the gentrification of Boston neighborhoods — and the importance of holding on to gathering spaces like Mr. Joy's shop.
"I really have lived this experience of being that tailor, that seamstress, of being that person who is holding that space where everybody went, to get their pants hemmed to get ready for their big day, for their weddings and things like that," Miles says. "So I kind of saw myself there. I was really feeling this whole Mr. Joy character."
And what kind of hole is left when community spaces like that disappear? That was on the mind of Mea Johnson, also of Dorchester.
"It helped to transplant me to think about: Where is Mr. Joy now in the neighborhood that I live in, or in the communities that I work in? That's challenging. Not every community still has Mr. Joy, and that's hard. It's heartbreaking, because of how integral people like Mr. Joy are in the neighborhood," Johnson said.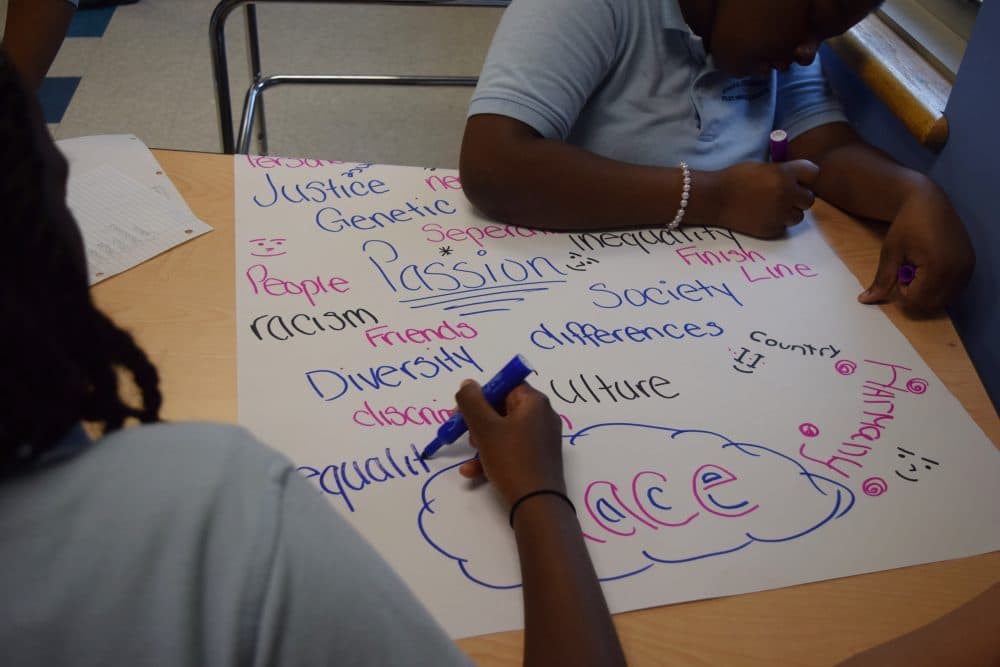 The tour continues with performances at the Jackson/Mann Community Center in Allston on April 6 and 7 and the East Boston home of the community arts group ZUMIX the following weekend. It concludes at Dorchester's Strand Theatre on April 20 and 21.
If a goal of this play is to get people thinking about their connections to their own neighborhoods, it's working. After seeing "Mr. Joy" in Hyde Park, Christopher Robinson of Melrose said he was thinking about lessons for his own family.
"I'm looking back to my own youth, looking at my own kids, and I want to stay a little more local and make connections with people to create that joy," Robinson said.
Playwright Daniel Beaty's efforts at community outreach will continue after the "Mr. Joy" tour. Next month, students at Boston Arts Academy and the Snowden International School will perform plays they created about their own neighborhoods on the Paramount Center's stage.
The idea is that the most valuable story a community can tell is one about itself.
This segment aired on April 6, 2017.