Commonwealth Avenue Bridge Set To Be Replaced This Summer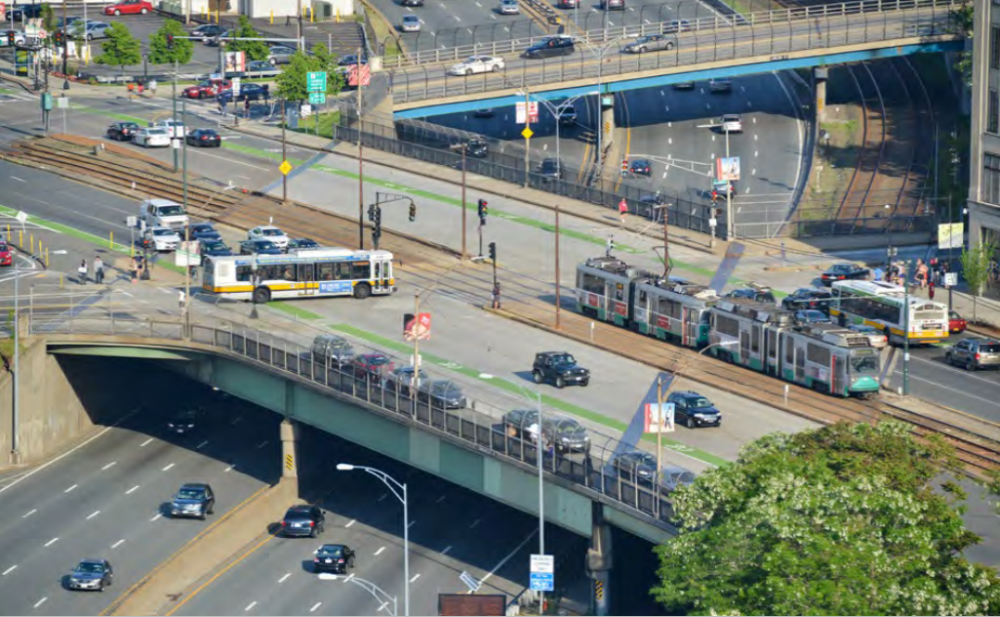 This article is more than 3 years old.
Heads up: This might affect your travel in Boston this summer.
State transportation officials on Monday detailed plans to replace the Commonwealth Avenue Bridge, at the intersection of Comm. Ave. and the Boston University Bridge. The Comm. Ave. Bridge carries MBTA Green Line B branch tracks over the Massachusetts Turnpike and commuter rail tracks.
Construction is set to take place July 26 to Aug. 14.
From the evening on July 27 through Aug. 14, Commonwealth Avenue will be closed to most vehicles from Kenmore Square to Packard's Corner. BU Bridge will also be closed to most vehicles.
Access will be maintained for bicyclists and pedestrians. More here:
(Here's the MBTA bus detour map mentioned in the table. Other detour routes are here.)
There will also be lane closures on the Mass Pike, with the most severe closures scheduled from late on July 28 to Aug. 7.
State Highway Administrator Tom Tinlin says drivers will have to rethink their normal routines -- and avoid the area.
"I don't want to minimize it," he told reporters Monday. "I don't want people to think, 'Oh it might only be about 10 minutes,' because if everybody just drives their normal patterns and normal hours and [they] don't try to do some different things, then we're gonna have some problems out there."
On the Green Line B branch, shuttle buses will replace trolleys from Babcock Street to Blanford Street.
A second construction phase — and shutdown in the area — will occur in summer 2018. The bridge was constructed in 1965 and is deemed structurally deficient.
Here's a video simulation of the project:
This article was originally published on April 10, 2017.