Mass. Outperforms The U.S. In Math, But Has Work To Do To Compete Globally
Resume
Since the Massachusetts Education Reform Act of 1993, schools in the state have focused on strengthening students comprehension of so-called STEM topics — science, technology, engineering and mathematics. The first three areas depend largely on competency in the last one — math.
Massachusetts students are doing quite well in the subject overall, but critical gaps remain. One benchmark is the most recent results from testing for the Program for International Student Assessment, or PISA. It shows the state is tops in the country in math, but when you zoom out and look globally, Massachusetts ranks 20th in the world.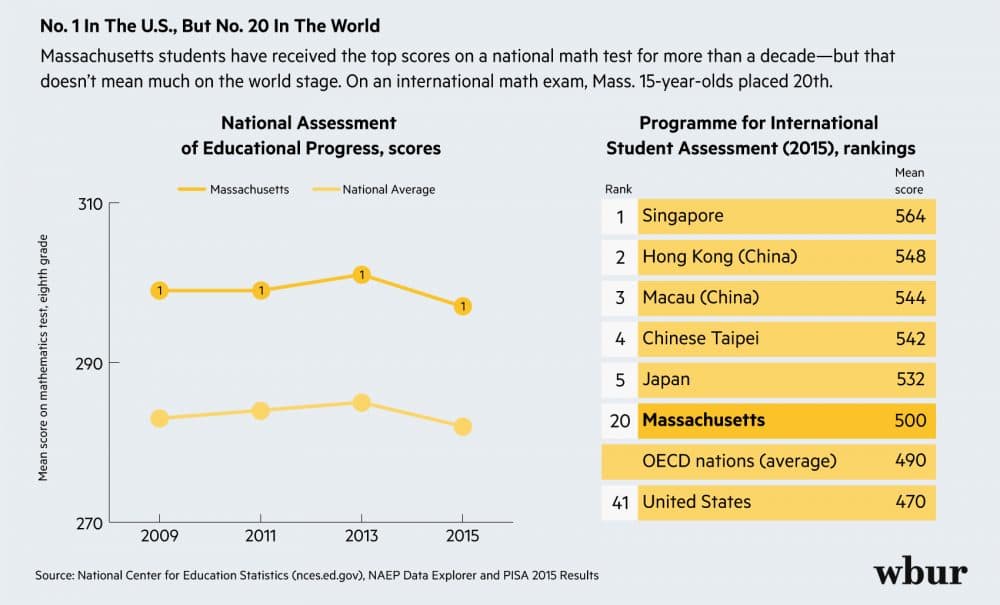 State Education Commissioner Mitchell Chester calls the state's PISA math results "interesting."
"We do much better [in math] than the United States as a whole. But what's puzzling to me is that in a comparative sense we did even better in reading and science — the other two subjects that were assessed," Chester said. "So while I'm very proud of our results, I'm not complacent."
Chester says that in an effort to get math scores up, the state is focusing more on mastery.
"To focus more on a progression of skills so that we're teaching for depth of understanding, depth of application and introducing a new topic each year, or new topics each year, and not repeating everything each year and failing to teach for mastery," he said. "That's one of the strategies that we're adopting. It's a strategy that some of the highest performing nations in the world have used in their math curriculum."
Chester says he doesn't want to overstate the need to improve and believes the state is doing well in math, but he says getting better is critical to ensuring the state's students are competitive in today's job market.
"Career pathways for young people who are competent in math is going to be a much broader set of options in the future [than] for young people who are not competent in math. For Massachusetts, that's critically important."
Beth Mitchell, director of maritime and strategic systems engineering at the General Dynamics plant in Pittsfield, says there are fears that the supply of workers who are skilled in math may not be keeping up with high demand.
Mitchell says she's currently trying to fill about 170 positions in her department at the aerospace and defense giant. All of them require some sort of math skills.
"Even today the engineering work forces, the classes are not much larger, if at all larger, than when I was in school," Mitchell says. "In order to continue to move innovation and new technologies along, we need the next generation to want to engage and be involved."
So better skills in STEM subjects like math could translate into more opportunities in the workforce. But why are math skills more difficult to improve than other subjects?
"Often what's lacking for U.S. students, and Massachusetts students as well, is a conceptual understanding," Chester said. "They may learn the mechanics, but without that conceptual understanding it's not as clear to those students how that math gets applied."
Mitchell agrees. It's the skills to apply math that are lacking. She says students need to be taught how to think with math and not just memorize.
"That has to do with understanding and being able to work your way through," Mitchell said. "You know, engineering school, you learn a lot of math and science, but you're really learning how to solve problems. You can bring that down to the elementary level or middle school level or the high school level and make sure that they're understanding what it is that they can actually utilize it for going forward."
Commissioner Chester says in order for that to happen, he wants to focus on improving the skills of math teachers.
"We have teachers who feel very strong and competent in their math understandings, and we have other teachers who are not that confident in their own math understanding," Chester said. "So it's working with teachers to upgrade their repertoire of skills so that when they're teaching their students they get it conceptually as well."
This segment aired on April 10, 2017.