Forecast: Feels Like Summer In The Spring With Record Warmth Likely This Afternoon
When delivering the weather it's hard not to comment on it. When it's cold or hot, stormy or even boring, my own personal opinions often get interjected into the equation.
Breaking high-temperature records in April isn't something I look forward to, especially before we've had a stretch of more typical spring readings.
Today, the record high in Boston is 78 degrees and was set back in 1955. The record in Providence is 79 in the same year and 80 in Worcester in 1945. There must have a been a sea breeze in Boston that year since Worcester's high is warmer than Boston. All of these records are in jeopardy.
Worcester is located at 1,000 feet high, and therefore they may miss the record by a degree or two. Boston, of course, has the sea breeze issue, but it's more likely winds stay just from the west enough to allow Logan Airport to reach 79, 80 or 81 this afternoon.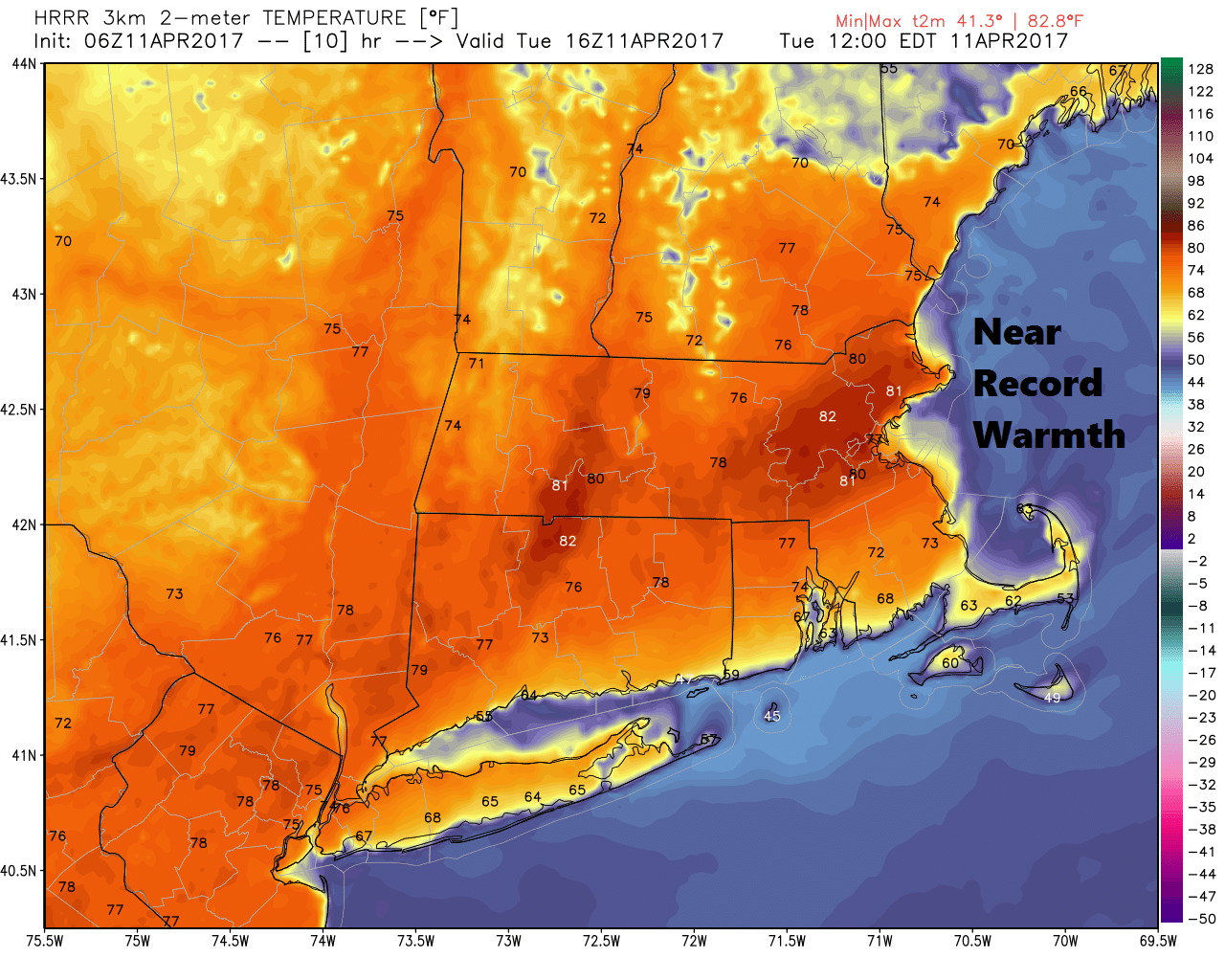 The bottom line is today will feel like a summer day in the spring. If you love warm weather then you will like this afternoon. The day will be so warm you might briefly forget that it is April.
However, Southeastern Massachusetts and Rhode Island — which are closer to the marine influence of the ocean — will stay in the 60s today, and the Islands will still likely remain in the 50s. Those temperatures are still higher than you'd expect for this month.
A cold front crosses the region Wednesday after a very mild night. Lows overnight in the 50s will be great for keeping the windows open and perhaps a fan on.
A few showers and storms also will cross the region on Wednesday. If there is enough sunshine and the front slows a bit then some storms could be strong, but as is often the case in these situations, some of you will miss rain altogether.
It does turn cooler for the rest of the week and into the weekend. Easter will feature a lot of clouds and a few showers. Next Monday — also Patriot's Day and the running of the Boston Marathon — should be dry, but unseasonably warm. Highs reach the mid-60s sometime in the afternoon, which will be great for spectators but too warm for runners.

You can follow my updates here and on Twitter @growingwisdom.
---
Tuesday: Sunny and warm. Highs 75-82. Chillier on the Cape and the Islands with highs in the 50s.
Tuesday Night: Partially clear and very mild. Lows 48-56.
Wednesday: Partly sunny to mostly cloudy with possible showers and a thunderstorm. Highs in the upper 60s to lower 70s.
Thursday: Mainly sunny. Highs in the upper 50s.
Friday: Sunny. Highs in the mid-50s to near 60.
Saturday: Mostly sunny and mild. Highs 59-63