Road Closures On Marathon Days Increase The Risk Of Death From Heart Attack, Research Finds
03:26
Play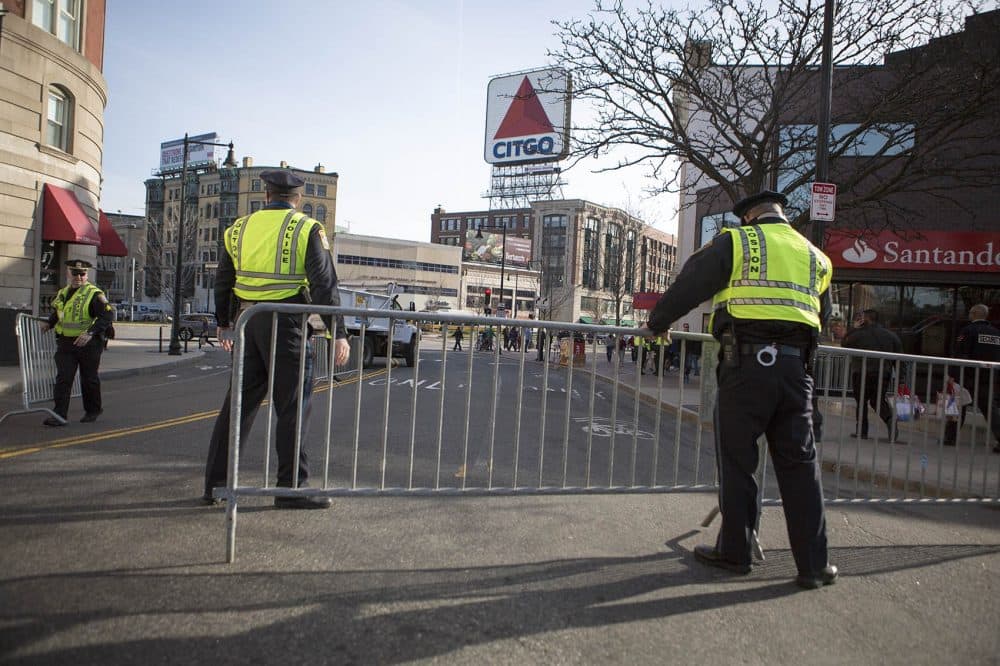 This article is more than 5 years old.
On a spring day, Dr. Anupam Jena and his daughter were headed toward Beacon Hill to cheer on Jena's wife, Dr. Neena Kapoor, in a road race. But the exits off Storrow Drive near Massachusetts General Hospital were blocked. Thwarted, they headed home.
"When we saw my wife later that day, I told my wife, 'I'm sorry we couldn't make it,'" Jena recalled. "And she said, 'Well, I wonder what happens to people who try to get to the hospital on days of marathons?'"
Jena, an associate health policy professor at Harvard Medical School, was in a position to find out. He looked at a decade's worth of heart attack hospitalizations — more than 12,000 — for Medicare patients along the routes of 11 major U.S. marathons, including Boston.
Jena's findings, published in the New England Journal of Medicine, show that "someone who's hospitalized on a race day has about a 13 to 15 percent higher mortality rate compared to identical days of the week and surrounding weeks," Jena said.
This is not about runners collapsing on the course. The average heart patient in this study was 77 and had numerous chronic ailments. And it wasn't that hospitals were 15 percent busier or understaffed. What study authors did find was an increase in the time it took a patient to get to the hospital. An average ambulance trip before noon on race day was more than 16 minutes — 32 percent longer than on non-race days.
"This is almost a diagnosis of exclusion," Jena said. "We concluded from those findings that the most likely explanation is that there are road closings and delays in care that affect people on marathon days."
Jena suspects even longer delays for someone who tries to get a loved one to an emergency room on marathon day in their own car. And he says similar life-threatening delays in care probably occur during other events when major roads are closed — such as July 4th, parades and championship sporting events.
The study does not break down the length of marathon-related delays for each individual city. If it did, Boston Marathon organizers say they're confident the picture would look different here.
"I would be quite surprised if what we see in Boston reflects the study because of the immense amount of work done by Boston EMS to make certain that coverage is not only adequate, but even above and beyond what people would see on a normal day," said Dr. Aaron Baggish, a co-medical director for the Boston Marathon and a cardiologist at Mass General.
On marathon day, hospitals along the route staff up, and more than 1,900 medical volunteers staff tents along the route and at the finish line. EMTs walk or bike the course. Boston EMS deploys an additional 125 personnel, and they aren't focused just on runners and bystanders.
"A lot will be out along either side of the course and up in the neighborhoods because we don't want to impact delivery of EMS services up in there," said Boston EMS Chief Jim Hooley.
It isn't clear if all the communities along the course have additional ambulances on duty to make sure people who have nothing to do with the marathon get speedy care. But Jena agrees that life-threatening delays are probably shorter in Boston than in other cities on marathon day.  Still, the data suggests a blind spot and the need to interrupt the race for emergency vehicles.
"As difficult as that would be for marathon runners, it's something we should consider," Jena said.
In Boston, police monitor every intersection. There are identified break points in the metal barriers that line the course, where emergency vehicles could get through. They did after the bombings in 2013, but Boston EMS can't recall another time.
Boston advertises ways for drivers to get around or across the marathon course. But the agreed message to patients suffering a heart or asthma attack, stroke or overdose, or any other life threatening emergency, is call 911. Don't try to get yourself or a loved one to the hospital on your own.
This segment aired on April 12, 2017.