Connecticut Gov. Malloy Will Not Seek Third Term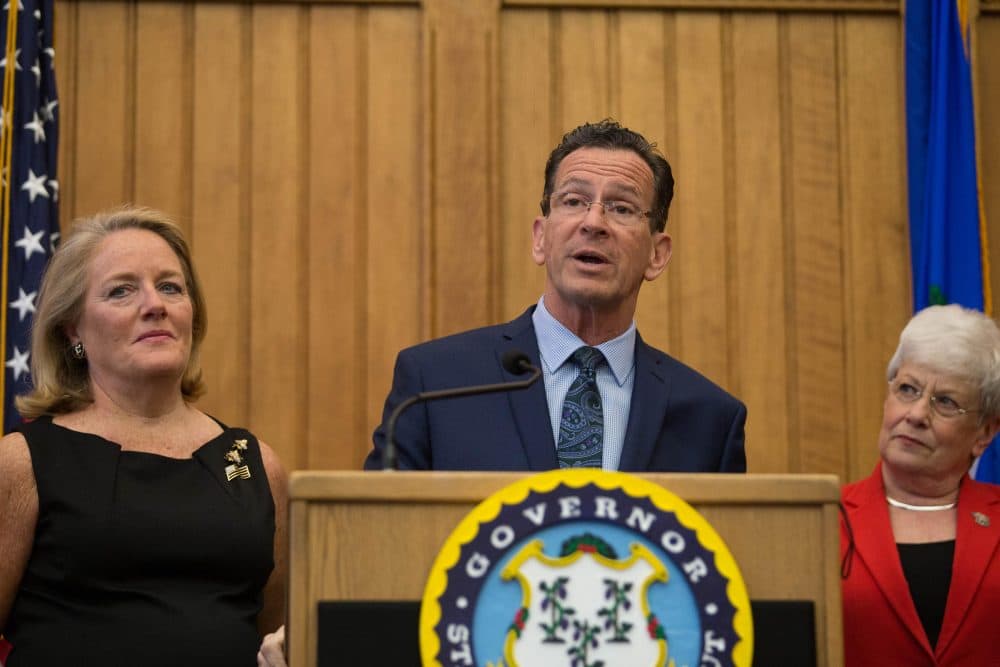 This article is more than 3 years old.
Connecticut Gov. Dannel Malloy will not seek re-election. The two-term Democratic governor announced his decision at a news conference Thursday afternoon at the Capitol in Hartford.
In making his announcement, Malloy continually came back to a central theme in his decision — he's already run for governor three times, and it seems that has taken a toll.
"I began my first run for governor on February 3, 2004, more than 13 years ago," Malloy told a room full of reporters, staff members, commissioners and lawmakers. "And I've obviously had to consider what the future might look like for myself and my family, for the Democratic Party, and for our great state."
After that first run, which ended in a primary defeat to then-New Haven Mayor John DeStefano, Malloy ran again in 2010, narrowly beating businessman Tom Foley, a feat he repeated in 2014.
Malloy inherited a massive budget deficit when he entered office, and went about filling that hole by preaching "shared sacrifice" — which included tax increases and concessions from state employees.
But with another $1.4 billion deficit looming, Malloy's popularity has taken a hit. A recent poll found Malloy, the current chair of the Democratic Governors Association, is the least popular Democratic governor in the country.
But popularity has never been Malloy's priority. He's called himself a "porcupine," unwilling to sugarcoat his language, and ready to throw his quills at opponents, including Republicans Chris Christie, Bobby Jindal and Vice President Mike Pence.
But Malloy's softer side came out during his announcement, when he repeatedly became emotional.
"Serving as Connecticut's 88th governor is the the honor of my lifetime, second only to being a father and a husband," he said.
It echoed the restrained emotion he showed often in the months after the shootings at Sandy Hook Elementary School in Newtown, Connecticut, which killed 26 students and educators. His term also included a series of natural disasters, snowstorms, power outages and hurricanes.
"He's probably at the stage where he needs to move onto another part of his life," said Bob Duff, Connecticut's Senate majority leader.
And while he plans to serve out the rest of his term until 2018, that's a change the driven Malloy seemed to be looking forward to. Gesturing to his wife Cathy, he said, "We're really happy. I want to finish this job and figure out what we want to do next. We're really happy."
This story comes via the New England News Collaborative, and was first published by WNPR in Connecticut.