From Fiction To Fact, Musician Richard Thompson On The Fabric Of His Life
Where do songs come from? It's an age-old question, one songwriters and composers have been attempting to answer — or, perhaps, dodge — for years.
Richard Thompson, who's written nearly 900 songs over the course of five decades, says, "It varies." But it's not a dodge and he's not going to leave his thought there. He's got examples.
On "Still," Thompson's latest album, the veteran singer-songwriter-guitarist says the mix between stories he completely made up and ones cut from the fabric of his own life are just about split down the middle.
"There are some songs that are completely honest and personal," he says, on the phone from his LA home, "and some songs are just fantasy, like 'Josephine.' I just started writing something. I have no idea what it's about. I believe in it, the song. And it makes a kind of sense. It's about this crazy woman, but I don't know where it came from and I don't know why it was written.
"A song like 'Dungeons For Eyes,' it's something that actually happened to me. I was at this charity event. Someone said, 'You must meet so-and-so,' and I knew this so-and-so was a former terrorist, someone I know who had killed people himself and ordered people killed. He was a reformed character, a politician. I couldn't shake his hand. I couldn't do it. And that's what that song's about, a real personal experience. It was so traumatic I had to write about it. It took me a few years."
The spark of a song, Thompson suggests, can be as simple as this: "I guess sometimes, if somebody really pisses you off. As a songwriter, you get pissed off and you don't start shouting, you don't get outwardly angry. You think to yourself, 'I'm going to get you in a more effective way. I'm going to just destroy you in song.' And that's kind of the nicest revenge because a) You get a song out of it and, b) Possibly get royalties out of it as well, so you're earning money from him pissing you off."
On the inside of the "Still" CD jacket, Thompson is pictured prone on the cold ground amidst a stark wintry backdrop, the neck of an electric guitar piercing his heart. "Very sad, tragic," says Thompson. "I suppose the idea was there's a battle between the folk-rockers and the heavy metal guys, and there's some future war in which the various strains of rock music try to kill each other and I was an unfortunate victim."
Who killed him: the folk-rockers or the metal troops?
"Well, you never know who your friends are these days," Thompson says. "Could be your own side stepping in to stab you in the heart."
Thompson came to a measure of fame when he joined the acclaimed English folk-rock band Fairport Convention in the late '60s. His profile rose with six exquisite studio albums, collaborations with his then-wife Linda Thompson, which began in 1974. Out of their turmoil came what is arguably the best (most painful) breakup album of all time, "Shoot Out the Lights" in 1982. He's played as a session guitarist on numerous avant-garde and pop side projects — Nick Drake, David Thomas, Henry Kaiser, Bonnie Raitt and Loudon Wainwright III, among them — and is one of rock and folk's most well-respected musicians. He's been a solo artist ever since the breakup with Linda, albeit one who switches between solo acoustic gigs, like the sold-out one he's doing at Sanders Theatre April 18, and full band tours.
"I think of the acoustic show as a bit like church — you kind of create an atmosphere in the room and try to keep it there."

Richard Thompson
"It is nice to be able to do both," Thompson says. "It keeps me interested and keeps me fresh. Hopefully, it gives the audience something that isn't just the same thing every time. There's something special about the acoustic shows." (In 2014, Thompson released an album, "Acoustic Classics," where he stripped down some of his more rock-oriented catalog; he's got a follow-up "Acoustic Classics Vol. 2 and Acoustic Rarities" coming out in May.)
Acoustic and electric shows, Thompson says, have slightly different set lists, although there are overlapping songs and he says the one song he can never leave the building without playing is "1952 Vincent Black Lightning." An acoustic gig, he adds, "is probably more reflective, because there's more emphasis on lyrics. I think of the acoustic show as a bit like church — you kind of create an atmosphere in the room and try to keep it there. And you enrich people, you kind of go heart-to-heart. I think it creates a stillness in the room, where you can get people leaning in rather than a rock 'n' roll show where you're kind of blowing people's hair back."
Thompson professes no preference, but does allow, "Probably I would have the band on the road more if it was economically viable. I'm not underwritten by Exxon or anybody at the moment — that's a hint there if anybody in the audience would like to do that. So, this year I'm mostly solo; next year, I'll probably have the band out a lot."
Thompson is a triple threat, excelling at songwriting, singing and guitar playing. He might be seen as the British equivalent of Neil Young. He moves from sensitive ballads to raging rockers, from spiritual musings to caustic screamers. You'll hear some jazz, country, traditional English and Scottish folk songs.
British rock critic Andy Gill put it this way when reviewing "Still" for The Independent: "Thompson walks a fine line of blurred moralities and moods. The mordant, anxious tone of 'Patty Don't You Put Me Down,' for instance, is at once pleading, chiding and lustful, while the trenchant 'Where's Your Heart' is sad and scolding simultaneously."
I saw a small club gig outside Boston, at Easton's Blackthorne Tavern, in 1991 where Thompson rolled out heartbreak ("When the Spell Is Broken") and threw in some do-not-go-gentle-into-that-good-night rage ("Wall of Death") and doled out considerable melancholia ("Waltzing's for Dreamers," among others). His next-to-last song, "The End of the Rainbow," contained this cheery thought, sung as a lullaby: "Life seems so rosy when you're in the cradle/ I'll be a friend and tell you what's in store/ There's nothing at the end of the rainbow."
Heavy stuff. So, what did he choose to close the show? It was "Ca Plane Pour Moi," French singer Plastic Bertrand's deliriously goofy, Ramones-like novelty, semi-hit from the early new wave era. There was Thompson — esteemed folkie and hybrid-style fingerpicker deluxe — wailing away on an acoustic guitar, singing in French.
"I like the idea of contrasting moods during the show," says Thompson. "For instance, if you have a kind of dark song and then you kind of joke around with the audience, it kind of throws them off — or you go from something light into something heavy. I really like doing that. I also like doing that in the space of a song where the song starts out with kind of an amusing surface to it, but then at a certain point, you get a verse in and think, "Oh, s---. This is really a lot darker than I thought. When I invested in this song in the beginning, I thought it was going to be light and fluffy and it's too late to pull out. As a listener, I'm already committed to it.' That's kind of a device to get people to listen to your song."
Thompson is also a master of dry, often self-deprecating between-song wit, spinning out bits and anecdotes worthy of John Cleese. "I think it's borne of despair, mostly," Thompson offers. "It's borne out of thinking, 'What the hell do I do on stage?' I'm basically a shy person, so I've kind of developed this pattern out of fear of silence, probably. Sometimes I kind of attack the audience in an aggressive way, which is helpful for me just to create some sparring. It is mostly off-the-cuff. I don't plan, I don't have a script."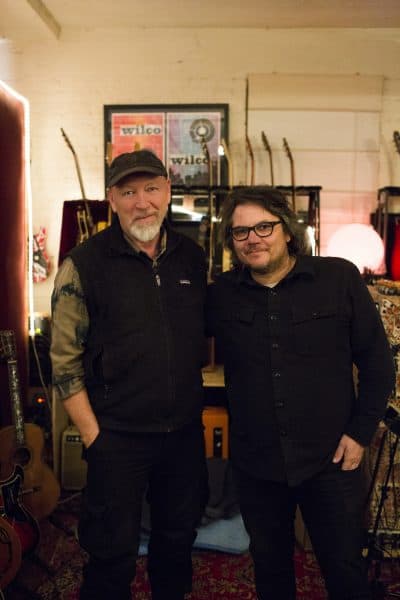 With an album titled "Still," his 16th solo effort, one wonders if that's meant to suggest that he's still alive, still working or maybe still crazy after all these years.
"All of the above," Thompson says, with a laugh, before averring, "It was a working title and it was going to be called something else. But then when you try to get rid of the working title, you see people have taken it on board and it's what happened. I wouldn't place too much emphasis on the title."
Thompson recorded the album with Wilco's Jeff Tweedy producing. The two acts had played shows together previously and Thompson says, "Apart from sounding good — he has a really great studio and an engineer up there in his loft in Chicago — he has a really good sense of things like song structure. He'll say, 'This goes on too long' or, 'Let's move the bridge' or, 'That bass drum beat is going to interfere with the flow.' Sometimes, as the artist, I'm a bit too close to it. So he was really helpful in that way, almost like a member of the band. Someone to bounce ideas off and someone who comes up with ideas. He was very useful in very many ways."
Thompson — who turned 68 a few days after we talked ("Oh god, birthdays are no fun these days") — is at a point where some of his peers have stopped creating new music and releasing albums. Some of that may be because of songwriting burnout, but it also surely has to do with the decreasing numbers of CD sales due to downloads and, especially, streaming, which pays minimally.
Thompson concedes that this new paradigm is a consideration, one reason, he says, why ticket prices are so high now and so many older artists are on tour. That's where the money is made. But as to writing and releasing music, Thompson says, "I like making albums. I'll keep making albums and if I have to make them in my home studio for no money, I'll still do them."
"I like making albums. I'll keep making albums and if I have to make them in my home studio for no money, I'll still do them."

Richard Thompson
And, then, a rare boast (of sorts): "I think the 'Still' album was Top 10 in the U.K., up there with Taylor Swift. What would have been [sales of] 100,000 albums 20 years ago is now 30,000 to 40,000 albums, and that's really good for a folk-rock dinosaur like me. That's fantastic. But it's all about 'live' now and it has been for some time."
Concerts are where Thompson has always shone. Sometimes, during a concert, you'll see a performer take requests, or more likely, hear a song shouted out he or she was going to play anyway. Not Thompson.
"I tend to write a set," he says, "but I don't always keep to it. People will shout things out and I'll do requests on the spot. I go with a plan and I think there's an overlap from night to night — the basic bones of the set — but things are gonna get changed around. I probably try to balance between stuff I want to play and stuff the audience wants to hear. Thank god that sometimes overlaps or I'd be in trouble. I think about those people who've stuck with me for 50 years — they deserve to hear something from the '60s and likewise the '70s, '80s and '90s. I like to keep a historical perspective to some extent. And also to do some new stuff that I've never played before."
"Often, with a song you're writing about the landscape that you carry around with you and it's not like real life. It's parallel to life, it's a fantasy or kind of a mirror to life."

Richard Thompson
The aforementioned "1952 Vincent Black Lightning" is often the most wrenching, emotional peak of the set. It's a song about young love and tragic death and rarely fails to bring a tear. Thompson says it affects him too. "There's a piece of you that you have to have in reserve, to hold back," he says. "The performer in you has to get through it. Much like an actor, you're getting into the skin of your character and you have to remember to not bump into the furniture."
Music, it's been said, can convey emotions impossible to express through mere words alone. "It's like a parallel with poetry," says Thompson. "Why write poetry? It means something that you can't express by other means. It's something that prose can't express, and I think the same way, a conversation can't express your inner life the way a song can. Often, with a song you're writing about the landscape that you carry around with you and it's not like real life. It's parallel to life, it's a fantasy or kind of a mirror to life. And we use that mirror to describe what we see as reality."