Forecast: Weekend Spring Temps. Turn Summery Sunday Before Warm Marathon Monday
Today's weather is stunning, and we'll be sailing into a weekend that starts off with pleasant spring temperatures and moves into hotter territory Sunday.
On this final workweek day, we'll see ideal spring conditions with lots of sunshine and light winds. As is often the case in April, sea breezes will keep the coast a lot cooler in the afternoon. Boston's Logan Airport may never reach 60, but inland areas will, and it will feel nice.
Sunshine starts Saturday, and clouds increase late in the day. A warm front moves north overnight and brings along the chance of showers. There won't be anything too widespread, however. This front will usher in some very warm air Saturday — but no records.
Skies clear early on Sunday with a very warm and breezy day ahead. Temperatures will reach the low to mid-80s, letting us get that summer feeling early. South-facing coastal areas will be 20 degrees cooler, though, as winds blow in chillier marine air.
For those who celebrate, the warmest Easter on record was back in 1976 when highs reached 94 degrees. That was also a year when the Boston Marathon took place the following day. That year, the race was run in a lot of heat — especially during the first half, before a sea breeze kicked in.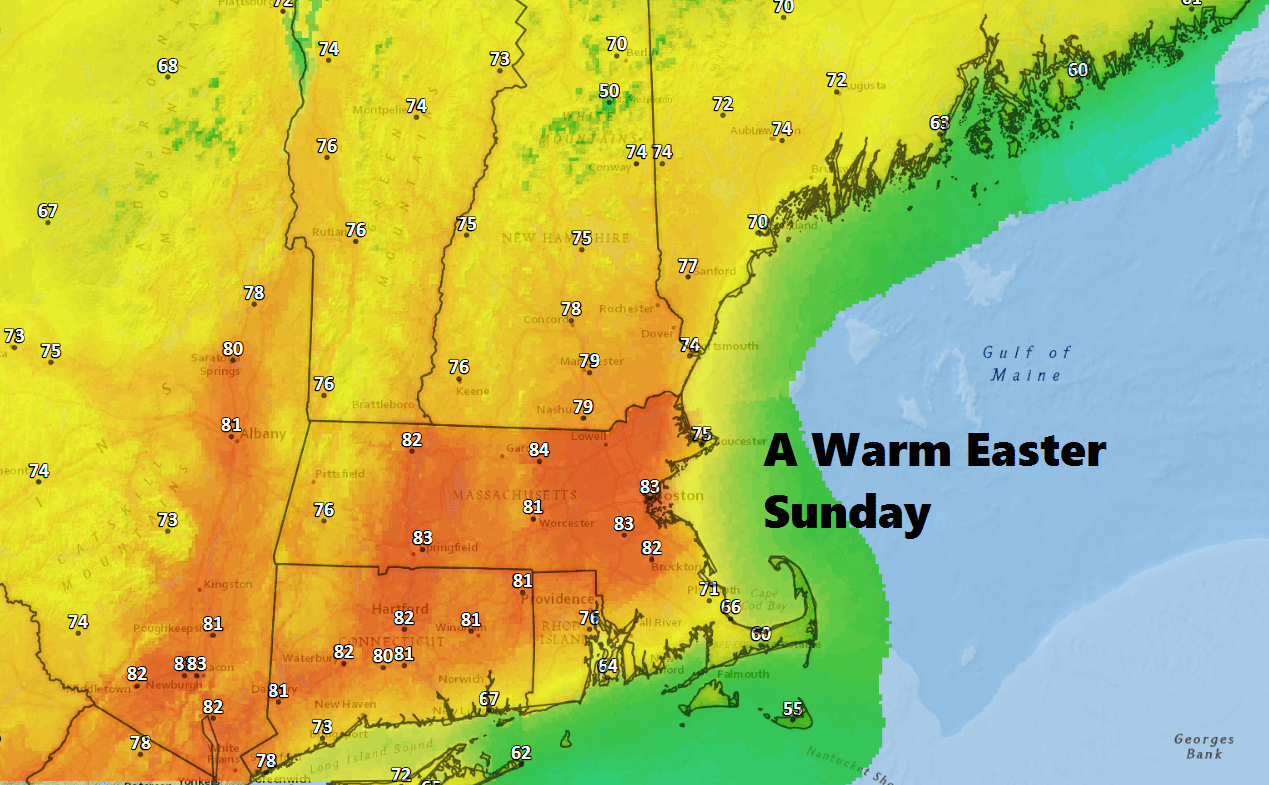 Monday, Patriots Day and this year's running of the Boston Marathon will be mild — but not as warm as previous years. I expect mostly sunny skies with highs between 64-69 degrees along with a northwest flow of dry air.
Cooler weather comes in for much of next week, and things may turn to showers as the week comes to a close.
You can follow my updates here and on Twitter @growingwisdom.
---
Friday: Sunny. Highs in the mid-50s to near 60.
Friday Night: Clear and cool. Lows 35-43.
Saturday: Mostly sunny and mild. Highs 59-63.
Sunday: Early clouds, then partly sunny and warm. Highs 75-80.
Monday: Mostly sunny and mild highs around 65.
Tuesday: Lots of sunshine and cooler. Highs 47-53