What 'Venus,' Now At The MFA, Can Teach Us About Renaissance Painter Sandro Botticelli
Play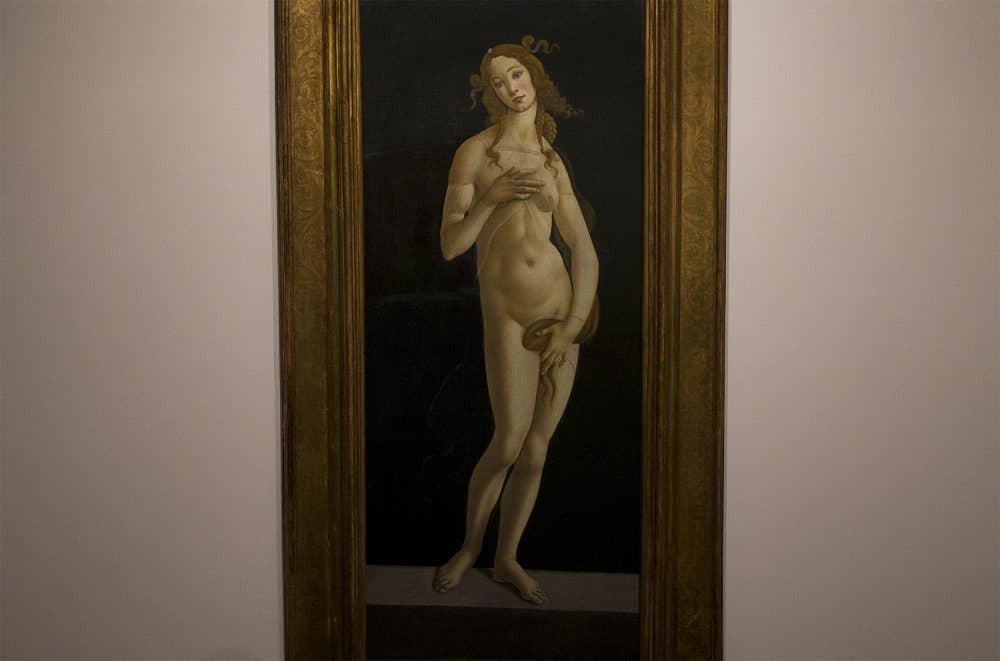 This article is more than 5 years old.
Ah, Venus. A lot of us know the statuesque, flaxen-haired goddess thanks to countless pop culture re-imaginings of the famous "Birth of Venus" painting that draws crowds at the Uffizi in Florence, Italy.
But what do you know about the artist who conjured her more than 500 years ago?
Now a major traveling exhibition tells the story of Renaissance artist Sandro Botticelli. It's a partnership between the Muscarelle Museum of Art in Williamsburg, Virginia, Italy's Metamorfosi Associazione Culturale and the Museum of Fine Arts in Boston. It features a different version of "Venus" painted by Botticelli that's visiting the U.S. for the first time.
'Venus' In Pop Culture 
Botticelli's best-known work — that image of Venus coming to shore on a giant shell — has been appropriated and riffed on by everyone from Andy Warhol to Lady Gaga to the writing team behind "The Simpsons."
David Mirkin was the show runner and executive producer for "The Last Temptation of Homer" episode and half jokes, "You steal from the masters. I'm not going to pretend that we did anything less than that."
In an early scene, Homer fantasizes about his ideal woman, Mindy, who just started her job at the nuclear power plant. When he meets her, Homer's imagination goes right to Botticelli's "Venus."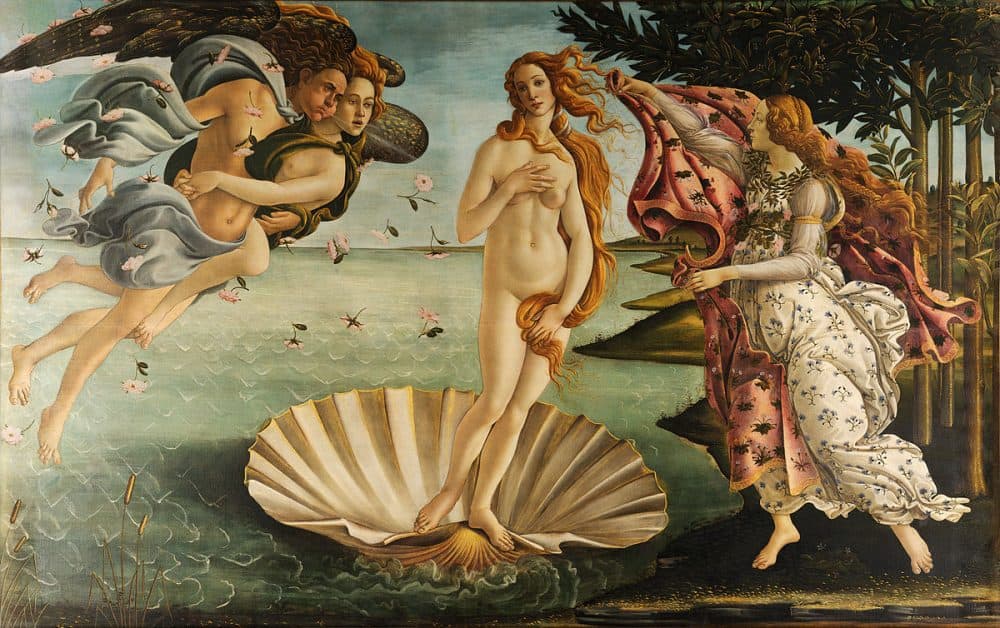 His co-workers become angels who ask, "Homer, what's the matter? Ain't you ever seen a naked chick riding on a clam before?"
Mirkin says Botticelli's "Venus" immediately conveys sex, desire and love.
"Her hair's blowing in the wind," he describes. "It's exactly how you would set up a film shoot of a gorgeous woman."
Like other humorists — including Terry Gilliam on Monty Python and in his film, "The Adventures of Baron Von Munchausen" — Mirkin pokes fun at the enduring, iconic image, but says he truly loves it.
"I think it's incredibly effective in terms of what it's actually trying to do. Its sensuality is amazing," he says. "I don't know where he came up with the idea of her riding on a clam — I mean that's the funniest part of it." (Actually, if you want to get technical, it was a scallop shell, not a clam shell.)
'A New Level Of Subtlety'
The curators of the new exhibition say few people know much about Botticelli. They're trying to change that with help from another rendition of "Venus" by the artist that just arrived at the Museum of Fine Arts. It's a focal point in the show, "Botticelli and the Search for the Divine."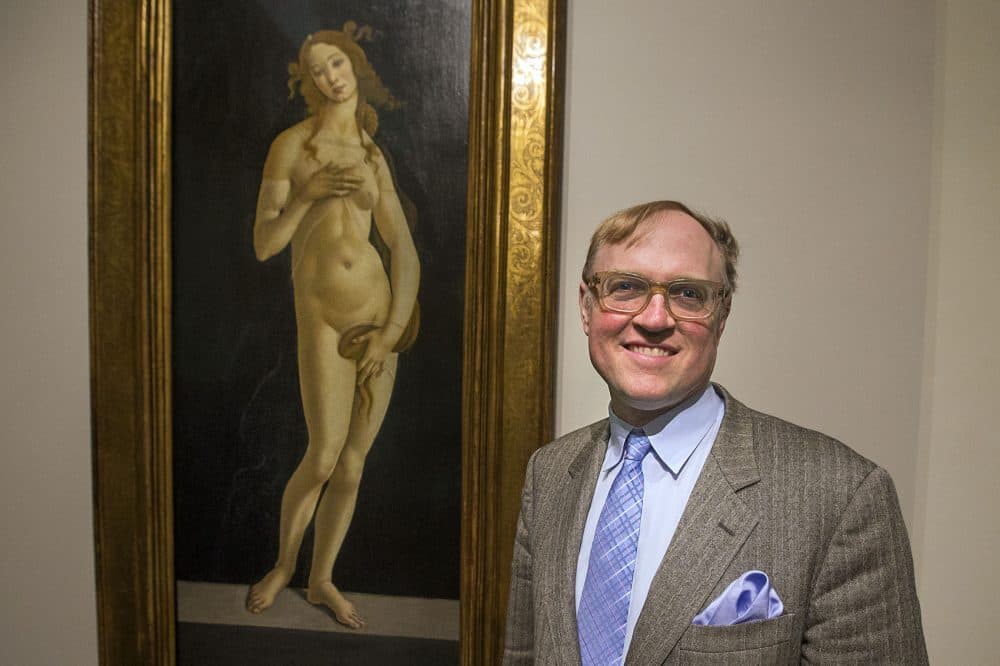 This masterwork is part of what's being billed as the largest museum exhibition dedicated to Botticelli ever to hit North America.
"She's the poster for the exhibition. It sums up so much about Botticelli's attitude, his yearning to express ideals of beauty and human form," said Frederick Ilchman, chair of the MFA's Art of Europe department.
Botticelli painted this solitary "Venus" in the 1480s, after "The Birth of Venus." She's similar in pose, but her torso's strong contours and pale skin are barely covered with a sheer top. Her red hair is tightly braided, not blown by the breath of angels, making her more earthly than godlike.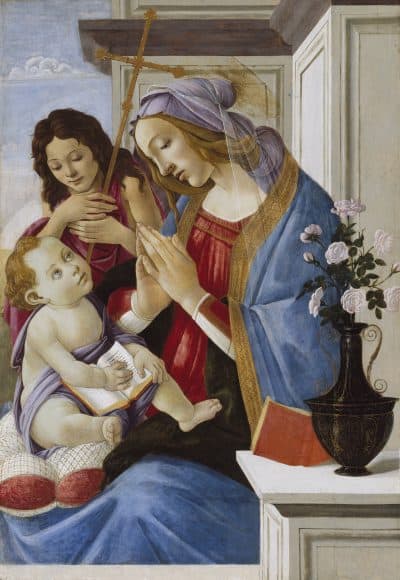 "It's not just that he's doing a new subject matter — the life-sized, human nude — but that he's painting it with a new level of subtlety," Ilchman says. "You don't look and say, 'Oh, that might have been thought beautiful to those people, centuries ago.' It is a kind figure that is completely immediate to us."
Ilchman says this "Venus" helps us grasp Botticelli's quest to understand divine beauty in the human form. The exhibition includes about 30 objects, mostly paintings — including rare loans like the "Venus" from Turin, Italy. They range from the artist's early period when he was learning to imbue the faces of religious figures with human tenderness, to mid-career work in which was inspired by artists like Leonardo da Vinci, striving to capture the search for knowledge that fueled the Renaissance.
Ilchman points to a touchstone work painted just before Botticelli was asked to paint frescos for the Sistine Chapel. It's of the Virgin Mary and Christ child reading a book.
"So he is reaching a zenith in his career in this, and what I think is going to be so remarkable is just how consistent his ideal of female beauty is," Ilchman says. "This Virgin Mary has the same delicacy of flesh, the beautiful features."
An Inward Turn
Botticelli's pursuit of realistic-looking divine beauty came to a halt after France invaded Florence. A zealot Dominican friar named Savonarola took over the city, preaching fire and brimstone. Muscarelle Museum of Art chief curator John Spike conceived of this exhibition and says followers of Savonarola collected and burned books and paintings deemed indecent in the Bonfire of the Vanities in 1497.
"We know Botticelli was considered the best painter of beautiful nude women in the city of Florence, so everyone supposes that his works were burned in this way," Spike says.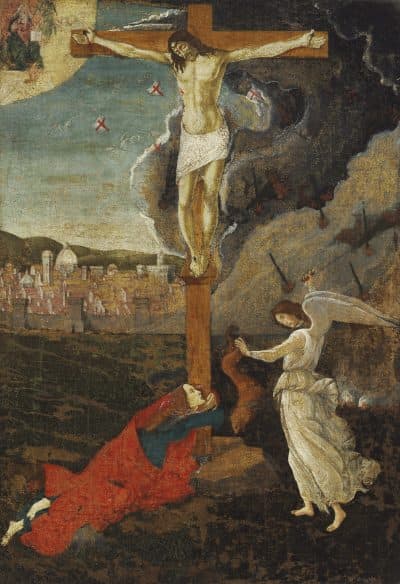 Somehow the "Venuses" survived (the other independent "Venus" is in Berlin), but the deeply pious Botticelli believed Savonarola's teachings. And Spike says the artist was traumatized when the fanatic himself was burned on a pyre. Botticelli became reclusive, inward, more devout. Spike explains how the works in the last section of the show reveal new ideas about how Botticelli's painting changed.
"His last works become neo-medieval, flat, no details, no attempt to represent a human figure under the drapery," Spike says.
The mood become somber, the warmer colors disappear, Ilchmann says.
"The eyes of the figures don't make contact with the viewer. The sort of 'come hither' or the welcome you see with the 'Venus,' these later paintings by Botticelli seem to be more hermetically sealed, they're kind of isolated, it's not as expressive in the same way, but full of powerful emotion," Ilchman says.
When the exhibition debuted in Virginia, Spike says two people fainted. He believes they experienced Stendhal syndrome — or light-headedness from a powerful aesthetic encounter.
"Great works yearn to be understood. There's a wonderful word for yearning in Italian, it's 'bramare' — and we, the spectators, yearn to understand," Spike mused.
And if spectators at the MFA in Boston yearn to understand more, they can read the curators' in-depth research — or maybe buy a pair of "Venus" socks in the gift shop.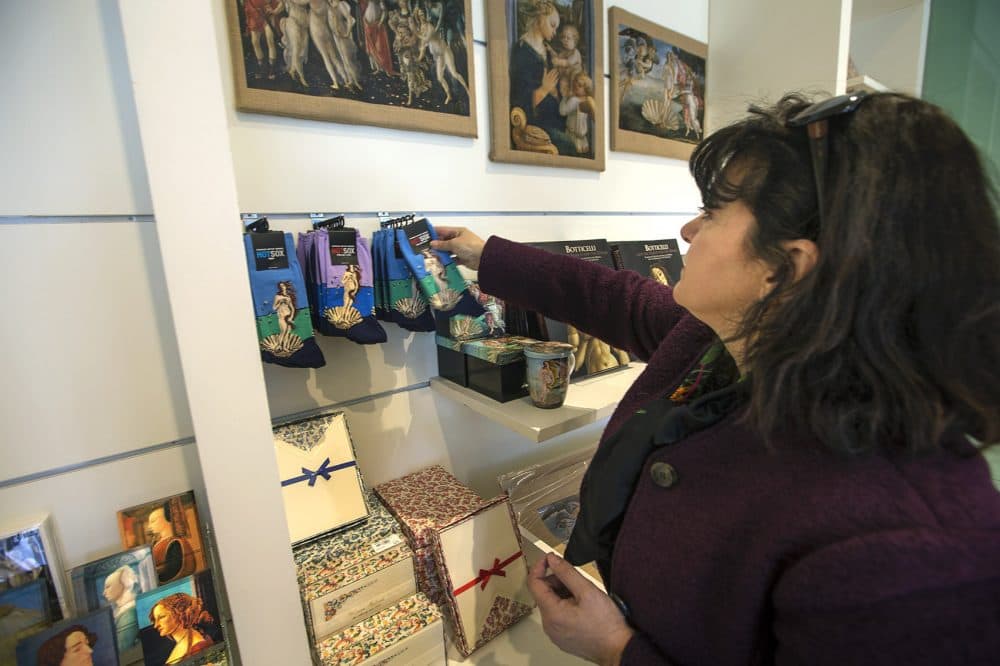 Correction: An earlier version of this story indicated that the Muscarelle Museum of Art is in Richmond. It's located in Williamsburg, Virginia. We regret the error. Also, in this story, David Mirkin incorrectly identifies the shell that Venus is riding as a clam, but it's actually a scallop shell. 
This article was originally published on April 14, 2017.
This segment aired on April 14, 2017.