Stolen Artifacts Unwittingly Acquired By Boston Public Library Returned To Italy
Resume
The Boston Public Library on Wednesday returned a number of historical artifacts to the government of Italy.
The BPL says it purchased the items decades ago, but then learned that they were stolen.
The objects include two colorfully illustrated religious manuscripts dating back to the late 14th and early 15th centuries, which were stolen from Venice sometime after 1940; and a collection of works by the Italian philosopher and naturalist Bernardino Telesio, published in 1590 and stolen from Sicily.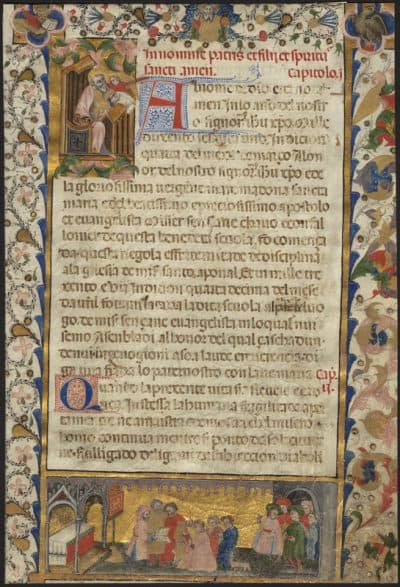 Beth Prindle, who heads the BPL's special collections, says the library bought these items "in good faith" between 1950 and 1980 from "respected rare book dealers." But Prindle says as more and more museums are learning, that's no guarantee that the objects aren't stolen.
"As it is for all museums, libraries and historical institutions that collect materials that are hundreds, if not thousands, of years old, establishing the provenance of the items we hold is an imperative and a challenge," Prindle said.
It was the BPL's own research that first raised questions about the provenance of the two manuscripts from Venice. The third item, the Telesio manuscript, was recognized online by the curator of the library in Sicily from where it was stolen. And so the slow process of repatriation began.
William Weinreb, the acting U.S. attorney for Massachusetts, says the trafficking of cultural property is a lucrative business.
"There are people out there who value profit over history and they're willing to steal the cultural heritage of other nations by selling those items over here in the United States," Weinreb said.
The investigation involved the BPL, as well as Italian and U.S. law enforcement officials, including Special Agent Matthew Etre, of U.S. Homeland Security Investigations, or HSI.
"On behalf of HSI, we're honored to return this collection of priceless cultural artifacts to the government of Italy," Etre said during Wednesday's repatriation ceremony.
To seal the repatriation deal, Etre signed documents with his Italian counterpart, Gen. Fabrizio Parrulli of the Carabinieri, the Italian national police. As Parrulli noted, this is just the latest in a long string of cases of repatriating antiquities from American museums to their countries of origin, and he says that's a good thing.
"I think we are improving in a very good way," he said. "There are a lot of restitutions in this period. This means the cooperation among the different institutions are going very well."
Parrulli says it also means he expects many more cases of repatriation like this one. Which raises big questions for American museums — and indeed for the Boston Public Library, which holds nearly 250,000 rare books and one million manuscripts.
"We don't know of any other material in our collection that has a question of provenance," Prindle, with the BPL, said. "But if we did we would certainly handle it as seriously as we did with this. But as far as I'm aware, our collection belongs at Boston Public Library."
As Boston Mayor Marty Walsh said during Wednesday's ceremony, "Hopefully everything we have is ours now."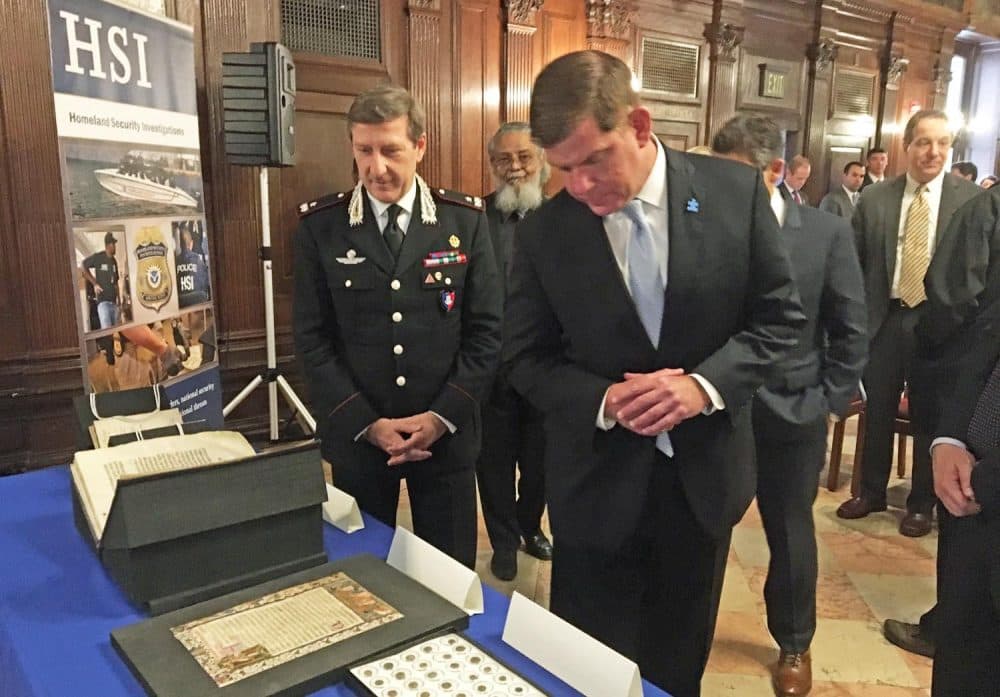 This segment aired on April 20, 2017.