Boston Allows Self-Driving Car Pilot Program To Expand To More Roadways
This article is more than 5 years old.
Self-driving cars will soon hit more roadways in Boston.
The city of Boston has given approval for Cambridge-based startup nuTonomy to test its autonomous vehicles on roadways in the Seaport District and Fort Point. This expands the city's year-long pilot program with the company, which has been testing autonomous vehicles inside the Ray Flynn Marine Park since January.
With the expansion, nuTonomy will now be able to test self-driving cars on more complex roadways with more traffic. The cars, which always have a human inside during testing, will need to contend with bridges, underpasses, multi-lane roads, bike lanes, intersections with traffic signals and a rotary.
The Marine Park sees some commercial traffic, as well as the Silver Line and some bikers and pedestrians. But the expanded test area will give nuTonomy's vehicles more interactions with human drivers. For example, the autonomous vehicles will now have to execute left turns across oncoming traffic.
"From a tech perspective, the new area gives us a lot of complexity and it will allow us to learn a lot about how we can adapt our software," said nuTonomy general counsel Matthew Wansley. "The ultimate goal is commercial deployment of autonomous vehicles in Boston and it's going to take months and years of testing on the public roads."
The new testing area stretches west to Dorchester Avenue and south to West First Street and West Second Street.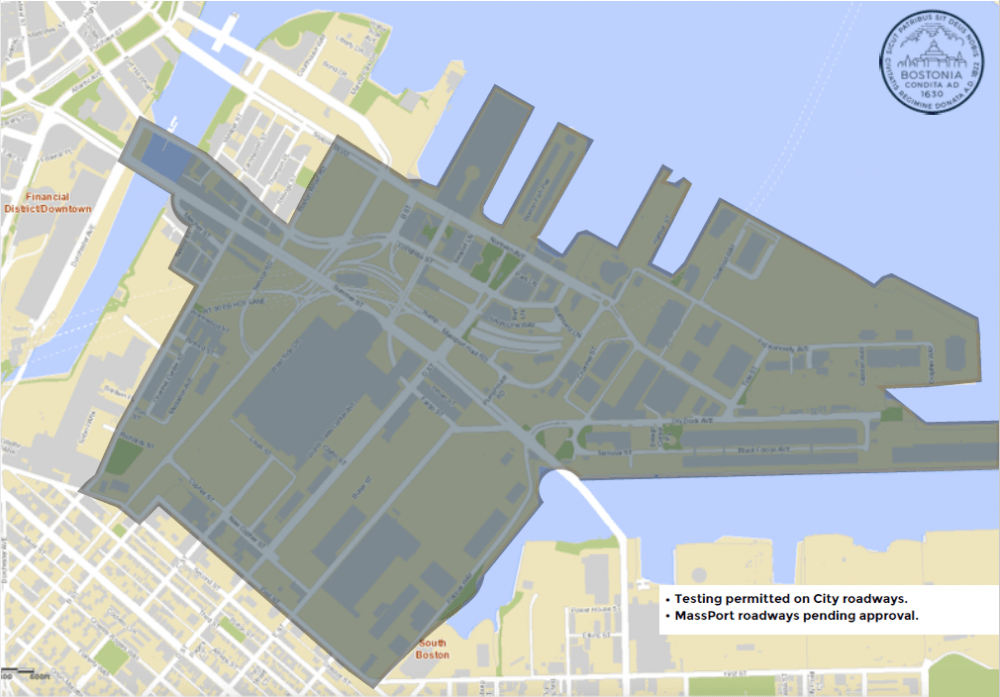 NuTonomy has already completed over 230 miles of autonomous vehicle testing, including during daytime and nighttime hours as well as in dry and rainy conditions. The company's vehicles had no collisions or "unanticipated failures" or "disruptions" while driving, according to nuTonomy's first quarter report. After those testing phases, the company submitted an application to the city to test outside the industrial park. The city sent nuTonomy a letter approving the test area expansion Monday.
"This new phase of the testing will allow us to learn about potential transportation use cases for autonomous vehicles," said Boston Transportation Commissioner Gina Fiandaca.
Fiandaca said the city is looking to autonomous vehicle technology to help reduce vehicle crashes and achieve some of its transportation goals under the Go Boston 2030 initiative.
The expanded tests will initially take place during the daytime and in fair weather conditions, before moving onto nighttime hours and other conditions at a later date, according to the city. NuTonomy says it hopes to begin tests in the new area as soon as weather permits.
It's worth noting that some roadways in the new test area are owned by MassPort and require separate approval. Wansley says nuTonomy is in discussions with MassPort and is "optimistic" the company will get approval for testing.