For 15th Year, Independent Film Fest Boston Promises Eclectic Films With Staying Power
"It Stays With You" is the theme of the 15th annual Independent Film Festival Boston, which has grown over the past decade and a half to a sprawling, eight-day adventure.
This year's IFFBoston, from Wednesday, April 26, to Wednesday, May 3, boasts 24 narrative features, 28 documentaries and enough shorts programs to constitute a mini-festival of their own. These films span across the Somerville, Brattle and Coolidge Corner theaters, and the fest also has lined up panels, parties and the kind of warm, welcoming vibe that makes this event a real jewel in the local arts scene.
"There's an atmosphere that fosters engagement and community," enthuses Brian Tamm, IFFBoston's executive director. "People who would never engage a stranger at the Kendall have no problem turning to a stranger in line and asking what they've seen that they liked."
The scrappy nonprofit and its all-volunteer staff are once again offering a wildly eclectic and exciting mix of movies chosen by program director Nancy Campbell.
This year's documentaries include the latest by legends like Errol Morris ("The B-Side: Elsa Dorfman's Portrait Photography") and Steve James ("Abacus: Small Enough To Jail"), as well as histories of Baltimore's rodent infestation ("The Rat Film") and obsolete audio formats ("Cassette: A Documentary Mixtape"). The narrative selections show off a similar breadth, ranging from "Menashe," the tale of a widowed grocery clerk in New York City's Orthodox Hasidic Community, to "Chuck," in which Liev Schreiber stars as the real-life palooka who inspired Sylvester Stallone to write "Rocky."
Wednesday's opening night film, "Stumped," started out as a short that played IFFBoston in 2014, sketching a portrait of Will Lautzenheiser, who lost both arms and legs to a bacterial infection and coped with his painful rehabilitation by starting a new career in comedy. (Campbell, the program director, calls him "a constant reminder that I need to stop whining.")
Now expanded into a feature by director Robin Berghaus, the film chronicles Will's recent historic double arm transplant operation at Brigham and Women's Hospital. Lautzenheiser, the filmmakers and even the surgeons themselves will be in attendance for what's sure to be an inspiring and emotional evening.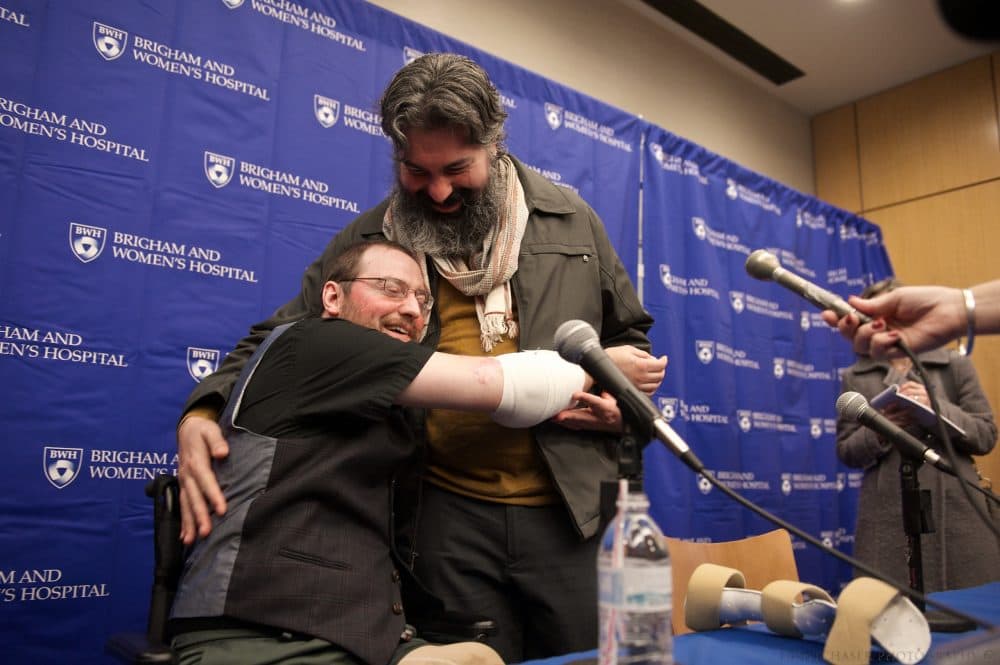 "I believe the festival is filled with moments that are potentially life-changing," Tamm said. "It can be a film that you can't get out of your head for years, or a conversation you have with someone in line, or an insight from a Q&A. We have heard so many stories of people who met at the festival, as strangers, who went on to become best friends, and in a few cases, get married and start families."
There's a lot of history here. Speaking for myself, I fondly recall way back in 2005, when looking at the catalog I discovered that a film critic I greatly admired named Matt Zoller Seitz had written and directed a movie called "Home" that was playing in the festival. After the screening we struck up a conversation and ended up grabbing a beer that turned into several more, as well as a dear and treasured friendship that continues to this day.
That same April, IFFBoston premiered "The Hole Story," the directorial debut of Newton's own Alex Karpovsky, who you probably know better these days as Ray from the HBO show "Girls," or for his killer cameos in recent Coen brothers movies. He's been back at the festival a few times since. Most recently, he appeared last year with a lead role in the charming road comedy "Folk Hero and Funny Guy" — no points for guessing which one Karpovsky plays — which will be released on VOD in a couple of weeks.
Also in 2005, another young Newton native named Anna Boden screened a documentary she'd made with her boyfriend Ryan Fleck about Cuban hip-hop artists called "Young Rebels." The two returned the following year to open the festival with their stunning "Half Nelson," which wound up scoring an Academy Award nomination for Ryan Gosling. It was announced just last week that Boden and Fleck have signed with Disney to direct Oscar-winner Brie Larson in the superhero saga "Captain Marvel." Sadly, somehow I don't think that one will be playing IFFBoston.
Writer-director Brett Haley was here two years ago with "I'll See You in My Dreams," a gentle and altogether lovely film starring Blythe Danner as a lonely widow coaxed out of her shell by a flirtatious Sam Elliott that quite deservedly went on to become the summer's sleeper arthouse hit. He's re-teamed with Elliott for this year's Centerpiece Narrative Spotlight film, "The Hero," which stars the whiskey-voiced, mustachioed one as a washed-up Western star attempting to reconnect with his estranged family.
The rare American filmmaker who makes movies about senior citizens without infantilizing them, Haley doesn't go in for the "old folks say the darndest things" pandering you find in stuff like "Last Vegas" or the "Going in Style" re-make. (Not a single Viagra joke in his oeuvre, although the dude has a soft spot for weed humor he could stand to rein in a bit.) "The Hero" has a lot of the same quiet dignity that powered "Dreams," with stellar supporting turns from Laura Prepon, Krysten Ritter and Katharine Ross. And in case you needed to be reminded, Sam Elliott is a national treasure.
Director Gillian Robespierre and former Milton Academy valedictorian Jenny Slate made a splash at the 2014 festival with "Obvious Child," a raunchy, taboo-breaking comedy that seemed to bowl over every critic in town save for yours truly. But I'm thrilled to report that their follow-up, "Landline," is a big leap forward.
Pointedly set in a pre-internet, 1995 New York City, it's an ensemble dramedy charting the family fallout when a devoted dad (John Turturro) is caught cheating on mom (Edie Falco) by his two neurotic daughters (Slate and newcomer Abby Quinn). The movie has a loose, expansive quality reminiscent of 1980s Woody Allen, generous to the characters while remaining clear-eyed about their shortcomings. Also, the person who cast Turturro and Falco as Slate's parents deserves some sort of Nobel Prize.
But my favorite of the films I've been able to catch in advance is "Sylvio," the improbably moving tale of a cubicle drone at a debt collection agency who dreams of someday being a puppeteer. Oh, and he also happens to be a gorilla. Spun off from the wildly popular "Simply Sylvio" vine series, this beguiling feature from directors Albert Birney and Kentucker Audley mines extraordinary whimsy and pathos from the sight of a man in a cheap gorilla suit wearing people clothes and sunglasses while being sad. I know it sounds insane, but there's a lyrical beauty to the images and sincere yearning here that really got to me.
It's the kind of movie I can always count on finding at IFFBoston, the kind that stays with you.