Boston Hassle Joins Push For All-Ages, Mission-Driven Music Venues In Greater Boston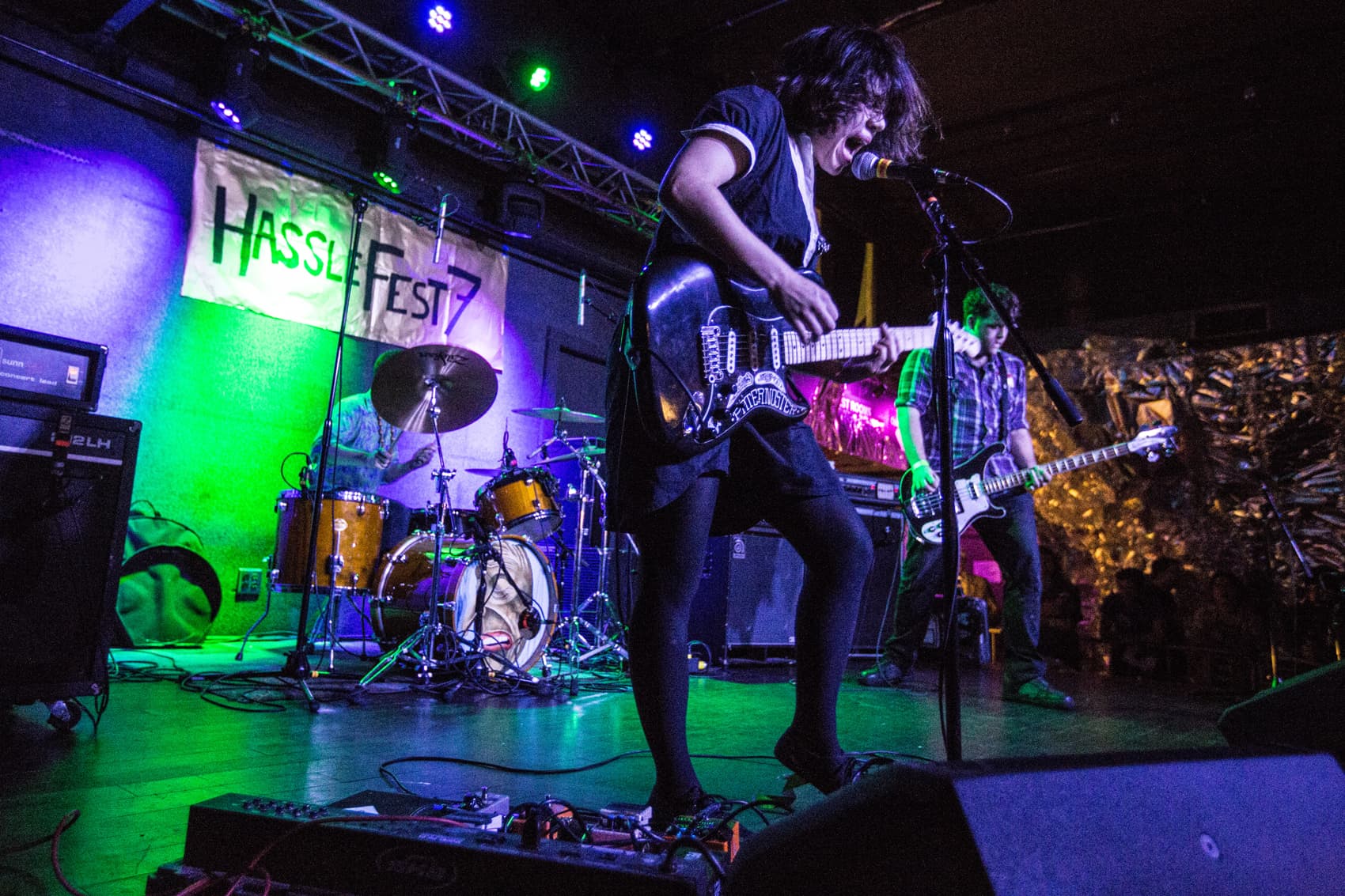 This article is more than 5 years old.
This month, the underground music and arts nonprofit BRAIN Arts Organization, Inc. launched a GoFundMe campaign to help finance the opening of an all-ages music venue in the greater Boston area. The volunteer-run organization, which programs underground music shows under the Boston Hassle moniker and publishes a monthly alternative newspaper called the Boston Compass, hopes to raise $25,000 by the end of April.
BRAIN Arts co-director Dan Shea says the group is looking at spaces in Allston, Cambridge and Somerville. The venue will ideally contain a performance area with a capacity of between 100 and 200 and a brick-and-mortar residence for Black Market, BRAIN Arts' semi-monthly artisan flea market, where local vendors can rent space to sell their wares. But most importantly, the venue — to be dubbed "Outer Limits" — represents a permanent home for the grassroots, experimental spirit that BRAIN Arts' booking arm, Boston Hassle, has cultivated since 2011. It is under the Boston Hassle banner that BRAIN Arts has become something of a torchbearer for the city's fringe music scene, hosting hundreds of concerts each year and launching the popular Hasslefest, an annual celebration of regional underground music.
"Our ethos is very much modeled upon time spent and lessons learned while participating in DIY culture," says Shea. The community in which BRAIN Arts finds its roots tends to eschew mainstream tastes, highlighting instead the inventive, unusual and obscure. DIY, or do-it-yourself, organizing bodies are typically informal and unpaid — all it really takes is a PA system and a flair for flier design — and events take place in off-the-beaten-path locales with dubious legal status, like basements and warehouses. But underground venues rarely last, liable to get shut down by the authorities, be priced out of neighborhoods or fall by the wayside when organizers lose interest. Though BRAIN Arts has gradually moved toward sanctioned spaces like neighborhood bars and Elks lodges, a legal venue of its own offers a chance to create a sustainable home where the values of DIY culture can flourish.
"Our ethos is very much modeled upon time spent and lessons learned while participating in DIY culture."

Dan Shea
Ideally, the promise of such a venue will appeal to artists, too. "A legit, nonprofit, [DIY-like] space would be awesome," says Mali Sastri, who fronts the Boston art-rock band Jaggery and is a resident of the Boston artist collective and live/work space known as the Cloud Club. "What is appealing about DIY spaces is you take out the corporate element of some venues. … It's generally friendlier, in my experience. There's more camaraderie."
"A space like this is an experimental zone for artists to try new things in," Shea explains. Performers, he says, should not have to worry if an event "didn't bring in enough people and sell enough drinks that night. This is a venue where the bottom line isn't the dictator of the space."
BRAIN Arts is not the only organization to be thinking along these lines — two other groups have recently jump-started similar efforts. In February an alliance of artists and arts organizers called the Mystic Arts Collective raised a little over $4,000 toward rent and a security deposit on a space they were eyeing in Medford's Sullivan Square. (The group, which plans to register as a nonprofit, was ultimately unable to secure a lease at the original site and is looking at other buildings in the neighborhood that could house a multi-use space with a 100-capacity performance venue.) And in December the nonprofit community recording studio The Record Co. was awarded a $25,000 grant from the state of Massachusetts to conduct research into the feasibility of opening three all-ages music venues in Boston over the next few years. (The results of the study are slated for release in June.)
These efforts arrive in the wake of the demise of several for-profit, independently-owned music venues, among them Johnny D's in Somerville and T.T. the Bear's Place in Cambridge, both of which shuttered in 2015 after decades of doing business. (T.T.'s closed after the building's owners, Joseph and Nabil Sater of the abutting Middle East Nightclub, raised the rent; the Saters have since replaced T.T.'s with a new venue called Sonia.) But more than just a response to the loss of beloved local clubs, the trend speaks to a perceived need for mission-driven, nonprofit-run music and arts venues in Boston that emphasize affordability and accessibility.
"[It's] kind of a shame on the city that something like this doesn't already exist," says Shea, pointing to organizations like 3S in Portsmouth, New Hampshire, Space Gallery in Portland, Maine, and AS220 in Providence. AS220, Shea says, is "the granddaddy in the area, and they're certainly the poster child for what we want to be as an organization." The artist-run nonprofit began in 1985 as a shared artists' space in downtown Providence and was a central driver in the growth of the city's cultural district; it now owns and operates three buildings, where local artists are afforded the use of a performance stage, art galleries, a black box theater, studios, workshops and live/work spaces at subsidized prices. (According to its website, AS220 generally charges 20 percent of gross ticket sales, rather than a flat rate, for use of its 200-capacity concert venue, which includes a PA system and sound engineer.)
There are a few analogous organizations in greater Boston, though none with the reach or influence of AS220. Both the Democracy Center in Cambridge and Make Shift Boston — neither of which are dedicated music venues — are available for use as performance spaces at sliding-scale prices below market rate.
Though BRAIN Arts, Mystic Arts Collective and The Record Co. each espouse a slightly different vision — for instance, BRAIN Arts plans to have a hand in booking its venue, while The Record Co. expects to rely on outside organizations for its programming — all three share a desire to keep costs low for performers and audience members and to welcome the under-21 set, a demographic historically shut out of venues that serve alcohol. For BRAIN Arts, that means forgoing a liquor license, at least for now.
Not that it's going to be cheap either way. Shea says the $25,000 GoFundMe goal was calculated to cover the first three months of rent and utilities. They'll need at least that, he figures, to convince a landlord to take a chance on their venture. The group calculates that it will be able to cover costs with the help of rent collected from art market vendors.
"Part of being an all-inclusive space is being affordable. We want kids to come in from the suburbs. We want poor kids to be able to come in."

Dan Shea
Keeping performance room fees low is a stated goal of all three organizations. "We definitely plan to cost less than any other like-sized room in the city," Shea says. "Part of being an all-inclusive space is being affordable. We want kids to come in from the suburbs. We want poor kids to be able to come in." Both BRAIN Arts and Mystic Arts Collective maintain low overhead costs by being volunteer-run. But it is unlikely that any such venture will survive without outside funding, either in the form of individual donations, grants or both. (BRAIN Arts is supported in part by the Boston Foundation and the Boston Cultural Council.) The Record Co. founder and executive director Matt McArthur expects that his organization will need to raise "hundreds and hundreds of thousands of dollars" to open a venue. "This is something, in a market like Boston, that is going to have to be subsidized forever," he says, if room and ticket fees are to stay affordable.
Such a model speaks to the broader mission of inclusivity touted by all three organizations. "It's about having an equitable music scene," McArthur says. "The lack of equity and opportunity to consume culture to an extent follows a lack of equity in other areas. So if there's a real disparity in a city's top earners and lowest earners, then you're also going to find a disparity in access to culture for those people."
According to its mission statement, Mystic Arts Collective hopes to foster a more equitable music scene by "emphasizing queer and marginalized voices." This philosophy in part reflects a growing awareness of the prevalence of sexual harassment in male-dominated music circles; last year, a manager at Out of the Blue Too Gallery in Cambridge was fired after a female performer accused him of assault. "A lot of places don't necessarily build themselves on these values, and they're kind of fixing things as they go," says Mystic Arts Collective organizer Jess Schmid. "People have started to realize they need to fix these things, but in a lot of ways problematic systems are already ingrained."
This shared vision — of a welcoming, affordable music venue in Boston — represents a clean slate, a chance to do things better. If all goes according to plan, sometime in the next year BRAIN Arts will open "a venue that actually collaborates, works with and fosters the community," Shea says. "It's a venue that gives back."