What Elimination Of AmeriCorps Could Mean For One New Bedford School
Resume
The Corporation for National and Community Service often calls Massachusetts the "Silicon Valley of service."
Here's a quick look at the numbers: 8,340 national service members volunteer at 1,500 locations throughout the state. More than 2,600 of them are AmeriCorps volunteers, many of whom serve as tutors, mentors and teachers at both private and public schools.
But perhaps no place in Massachusetts relies more on AmeriCorps than Nativity Preparatory School of New Bedford. Aside from administrative staff, all of the teachers are volunteers.
"What we're doing is we're really tapping into the enthusiasm and energy of these really bright young people who want to give back to society, particularly to the inner city, and particularly, to boys," said headmaster John Martin.
Eight AmeriCorps volunteers instruct 55 middle school boys with everything from science and math, to English and social studies. None of them have prior experience in the classroom. In return for their two-year stint, the school, which relies on the Notre Dame Mission Volunteer AmeriCorps to subsidize its teachers, provides the volunteers with free room and board and money to help pay off student loans.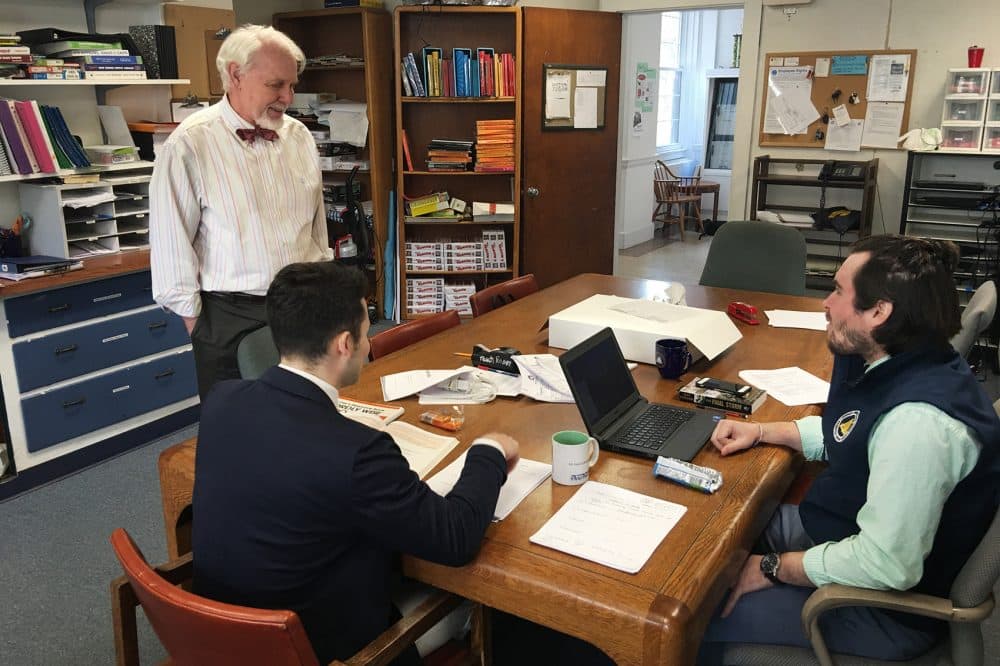 "It works because they're very dedicated," Martin said. "They're very bright. They want to spend time with kids. They have passion about what they do. And that passion, I think, is transmitted to the kids."
Martin says 98 percent of Nativity Prep graduates also graduate from high school. Seventy-five percent go on to college.
A large number of the boys are minority, and all of them come from low-income families. The school is private, but there is no tuition.
Eighth-grader Jacob Rivet will be attending a highly selective country day school next year, but he says academics isn't the only thing that makes this school special.
"The brotherhood, too, is something that I like at Nativity," he said. "And everyone knows everyone's name. And the bond here between students ... it's a tight-knit community."
President Trump's budget proposal, released in February, called for the elimination of AmeriCorps. The budget, while not likely to pass in its current form, reflects the priorities of the Trump administration.
In a document sent to the House and Senate appropriations committees, the Trump administration said about AmeriCorps, "It is not a core function of the federal government to promote volunteerism, and therefore these programs should be eliminated."
"The brotherhood, too, is something that I like at Nativity."

eighth-grader Jacob Rivet
Paul Reville is a professor at the Harvard Graduate School of Education and former state secretary of education. He also served as a board member for another Nativity school. Reville says one of the biggest challenges for Nativity Prep is that it's difficult to replicate. "The challenge, of course with a school like that, is how do you finance that," he said, "because it's a school that's really run primarily on donations."
But Reville rejects the idea that the federal government should not provide support. In the grand scheme of things, he believes a school like this actually saves taxpayers in the long run.
"If we're going to have schools that work to prepare young people from economically disadvantaged backgrounds to be successful in society, we need some of the kinds of supports and services that a Nativity school provides," he said.
Math and science teacher Reyna Saint-Louis' two-year stint at Nativity Prep ends in June. As she graded math quizzes in the teachers' lounge, she and a volunteer English and social studies teacher reminisced on the last few years.
"We really get to know the kids," Saint-Louis said. "We have a really good relationship with them because of the amount of time we can spend, either at school or being in sports or active in some sort of club with the students."
As it happens, even before the Trump administration's proposal, Saint-Louis and three others signed on to teach beyond their two-year commitment. They won't receive the perks of being an AmeriCorps volunteer, but the school is raising money to pay them -- which would be less than half of what they could make in the public sector.
Headmaster Martin says he's dedicated to preserving the core mission of the Nativity Prep in New Bedford.
"I'm not worried about the future of the school," he said. "I know, I know we're going to survive."
But maintaining that mission may look a little different in the future -- more fundraising, and retaining folks like Saint-Louis, willing to sacrifice a little bit more, while making a lot less.
This article was originally published on April 27, 2017.
This segment aired on April 27, 2017.