SpeakEasy's 'Bridges Of Madison County' Intertwines Romance With A Desire For Something More
"The Bridges of Madison County" is "Love Story" for the midlife set. Like Erich Segal's schlocky 1970 account of love and death at Harvard, Robert James Waller's slim 1992 novel, about a brief if tenacious romance between unfulfilled folks of 45 and 52, banged down hard on an emotional chord in many people. It sold 60 million copies.
The book became a successful 1995 film starring Meryl Streep and Clint Eastwood. Now it's a Tony-winning musical whose award-winning score by Jason Robert Brown contains more genuine feeling than Waller's whole sentimental tale of a four-day affair that rocks the lives of a nomadic National Geographic photographer and an Iowa housewife whose heart isn't really in the heartland.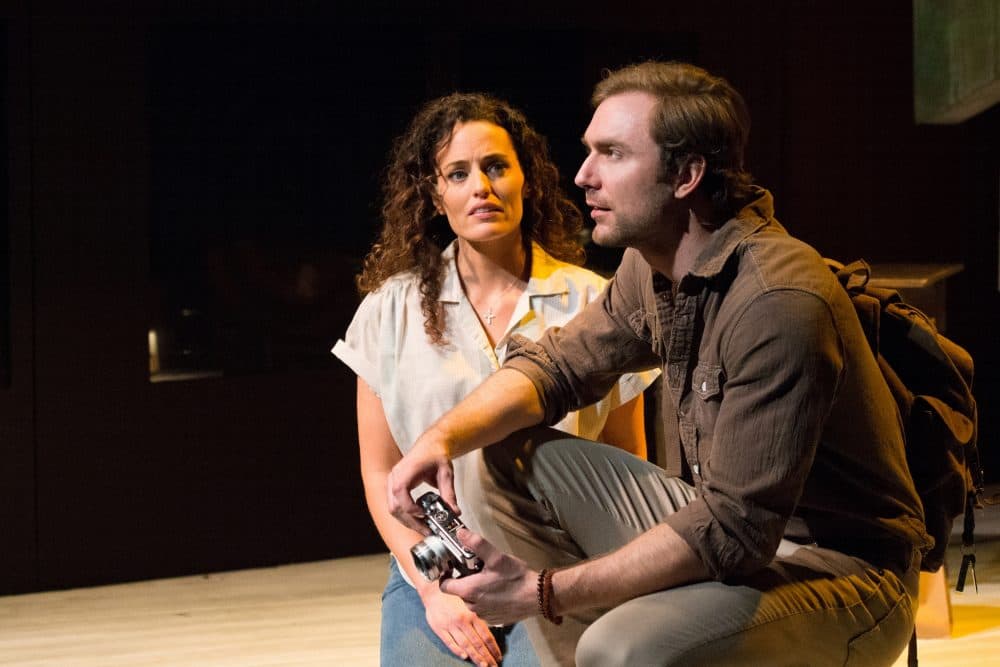 The spare 2014 musical (which tried out at the Williamstown Theatre Festival in 2013), with book by Marsha Norman, lasted only four months on Broadway despite respectful reviews. Seen here in its area premiere by SpeakEasy Stage Company (at the Calderwood Pavilion through June 3), what the show has going for it is its affecting score and two lead actors, Jennifer Ellis and Christiaan Smith, who are capable of doing some very lovely singing while snogging.
Beyond that, librettist Norman has thinly fleshed out the book's insular if passionate romance to include a squabbling family, comical neighbors and a stolid Iowa community that does a lot of dancing around with laundry baskets and pitchforks. It's no wonder Waller's pent-up Italian implant to the cornfields wants out.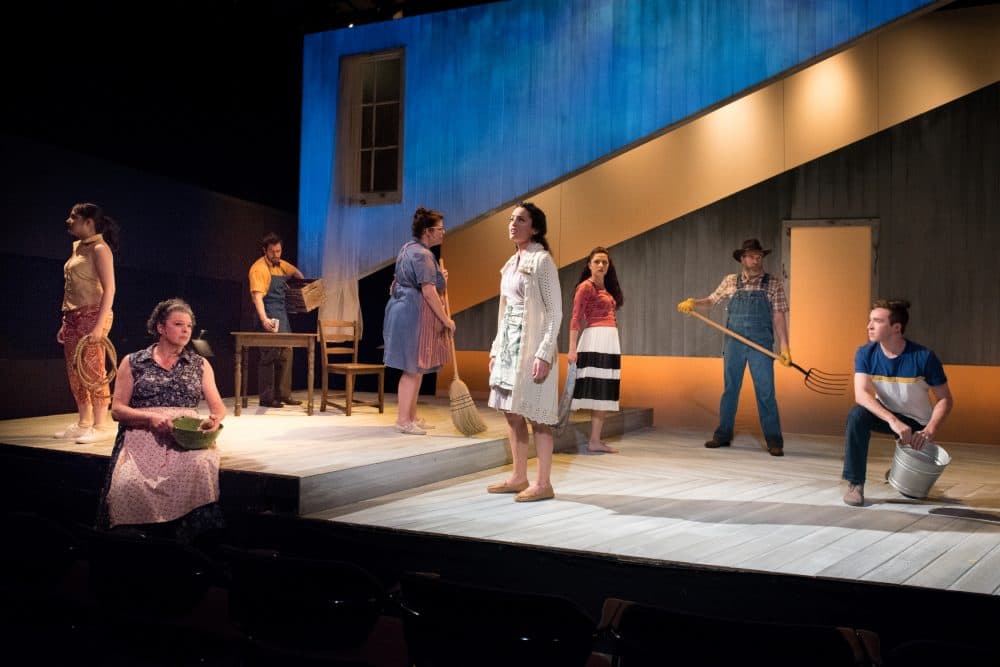 Still, there have been so many hit musicals whose scores are either negligible or strident that it's hard not to admire one whose very foundation is its rapturous, rhythmic melodizing. (Adam Guettel's "The Light in the Piazza," also rooted in hokey material, is another.) And the importance of the music to the storytelling is clear from the get-go in M. Bevin O'Gara's minimalist, stylized staging for SpeakEasy. Cameron Anderson's set is an expansive pine-board abstraction gashed by color, out of a slot in which Ellis' Francesca emerges onto a bare stage. At the prompting of a cello, she commences to tell us, in song, how she got from bomb-shattered post-war Naples to the flat middle of Iowa, wrapping the three syllables of that state's name in rich, round tones just brimming with yearning.
Alas, Ellis' sensitive Francesca is soon joined by her underdeveloped if "caring" neighbors, wielding their hoes and brooms and sober-faced heartiness. Norman wisely shifts the story's emphasis from glamorous photographer Robert Kincaid, who stops to ask directions of a farmwife whose family is conveniently off at the state fair, to the openhearted if repressed Francesca. But the librettist then proceeds to surround the pair with homespun cartoons. "This is the middle America we're trying to make great again?" the woman behind me asked at intermission.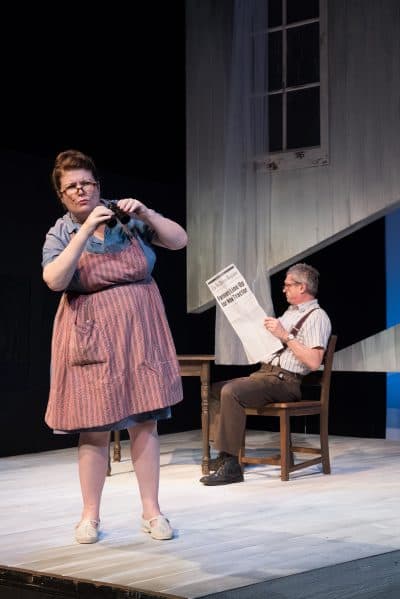 Of course, the focus is on Francesca and Robert in their love bubble, torn between the exhilaration of being fully and finally known and the agonizing choice Francesca will eventually have to make. Tellingly, Brown does more than either Waller or Norman to make palpable their merger. Francesca's music is almost operatic, the orchestrations dominated by piano and swelling strings, while Robert's starts out terse and twanging, its emotion growing to full swoon in the pair's lush duets.
But there are other characters in the musical and, with the exception of a neighbor couple brought to warm comic life by Kerry A. Dowling and Will McGarrahan, they are given little to do but intrude on the lovers by calling home from the road or stomp their ways through the hoedown that is the second-act-opening Iowa State Fair.
Dowling's character Marge — squinting through binoculars at the adulterers next door — is inspired to sing an amusingly smoky number, "Get Closer," played to her oblivious husband Charlie, who'd rather have sweets than sizzle. And McGarrahan anchors "When I'm Gone," an oddly affirmative deathbed tune that moves through bluegrass to gospel.
Katie Elinoff and Nick Siccone are believable if clichéd as Francesca's bickering teenage kids, one of whom embraces farm life, the other of whom can't wait to fly the 300-acre coop. But does husband Bud have to be turned into a tyrannical hayseed in order for Francesca's lust for a tall, handsome stranger to have traction? Actor Christopher Chew is a dashing guy as well as a strong singer. But here, despite attempts at nuance, his bearded, overall-wearing farmer comes across like an Amish patriarch with anger-control issues. Really, the actor — and possibly the whole state of Iowa — should sue.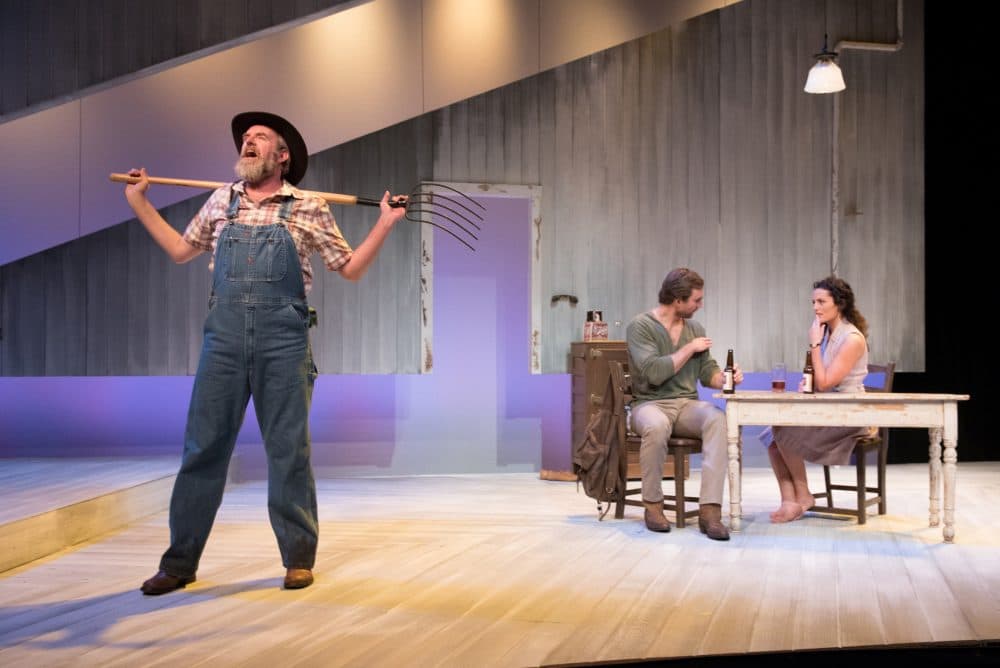 I liked the abstract elements of O'Gara's staging in which mundane items like the telephone or a bottle of brandy seem to float and nothing seems quite real except the romance. Still, there are times — when Ellis and Smith aren't warbling into each other's mouths or throats or chests — when the show, built on such a skeletal narrative, drags.
Composer and lyricist Brown, who also penned the Tony-winning score of "Parade" and the song cycle "Songs for a New World," had a cult success with his 2001 "The Last Five Years," a chamber musical built for two. "The Bridges of Madison County," too, might prove stronger with less foot traffic.