Huntington's 'Topdog/Underdog' And ASP's 'Edward II' Win Big At Elliot Norton Awards
The Huntington Theatre Company's "Topdog/Underdog" lived up to its name at the Elliot Norton Awards ceremony Monday night, taking a total of three awards, including Outstanding Production.
Meanwhile, it was a pretty hot night for the American Repertory Theater, past and present. The ceremony honored stage, film and television actor Cherry Jones with the Elliot Norton Guest of Honor Award. Jones, a founding member of the A.R.T. in Cambridge, appeared most recently in the Broadway production of "The Glass Menagerie," a revival of the Tennessee Williams classic that was first produced at the A.R.T. Jones and another founding member, Karen MacDonald, reunited before the ceremonies (with a bourbon or two). MacDonald also had cause for celebration later in the evening — she won an acting award in "Finish Line," about the Boston Marathon bombing.
The Elliot Norton Prize for Sustained Excellence went to A.R.T. Artistic Director Diane Paulus. The BTCA praised Paulus — who was selected as one of TIME Magazine's "100 Most Influential People" in 2014 — for "expanding the boundaries of Boston-area theater and its role in the national conversation."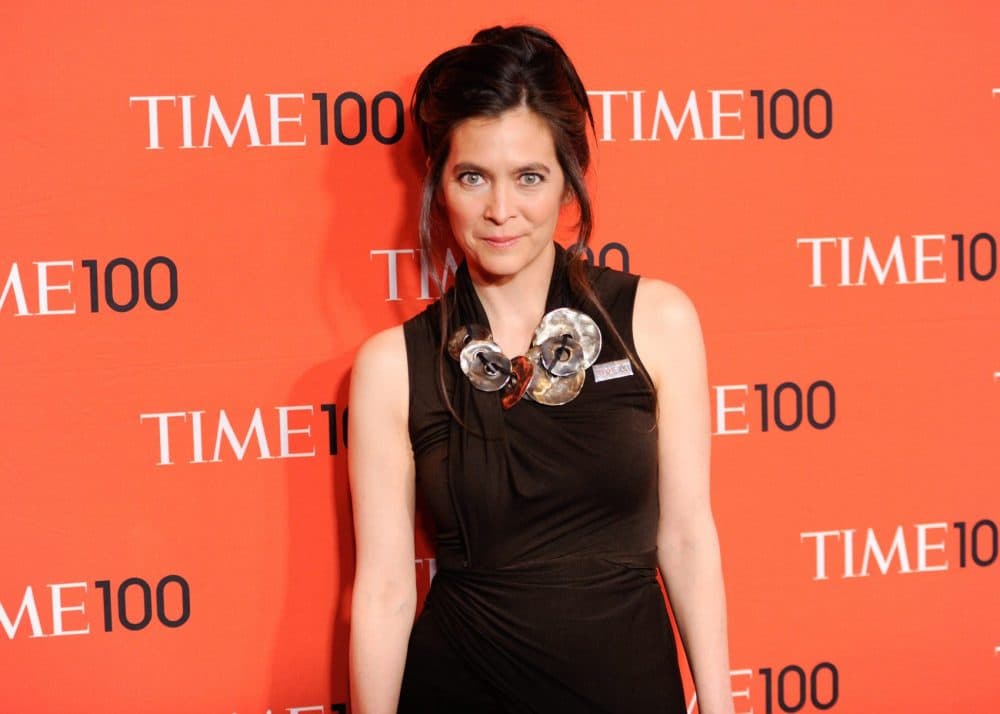 Paulus echoed the oft-expressed sentiment that the arts are threatened by the possibility of cutbacks from President Trump and a Republican Congress. "We all know these are difficult and unsettling times for artists," she said. "But it is clear to me that our work, the act of bringing people together and opening the hearts, minds and imaginations of others, has never been as important as it is today.
"Despite the challenges that seem to arise daily, let us continue to listen, produce and provide spaces for our communities to meet. We must keep insisting, as loudly as we can, that the arts have a vital purpose in our democracy."
In all, 26 "Norties" went to various local and visiting companies and artists for outstanding work at venues around the greater Boston area. In recognition of the Elliot Norton Awards' 35th anniversary, the Boston mayor's office sent Chief of Arts and Culture Julie Burros to the Huntington's Boston University Theatre to read out a proclamation honoring the awards, which are named for influential theater critic Elliot Norton.
Of the Huntington Theatre Company's four wins, three were for its production of Suzan-Lori Parks' "Topdog/Underdog." In addition to Outstanding Production, "Topdog" also netted director Billy Porter the prize for Outstanding Director in the Large Theater category. "Topdog" co-star Matthew J. Harris nabbed top honors for Outstanding Actor, Large Theater. "Sunday in the Park with George" added a fourth win to Huntington's tally when Jenni Barber claimed the prize for Outstanding Musical Performance by an Actress.
Actors' Shakespeare Project came in at second place with a total of three awards, all for its production of Christopher Marlowe's rarely seen "Edward II." David R. Gammons, who adapted and streamlined Marlowe's play, took the award for Outstanding Director, Midsize Theater. Maurice Emmanuel Parent, who portrayed the titular king, won for Outstanding Actor, Midsize Theater. The show also took Outstanding Design, which recognized the work of Sara Brown (set), Jeff Adelberg (lighting), Rachel Padula-Shufelt (costumes), David Wilson (sound design), Omar Robinson (violence design) and Elizabeth Rocha (props).
The Elliot Norton Awards committee gave separate awards for visiting productions in several categories. Outstanding Visiting Production went to Bedlam for "Twelfth Night" and "What You Will," two vastly different takes on a single Shakespeare play that were presented in repertory at Central Square Theater in Cambridge.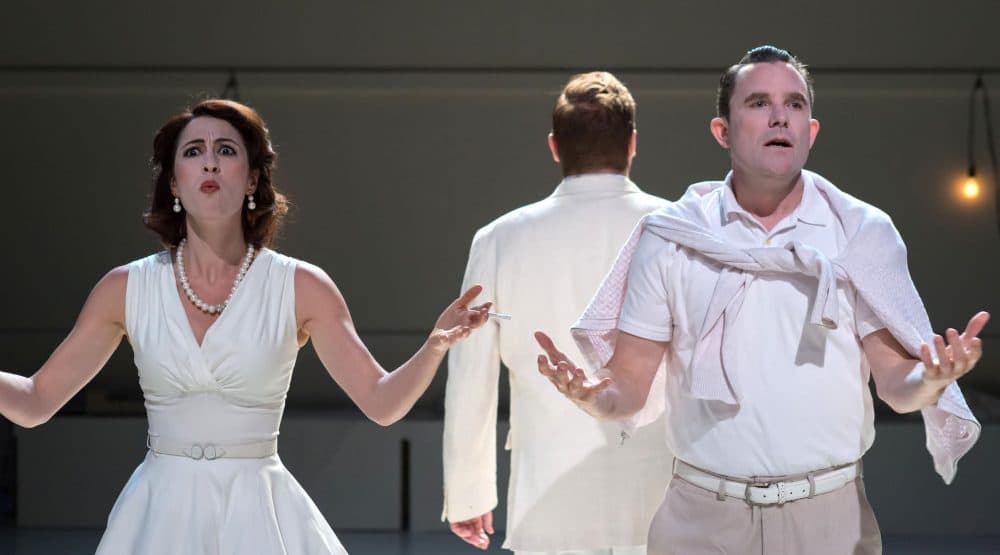 "An American in Paris" won for Outstanding Visiting Musical Production, which played at Boch Center Wang Theatre — one of three wins in which the Boch Center shared. (The other two were MacDonald's triumph in Outstanding Actress, Large Theater for her work in Boston Theater Company's new play "Finish Line," which was presented at Boch Center Shubert Theatre, and Fiddlehead Theatre Company's win for Outstanding Musical Production, Large Theater for "Showboat," also presented at the Shubert.)
Randy Harrison took the prize for Outstanding Performance by an Actor in a Visiting Production for his portrayal of the Emcee in "Cabaret," presented by Broadway in Boston at the Opera House.
Kristen Sieh earned the award for Outstanding Performance by an Actress in a Visiting Production for her work in the two-woman play "RooseElvis" by the TEAM, presented by American Repertory Theater.
The evening's celebration of theatrical excellence included five musical numbers, drawn from as many different shows: SpeakEasy Stage Company's "The Scottsboro Boys" (which won for Outstanding Musical Production, Midsize, Small of Fringe Theater); New Repertory Theatre's "Fiddler on the Roof;" Wheelock Family Theatre's "Billy Elliot" (which saw its young star, Seth Judice, win top honors for Outstanding Musical Performance by an Actor); "The Wiz," by Boston Arts Academy; and Broadway in Boston's "Wicked," which is slated to play at the Opera House next month.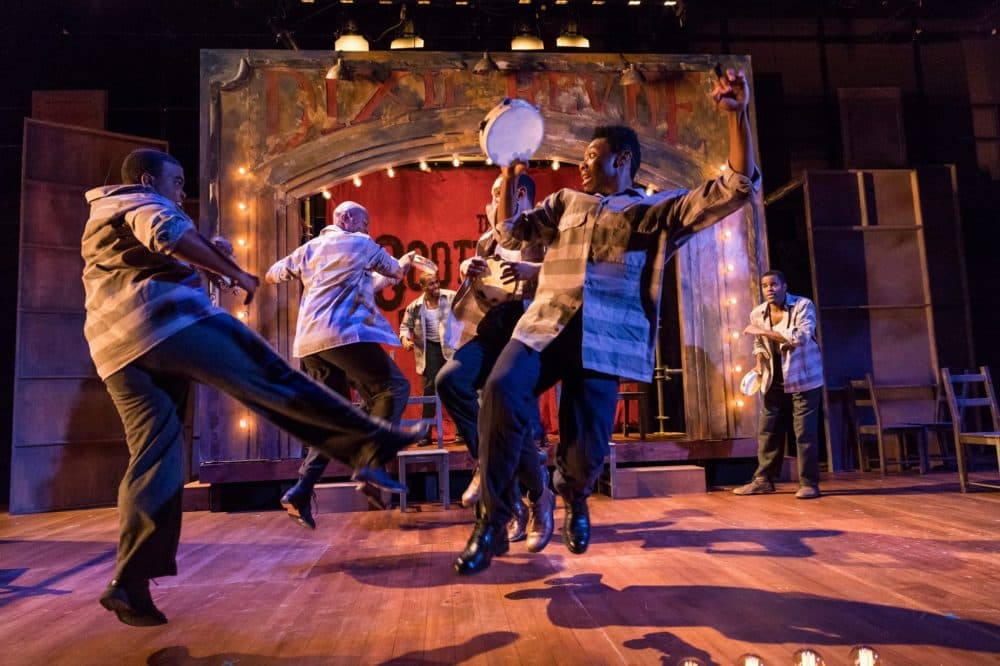 The proceedings struck a more sober note with a tribute to Ted Cutler, a great patron of the arts in Boston but particularly of the city's theatrical scene. Cutler — for whom the Cutler Majestic Theatre is named — died in March at the age of 86. ArtsBoston Founder Larry Murray was also remembered, with this year's prize for Outstanding Director, Large Theater being bestowed in his honor. Actress and teacher Bronia Wheeler was likewise memorialized, with this year's award for Outstanding Actress, Large Theater dedicated to her memory.
The Elliot Norton Arts Education Award was bestowed to Boston Arts Academy.
Here's the full list of this year's winners:
Outstanding Production by a Large Theater: "Topdog/Underdog," by Huntington Theatre Company

Outstanding Production by a Midsize Theater: "Who's Afraid of Virginia Woolf," by Lyric Stage Company of Boston

Outstanding Production by a Small Theater: "Oh God," by Israeli Stage at Mosesian Center for the Arts

Outstanding Production by a Fringe Theater: "Silent Sky," by Flat Earth Theatre at Mosesian Center for the Arts

Outstanding Design, Large: "Fingersmith" by American Repertory Theater — Set Design by Christopher Acebo, costumes by Deborah Dryden, lighting by Jen Schriever, composer/sound designer Andre Pluess, projection design by Shawn Sagady

Outstanding Design, Midsize, Small, or Fringe: "Edward II" by Actors' Shakespeare Project — Set by Sara Brown, lighting by Jeff Adelberg, costumes by Rachel Padula-Shufelt, sound design by David Wilson, violence design by Omar Robinson, props master Elizabeth Rocha

Outstanding Actor, Large: Matthew J. Harris, "Topdog/Underdog," Huntington Theatre Company

Outstanding Actor, Mid: Maurice Emmanuel Parent, "Edward II," ASP

Outstanding Actor, Small or Fringe: Christopher Webb, "Blasted," Off the Grid at Calderwood Pavilion

Outstanding Actress, Large: Karen MacDonald, "Finish Line," Boch Center in Association with Boston Theater Company

Outstanding Actress, Midsize: Paula Plum, "Who's Afraid of Virginia Woolf?" Lyric Stage Company of Boston

Outstanding Actress, Small or Fringe: Maureen Keiller, "Faithless" and "The Honey Trap" (Boston Playwrights' Theatre) and "Oh God" (Israeli Stage)

Outstanding New Script: "Mala," by Melinda Lopez, ArtsEmerson

Outstanding Solo Performance: Anna Deavere Smith, "Notes from the Field: Doing Time in Education," American Repertory Theater

Outstanding Director, Large: Billy Porter, "Topdog/Underdog," Huntington Theatre Company

Outstanding Director, Midsize: David R. Gammons, "Hand to God," SpeakEasy Stage Company; and "Edward II," Actors' Shakespeare Project

Outstanding Director, Small or Fringe: John Kuntz, "Blasted," Off the Grid at Calderwood Pavilion

Outstanding Musical Production, Large: "Showboat," Fiddlehead Theatre Company at Boch Shubert Theatre

Outstanding Musical Production, Midsize, Small, or Fringe: "The Scottsboro Boys," SpeakEasy Stage Company

Outstanding Musical Performance by an Actor: Seth Judice, "Billy Elliot," Wheelock Family Theatre

Outstanding Musical Performance by an Actress: Jenni Barber, "Sunday in the Park with George," Huntington Theatre Company

Outstanding Ensemble: "The Beauty Queen of Leenane," Druid Theatre Company presented by ArtsEmerson