Going, Going, Gone: Albert Serra's 'The Death Of Louis XIV' Is Hypnotic
Its title serving as both plot synopsis and spoiler, "The Death of Louis XIV" is a minimalist, weirdly mesmerizing exercise from Catalan director Albert Serra. Pretty much a textbook example of one of those hushed European movies where nothing happens, the camera remains perched at the ailing Sun King's deathbed as he slowly deteriorates from a gangrenous foot. Doctors dispense quack remedies of the day while the monarch grows weaker, his spirit fading before our eyes. At two hours, it's a long sit, with vast stretches of the running time spent simply staring at the subject suffering in silence.
I know this probably sounds like a stunt, and given the filmmaker's history of prankish riffs on Don Quixote (2006's "Honor of the Knights") and the Three Wise Men (2008's "Birdsong"), one could surmise a slightly waggish intent in Serra so single-mindedly focusing on the tedium of illness. Indeed, there's a queasily amusing contrast between the absurdly opulent Versailles surroundings and primitive medical treatments involving bull semen and bleedings, but if you can give yourself over to the film's somnambulant rhythm, "The Death of Louis XIV" attains a hypnotic quality and eventually elicits genuine sorrow. (The film has a local premiere at The Brattle in Cambridge on Friday, May 19.)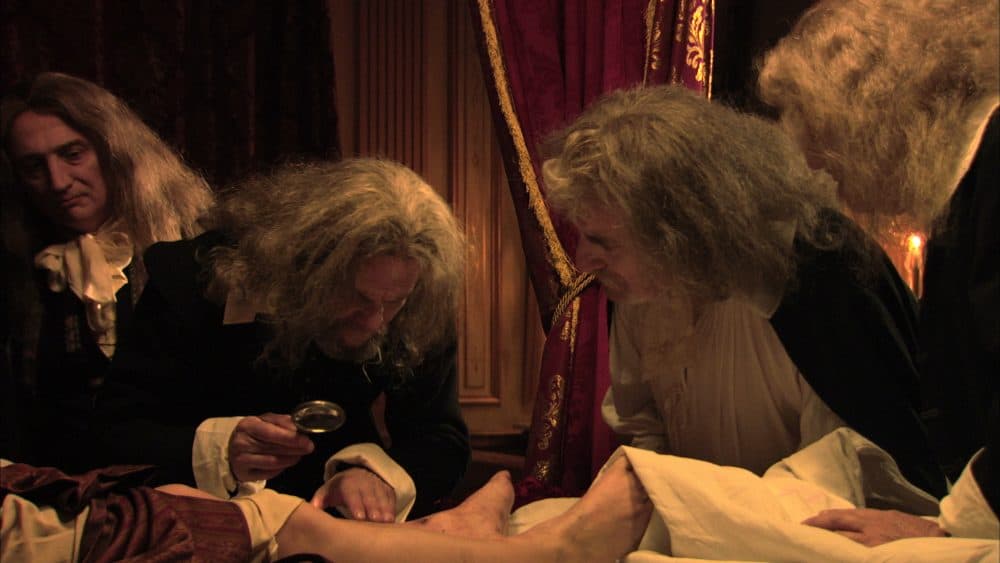 A lot of this is due to the casting of French cinema icon Jean-Pierre Léaud as the dying king. Léaud's career began nearly half a century ago, and at age 14, he became the freeze-framed face of disaffected youth in Francois Truffaut's "The 400 Blows." He went on to play Truffaut's alter-ego Antoine Doinel four more times over the following 20 years, and his presence became something of a talisman for the international art film set. He's been in nine Godard films, and starred in Jean Eustache's "The Mother and the Whore" as well as Jacques Rivette's 773-minute magnum opus "Out 1." Léaud's expansive history has sometimes served as shorthand or a running joke, as when Bernardo Bertolucci cast him as the clueless, movie-mad cuckold in "Last Tango in Paris."
So on a meta-textual level, it makes perfect sense for cinema royalty to play actual royalty in Serra's strange experiment, and the movie benefits enormously from Léaud's lifetime of experience in front of the camera. He doesn't have much dialogue to work with and spends the majority of the movie buried under powdered makeup and Phil Spector wigs, but his performance is a testament to that mystery of movie stardom in which a performer can fascinate us while seemingly doing nothing at all. Unable to use his body and deprived of most other actorly instruments, Léaud nonetheless sketches a compelling character without getting out of bed.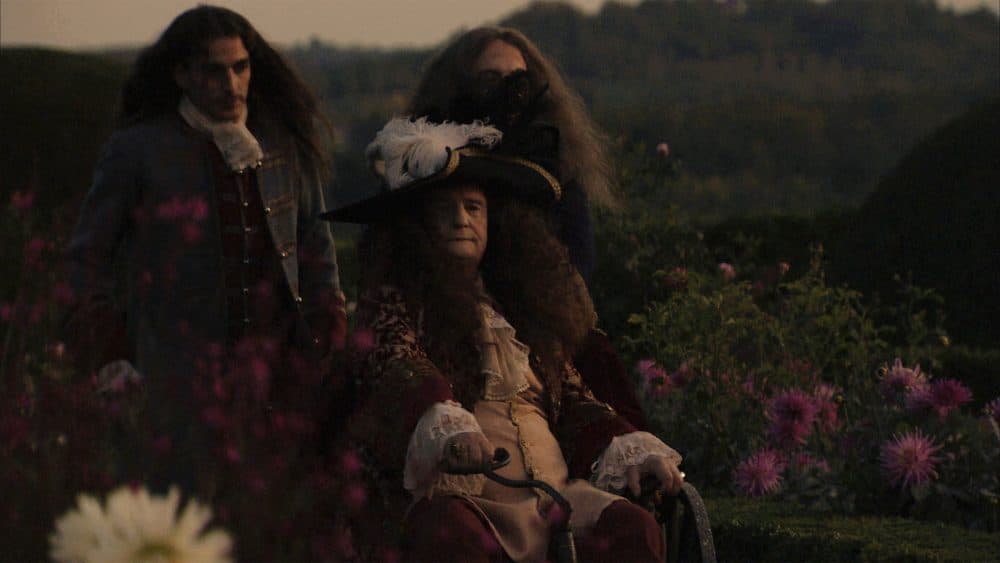 It's an almost agonizingly quiet movie, attuned to the faintest whispers in the king's chambers. There's no musical score save for a triumphant blast of fanfare when a briefly rallying Louis' appetite returns, and he manages to feed himself. It's an improbably thrilling sequence, and the way Léaud stares down the camera throughout shows more defiance than I've perhaps ever seen from someone having a snack.
But all that quiet is full of contemplation, as "The Death of Louis XIV" allows viewers room to bring their own baggage, time and space to meditate on how mortality one day comes for us all. Even a ruler in the hallowed halls of Versailles can be felled by a simple infection, struggling to hold court and retain his regal bearing in these most sad and undignified of circumstances. If you can get on this film's admittedly peculiar wavelength, you might be surprised how moved you'll be by the end. Long live the king.